IND vs NZ 1st Test, Day 2 Live: Shreyas Iyer joins elite club-  Shreyas Iyer has joined the likes of Sourav Ganguly, Mohammed Azharuddin amongst a few others with a fine century on debut during the IND vs NZ 1st Test. Iyer became just the 16th Indian cricketer to achieve the milestone on Friday. His century on debut continues a dramatic cricketing story, with the Mumbaikar fulfilling his dream of playing in the Indian whites 12 years on after his battle from depression.  Follow India vs New Zealand Live Updates on InsideSport.in. 
IND vs NZ LIVE: Shreyas Iyer joins elite club with century on Test debut, equals Sourav Ganguly, Rohit Sharma, Prithvi Shaw
A century on Test debut for India..
Shreyas Iyer
– 16th Indian
– 13th Indian on debut inns
– 10th Indian at home
– 2nd at Kanpur (after Gundappa Viswanath)
PS: Now the last three Indians to make a century on Test debut are: Rohit, P Shaw & now Iyer – all from Mumbai!#INDvNZ

— Mohandas Menon (@mohanstatsman) November 26, 2021
More than Iyer, the 1st Test against Kane Williamson & Co in Kanpur was a test for the selectors. With Ajinkya Rahane and Cheteshwar Pujara struggling with their form, Shreyas Iyer was handed the debut. The expectation was that Iyer would be able to fill the void, especially with Virat Kohli absent from the 1st Test. And the Mumbaikar repaid the faith with a fine century and will look to retain his place in the side for years to come.
| | | |
| --- | --- | --- |
| Player | Runs | Against/year |
| 1. Lala Amarnath | 118 | England (1933) |
| 2. Deepak Shodhan | 110 | Pakistan (1952) |
| 3. A. G. Kripal Singh | 100* | New Zealand (1955) |
| 4. Abbas Ali Baig | 112 | England (1959) |
| 5. Hanumant Singh | 105 | England (1964) |
| 6. Gundappa Viswanath | 137 | Australia (1969) |
| 7. Surinder Amarnath | 124 | New Zealand (1976) |
| 8. Mohammad Azharuddin | 110 | England (1984) |
| 9. Pravin Amre | 103 | South Africa (1992) |
| 10. Sourav Ganguly | 131 | England (1996) |
| 11. Virender Sehwag | 105 | South Africa (2001) |
| 12. Suresh Raina | 120 | Sri Lanka (2010) |
| 13. Shikhar Dhawan | 187 | Australia (2013) |
| 14. Rohit Sharma | 177 | West Indies (2013) |
| 15. Prithvi Shaw | 134 | West Indies (2018) |
| 16. Shreyas Iyer* | 104* | New Zealand (2021) |
The latest addition into the Centuries on debut for India club – @ShreyasIyer15 👌#TeamIndia #INDvNZ @Paytm pic.twitter.com/r9yl1kFjQa

— BCCI (@BCCI) November 26, 2021
IND vs NZ LIVE: Shreyas Iyer joins elite club with century on Test debut, equals Sourav Ganguly, Rohit Sharma, Prithvi Shaw
Also Read: IND vs NZ 1st Test, Day 1 Stumps: Ravindra Jadeja, Shreyas Iyer fifties dominate Kiwis, put India in control – IND 258/4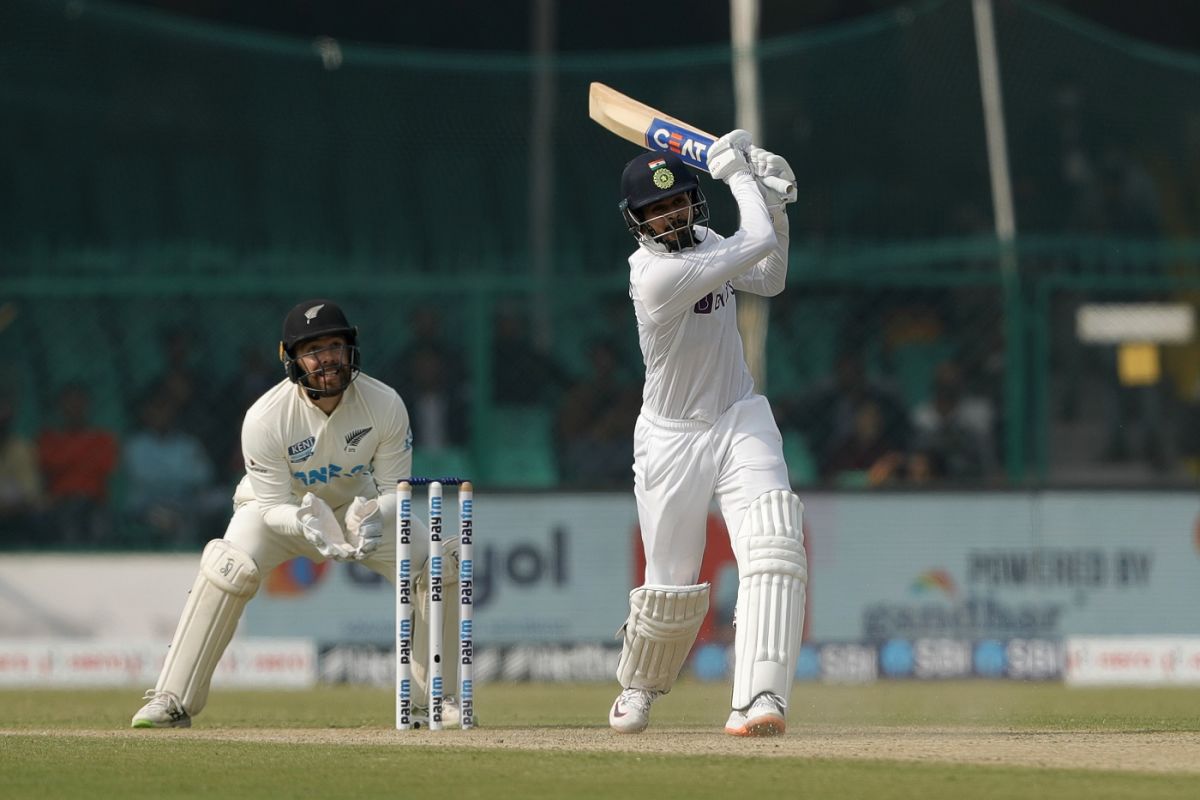 Shreyas Iyer ended day 1 unbeaten on 75, Shreyas Iyer played a classic No 4 knock, attacking when he got the loose balls and respected the good ones, especially of Kyle Jamieson. The Kiwi fast-bowler kept on searching for the gap between bat and stumps and got the wicket of Shubman Gill and Ajinkya Rahane.
While Shreyas Iyer fell on the trap once, he survived and the inside edge went past the keeper. While his innings wasn't flawless with some adventurous Rishabh Pant-esque shots, he understood the gravity of the situation, coming to bat at No 5 with Mayank Agarwal, Shubman Gill and Cheteshwar Pujara all departing.
On Day 2, he was at his very best, scoring some crisp boundaries early to race into the 90s. Ravindra Jadeja's dismissal did not deter him from taking the attack on, as he was particularly ruthless against Kyle Jamieson to reach his century.
Also Read: IND vs NZ LIVE: Shreyas Iyer sends warning to Cheteshwar Pujara & Ajinkya Rahane with half-century on Test debut
IND vs NZ 1st Test: Shreyas Iyer made an accidental debut despite being on selectors' radar
Despite picking Shreyas Iyer, who has a 52.18 average in First Class cricket, he wasn't the first-choice batsman in the middle-order.
Selectors wanted Shubman Gill to play in a new position and forego the opening role.
But KL Rahul's injury meant Shubman Gill had to open with Mayank Agarwal.
Suryakumar Yadav was the next choice for the middle-order in Virat Kohli's absence.
But captain Ajinkya Rahane and coach Rahul Dravid backed him to make Test debut.
With an unbeaten 75 not only he fulfilled his father's dream but is also on the verge of joining Sourav Ganguly, Virender Sehwag and Mohammed Azharuddin among 13 others to score a ton on Test debut.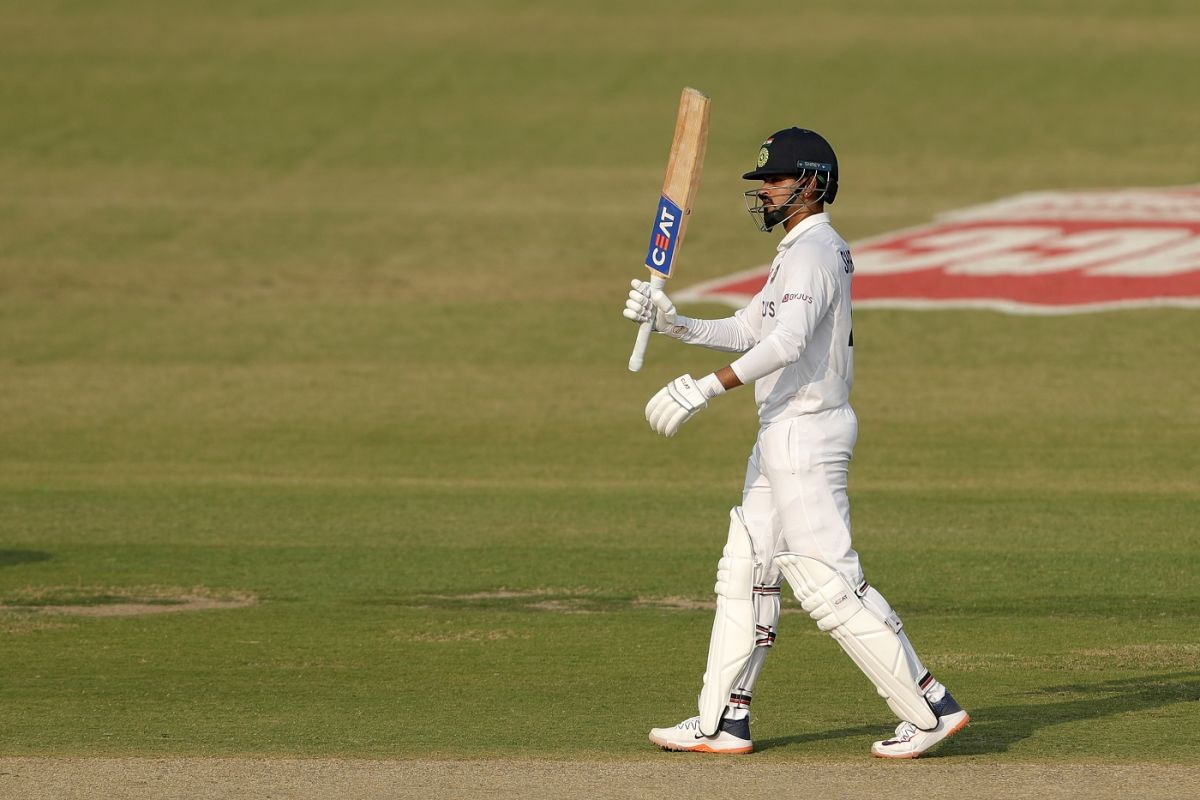 IND vs NZ 1st Test: Indian players who have scored 100 on Test debut
Lala Amarnath (118 vs England, 1933)
Deepak Shodhan (110 vs Pakistan 1952)
AG Kripal Singh (100* vs New Zealand 1955)
Abbas Ali Baig (112 vs England 1959)
Hanumant Singh (105 vs England 1964)
Gundappa Viswanath (137 vs Australia 1969)
Surinder Amarnath (124 vs New Zealand 1976)
Mohammad Azharuddin (110 vs England 1984)
Pravin Amre (103 vs South Africa 1992)
Sourav Ganguly (131 vs England 1996)
Virender Sehwag (105 vs South Africa 2001)
Suresh Raina (120 vs Sri Lanka 2010)
Shikhar Dhawan (187 vs Australia 2013)
Rohit Sharma (177 vs West Indies 2013)
Prithvi Shaw  (134 vs West Indies 2018)
IND vs NZ 1st Test: From fighting with depression, Shreyas Iyer just 25 runs away from joining elite club with Sourav Ganguly, Azharuddin
Also Read: IND vs NZ Live: Rohit Sharma, Shikhar Dhawan & others laud Shreyas Iyer on maiden Test Fifty on debut – Check Tweets
But barring those thick outside edges and T20-esque clearing the field batting, Shreyas Iyer proved why he has been on the selectors' radar since 2016. Especially with Ajinkya Rahane and Cheteshwar Pujara approaching the end of their international career in two-three years' time, Iyer will prove to be an important cog. And that's the reason, he kept Suryakumar Yadav at bay to make his Test debut.
For selectors, the Chetan Sharma-led committee will be happy as their trust in Iyer paid off especially after facing immense criticism for not promoting him to the main 15-member T20 World Cup squad. But another 25 runs and Cheteshwar Pujara and Ajinkya Rahane's places will be in jeopardy in the Test side.
Where is India vs New Zealand being held?
The 1st match is being held at the Green Park, Kanpur.
When will IND vs NZ 1st Test match start? – Date
Day 2 will begin at 9:30 AM at Green Park.
Where to watch IND vs NZ live stream?
You can watch the live stream of the match from 9:30 AM on Disney+Hotstar.
Where to watch IND vs NZ live broadcast?
You can watch IND vs NZ Day 2 Live telecast on Star Sports 1, Star Sports HD.
IND vs NZ Match Details:
India vs New Zealand, 1st Test
New Zealand Tour of India, 2021
Date: 25-29 November 2021
Time: 09:30 AM IST
Venue: Green Park, Kanpur
IND vs NZ 1st Test: From fighting with depression, Shreyas Iyer just 25 runs away from joining elite club with Sourav Ganguly, Azharuddin