Virat Anushka Vacation: Anushka Sharma & Virat Kohli keep their word, return to Baba Neem Karauli ashram in Nainital after birth of Vamika after sacred vow – Check out
Virat Anushka Vacation: After India's T20 World Cup campaign ended, Virat Kohli was handed a much-needed break to refresh his batteries before…
Virat Anushka Vacation: After India's T20 World Cup campaign ended, Virat Kohli was handed a much-needed break to refresh his batteries before an all-important tour of Bangladesh. With a 20-day recess, the former India captain along with wife Anushka Sharma travelled to Nainital to fulfil one of their sacred vows, following the birth of their daughter Vamika. Follow IND vs BAN LIVE updates on Insidesport.IN
Also Read: IND vs NZ: No place for Kuldeep Yadav, Deepak Hooda the spinner noses ahead in race after 4/10 show, set to get extended run as a spin-allrounder, Check OUT
Virat Anushka Vacation: Anushka Sharma & Virat Kohli keep their word, return to Baba Neem Karauli ashram in Nainital after birth of Vamika for sacred vow – Check out
With a good break of around 20 days, Virat Kohli cashed in on the opportunity and zoomed off to Uttarakhand alongside Anushka Sharma and their daughter Vamika. Staying at a resort in Ramgarh, the former India captain went to Kainchi Dham with his wife Anushka and daughter Vamika to seek Baba Neem Karoli's blessings.
It was after Virat Kohli's 71st, Anushka Sharma posted pic of Baba Neem Karoli and now they are there to visit him in Kainchi Dham 🙏❤️ pic.twitter.com/my2FvLKKWW

— feryy (@ffspari) November 17, 2022
It is believed that Anushka had vowed to visit the ashram after the birth of Vamika. Anushka incidentally had also shared a picture of the Baba and his saying, after Kohli broke his three-year century drought at the Asia Cup. Along with the Ashram, the power couple have visited a lot of shrines in the vicinity, happily posing for pictures with the locals and fans.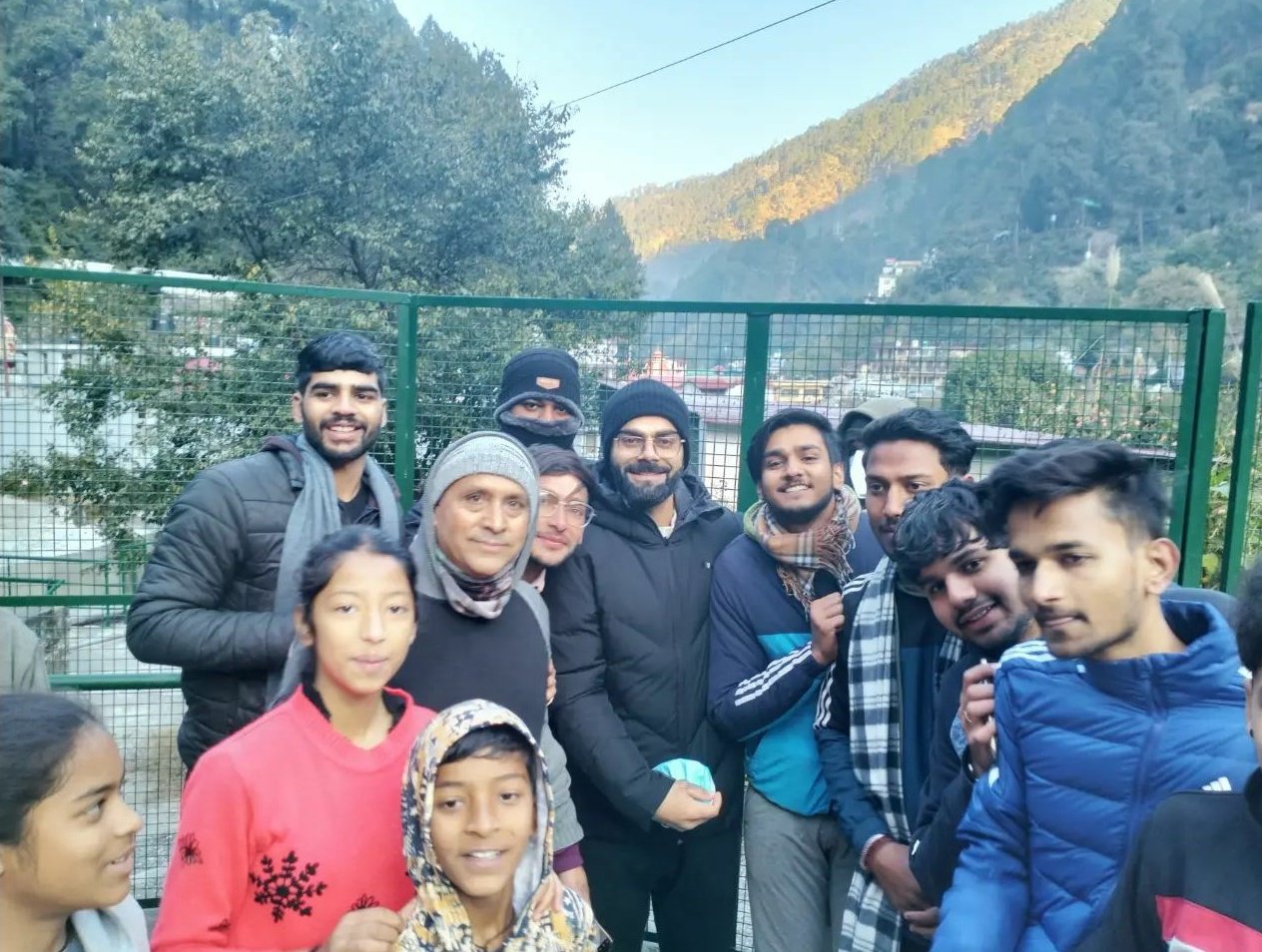 Virat Anushka Vacation: Power couple seek blessings in Uttarakhand
Virat Kohli and Anushka Sharma have been staying in Nainital, Uattarkhan for the past few days with their daughter Vamika.
The power couple went to Kainchi Dham and sought the blessings of Baba Neem Karoli.
It is believed that Anushka had made a vow following Vamika's birth to visit the ashram.
The couple are also believed to have visited a few other shrines in the vicinity.
Both Kohli and Anushka had packed schedules with the former returning to India following the T20 World Cup.
The 34-year-old will now head to Bangladesh for the Test and ODI series next month.
Virat Anushka Vacation: Anushka Sharma & Virat Kohli keep their word, return to Baba Neem Karauli ashram in Nainital after birth of Vamika for sacred vow – Check out
Virat Kohli came roaring back to form in the T20 World Cup 2022 as he scored 296 runs in 6 matches. The right-hand batter will get a break for about 20 days before he returns for Bangladesh tour. The former India captain has been selected for both the Test and ODI squads.
After returning to form in the shortest format, Kohli will aim for the same in the Test and ODI formats. Kohli has not scored a Test century since his 2019 hundred against Bangladesh. The 34-year-old would be looking to change that record. His average has also gone below 50 for the first time in eight years. Kohli would be eyeing big runs against Bangladesh. 
Virat Anushka Vacation: Anushka Sharma & Virat Kohli keep their word, return to Baba Neem Karauli ashram in Nainital after birth of Vamika for sacred vow – Check out
Follow InsideSport on GOOGLE NEWS / Follow IND vs BAN LIVE updates with InsideSport.IN