UEFA Champions League- Michael Carrick dedicates win to Ole Gunnar Solskjaer:  After Manchester United 2-0 triumph over Villareal, interim Manchester United manager Michael Carrick showed his admiration for his former boss, Ole Gunnar Solskjaer. The former United midfielder during his post-match interview said- "It's not been an easy couple of days for everyone at the club and I can enjoy it so much, but it feels like that result is for Ole and I can't get away from that."
"To finish it off with Jadon was brilliant, it was a big night for him."

"It feels like that game was for Ole."

Michael Carrick gives his view after a winning start to his term as interim manager of Man Utd.

🎙 @TheDesKelly | #UCL pic.twitter.com/nRgNHM4VgH

— Football on BT Sport (@btsportfootball) November 23, 2021
UEFA Champions League: Emotional Michael Carrick dedicates Manchester United's 2-0 win over Villareal to former Red Devils' boss Ole Gunnar Solskjaer, watch video
In a game, in which the home side Villareal looked much the better side for long stretches of the contest, Manchester United were lucky that Cristiano Ronaldo pounced on a misplaced pass from Villareal's Goalkeeper and scored, while Jadon Sancho scored late in injury time to relieve some pressure off Manchester United's shoulders. With this victory United will finish top their Champions League group.
That 𝗹𝗮𝘀𝘁-𝟭𝟲 feeling 😎#MUFC | #UCL pic.twitter.com/V6g6yY6ayu

— Manchester United (@ManUtd) November 24, 2021
UEFA Champions League- Manchester United beat Villare: Pleased with the result, caretaker manager Michael Carrick told BT Sport: "We came here to win the game, I believed we would.
"We were ready and it was a tough game. The boys dug in and showed a little bit of everything.
"Let's be honest, I don't think anyone would have expected to come out here and play pretty football from the word go.
"When you have suffered results-wise and you're not in a great vein of form, it's not easy to come out and let everything click.
We had to dig in and we had to fight and it didn't go our way at times and the game looked like it was drifting away then the subs made a massive impact. The boys gave everything."
Michael Carrick concluded: "I enjoyed it. It's not been an easy couple of days for everyone at the club and I can enjoy it so much.
"But it feels like that result is for Ole and I can't get away from that.
"We had a job to do and thankfully it all went to plan."
On his side's first goal, Michael Carrick raved: "Fred has done fantastically and won that ball back.
"Ronaldo when he gets that chance he puts it away."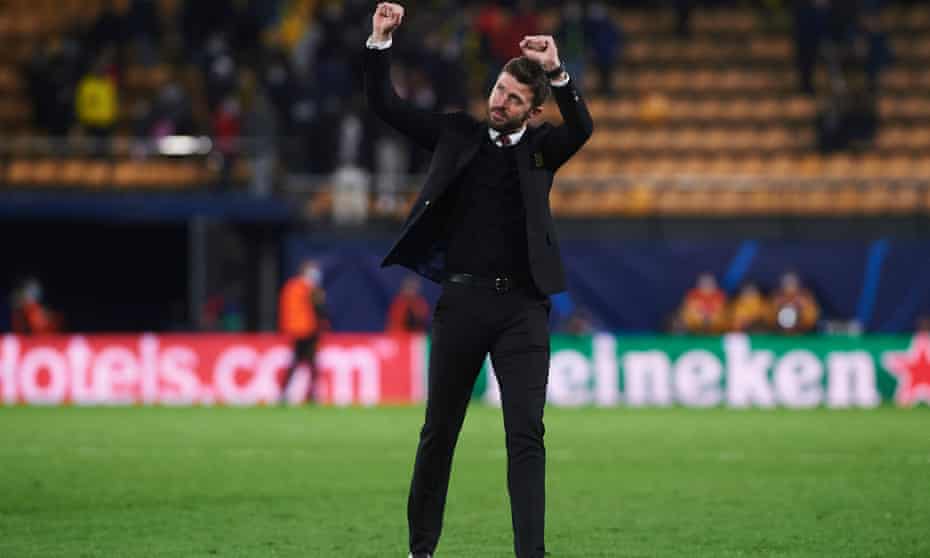 Also Read: UEFA Champions League: Villareal vs Manchester United live in India (insidesport.in)
UEFA Champions League- Manchester United beat Villare: Not everyone was pleased that Carrick didn't leave along with Solskjaer, certainly not Michael Carrick's former teammates Paul Scholes and Rio Ferdinand, with the duo also blaming Michael Carrick as part of Manchester United problems-
Scholes went on to say, "He's had one game in charge as a manager, no experience anywhere else. As much as I like the lad they cannot give him the job. They need the very best, whether it's the very best available as an interim, or the very best available full-time."
"I'd be almost embarrassed being on the staff now, I think they all should have gone."

"Ole trusted them each week, they've let the club down just as much."

No holding back from Paul Scholes on Solskjaer's staff remaining in charge of Man Utd.#UCL pic.twitter.com/g2M6wHcSmv

— Football on BT Sport (@btsportfootball) November 23, 2021
Ferdinand added: "I don't think they'll give it to Michael until the end of the season.
"One thing certain in my mind is they are actively looking for somebody to come in and be the interim manager to take us through to the end of the season.
"And they'll be looking for somebody else to come in to take over the reins come the summer.
"Man Utd have to be making inquiries now. If you want a particular manager who is in a job, those conversations will be going on now."
UEFA Champions League: Emotional Michael Carrick dedicates Manchester United's 2-0 win over Villareal to former Red Devils' boss Ole Gunnar Solskjaer, watch video