Tokyo Olympics: Ireland gymnast says 'Olympic Beds not ANTI-SEX', hilariously shows – 'they are sturdy'
Tokyo Olympics – Olympics Beds Not Anti-Sex: Other than Covid-19 positive cases updates if something from Tokyo has grabbed the headlines –…
Tokyo Olympics – Olympics Beds Not Anti-Sex: Other than Covid-19 positive cases updates if something from Tokyo has grabbed the headlines – i.e for the CARDBOARD BEDS in the Olympics Village. The beds to date have been portrayed, hilariously memed as ANTI-SEX. But now a gymnast from Ireland in the village has tried BREAKING that MYTH in his own interesting manner –
Tokyo Olympics LIVE – 4 Days to go: Indian Olympic team…
India at Tokyo Olympics: All you want to know about match…
India at Tokyo Olympics: Indian athletes getting 'Desi food' at Tokyo…
Tokyo Olympics: Ireland gymnast says 'Olympic Beds not ANTI-SEX', hilariously shows – 'they are sturdy'
Tokyo Olympics – Olympics Beds Not Anti-Sex: While rumors spread around about the beds not being strong enough, the Team Ireland Olympian posted a video on Twitter from inside his room in the village, where he jumps up and down on his bed to show they will not break as expected from any sudden movements or extra weight.
"Anti-sex" beds at the Olympics pic.twitter.com/2jnFm6mKcB

— Rhys Mcclenaghan (@McClenaghanRhys) July 18, 2021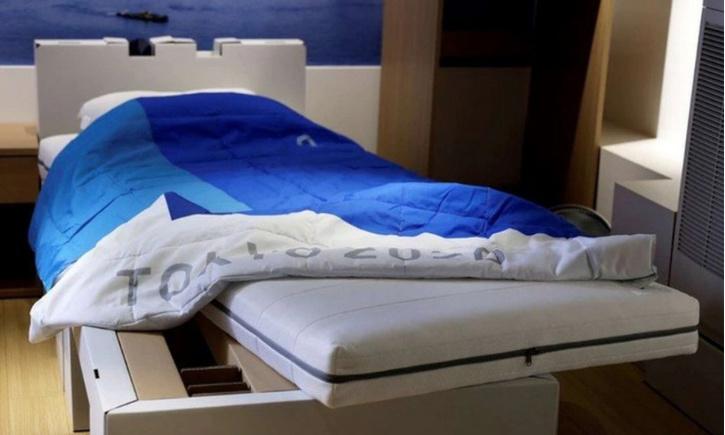 As he begins jumping on the bed, he then continues: "They're made of cardboard, yes. But apparently, they're meant to break at any sudden movements."
Tokyo Olympics Twitter handle then replied to his tweet
Thanks for debunking the myth.😂You heard it first from @TeamIreland gymnast @McClenaghanRhys – the sustainable cardboard beds are sturdy! #Tokyo2020 https://t.co/lsXbQokGVE

— Olympics (@Olympics) July 19, 2021
Each bed is said to be able to withstand 200 kilograms of weight
Tokyo Olympics – Olympics Beds Not Anti-Sex: The organizers of Tokyo 2020 also made a deal with four condom companies in order to hand out 160,000 condoms for the athletes in the village.
"The distribution of condoms is not for use at the athletes' village, but to have athletes take them back to their home countries to raise awareness (of HIV and AIDS)," organizers had told Reuters.