Rangers vs Tottenham Hotspur Highlights: RAN 1-2 TOT, Harry Kane BRACE helps Tottenham Weather Rangers Storm, Spurs Register 2nd Pre-season win – Check Out
Rangers vs Tottenham Hotspur Highlights: Tottenham Hotspur Wins 2-1 – It was Tottenham Hotspur skipper Harry Kane who once again came to…
Rangers vs Tottenham Hotspur Highlights: Tottenham Hotspur Wins 2-1 – It was Tottenham Hotspur skipper Harry Kane who once again came to the rescue of his side. It was the Rangers who took the first lead in the Walter Tull Memorial Cup match, but the London Whites made a strong comeback into the game by sealing the tie. It has been a good outing for Spurs who fielded all their 6 new summer signings in the game. Follow Rangers vs Tottenham Hotspur LIVE score updates with InsideSport.IN
Rangers vs Tottenham Hotspur Highlights: RAN 1-2 TOT, Harry Kane BRACE helps Tottenham Weather Rangers Storm, Spurs Register 2nd Pre-season win – Check Out
The Premier League side lifted their maiden trophy of the new campaign, albeit a pre-season competition. But the London Whites had to fight hard to win the silverware. Tottenham Hotspur decided to field all six of their new signings against their Scottish opponents.
The Walter Tull Memorial Cup 💙 pic.twitter.com/NUYZhsxO5G

— Tottenham Hotspur (@SpursOfficial) July 23, 2022
The hosts surprised the visitors by taking an early lead into the game. Antonio Colak opened for the Rangers, as the Scottish giants headed into the break with a slender 1-0 advantage. But it was Tottenham Hotspurs who bettered their opponents. A resurgent Spurs took control of the game in the second half to seal the tie.
Rangers vs Tottenham Hotspur Highlights: RAN 1-2 TOT, Harry Kane BRACE helps Tottenham Weather Rangers Storm, Spurs Register 2nd Pre-season win – Check Out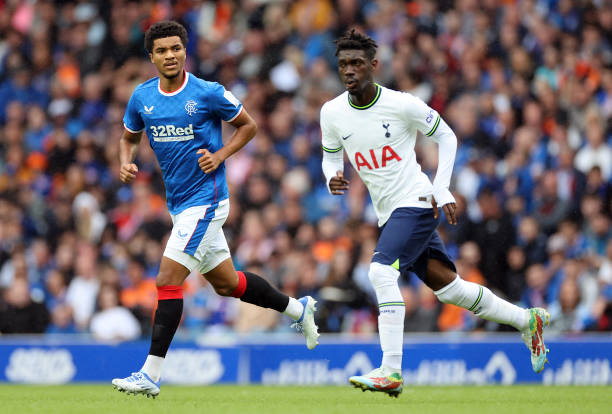 Spurs skipper Harry Kane scored a wonderful brace within a span of 6 minutes to bring the game in favour of the Premier League side from the jaws of defeat.
Rangers vs Tottenham Hotspur Highlights: RAN 1-2 TOT, Harry Kane BRACE helps Tottenham Weather Rangers Storm, Spurs Register 2nd Pre-season win – Check Out