NZ vs SA Live Score – South Africa wins 2nd Test: South Africa have beaten New Zealand by 198 runs to maintain their unbeaten series record over the Kiwis. The series ended levelled at 1-1. The defeat in the 2nd test also shattered New Zealand hopes of regaining top spot in ICC Test Rankings. Follow NZ vs SA LIVE Updates on InsideSport.IN.
Earlier during 2nd session of the day, Marco Jansen with his triple strike completely cut down on any resistance from New Zealand.
Team New Zealand 293 & 227 (Wagner 10*, Henry 0*, Rabada 3-46, Jansen 3-63) lose by 198 runs v South Africa 364 & 354 for 9
SA beat NZ Highlights: 'Extremely Happy' Dean Elgar says, 'Bold decision of…
ICC Test Team Rankings: Defeat to South Africa push New Zealand to…
ICC Test Team Rankings – New Zealand Drops to No. 3
Australia 119 Points
India 116 Points
New Zealand 115 Points
NZ vs SA Live Score: South Africa level series by thrashing Kiwis by 198 Runs, New Zealand drops to No. 3 in ICC Test Rankings: Follow LIVE Updates
As the Day 5 started New Zealand required 332 runs to win the test or bat 90 overs to draw the match.
New Zealand have lost five for 54 on the final day on a pitch that had something in it for quicks throughout the five days.
Kagiso Rabada has picked eight wicket in the match so far and Marco Jansen seven.
Both overnight batsman – Devon Conway for 92 & Tom Blundell for 44 were returned back to pavilion before LUNCH.
With ICC Test Rankings No. 1 Rank on line, Kiwis are staring at defeat now. South Africa just need 1 to register series levelling victory.
Earlier on Day 4, Kyle Verreynne's maiden Test century had put South Africa in the box seat
NZ vs SA Live Score: South Africa level series by thrashing Kiwis by 198 Runs, New Zealand drops to No. 3 in ICC Test Rankings: Follow LIVE Updates
New Zealand Chase 426 Runs: After securing a fantastic win by an inning and 276 runs in the first Test, New Zealand have struggled to get going in the second match.
South Africa scored 364 runs in the first innings, while in reply, the Kiwis could only accumulate 293 runs – since than it has been battle downhill for the Kiwis.
Entering into Day 5, South Africa are six wickets away from victory in the second Test, and denying New Zealand the opportunity to get a first Test series win over them.
Day 5 Challenge for Kiwis: New Zealand need 332 more runs to pull off the highest successful chase in Test cricket or bat out the final day and draw the second Test.
With a minimum of 90 overs left, New Zealand need to score at a rate of and 3.7 and with signs of uneven bounce and turn, that appears unlikely.
New Zealand Batting – ALL OUT for 227

NZ vs SA Live Score, Day 5: World No 1 rank on the line, New Zealand chase 332 on final day to become World No 1 Test Team – Follow Live Updates
NEW ZEALAND 2ND INNINGS (TARGET: 426 RUNS)
Thanks to Kyle Verreyne's century, the Proteas batted brilliantly in the second innings as well, crossing the 300-run mark and eventually declaring at 254. Chasing a target of 426, New Zealand find themselves in a precarious position, with 4 wickets down and only 94 runs on the scoreboard. However, if Tom Latham's boys can somehow pull of a miracle and get a win here, they will go top of the table in the ICC Test team rankings.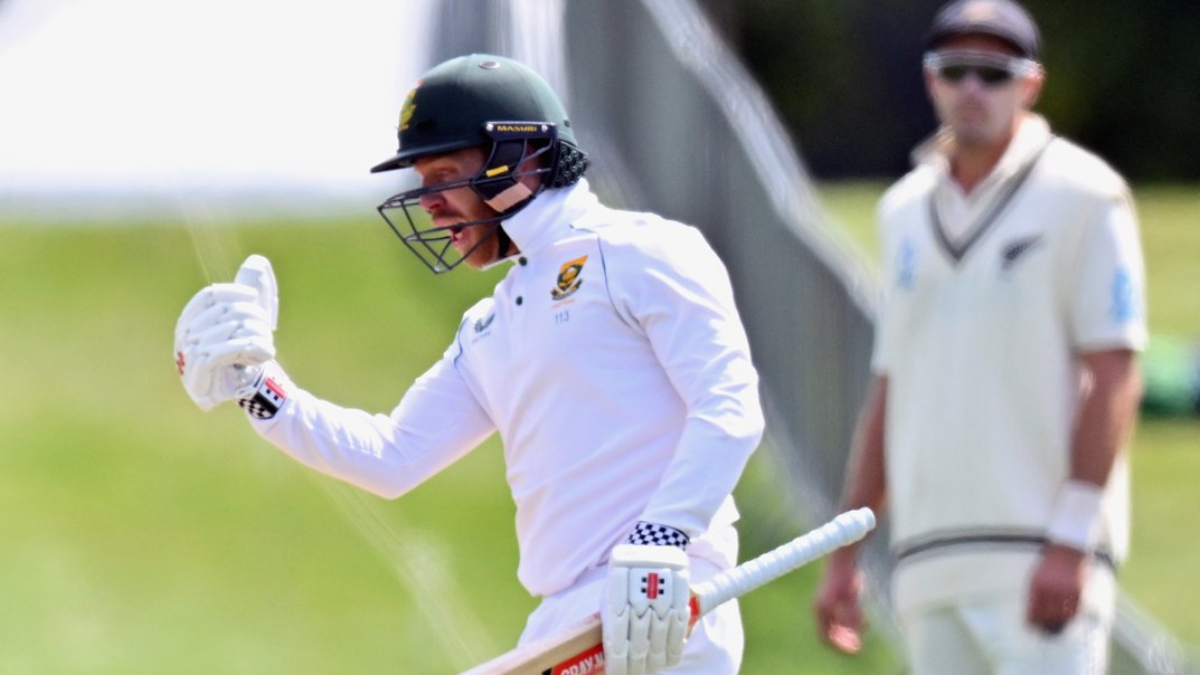 NZ vs SA Live Score, Day 5: World No 1 rank on the line, New Zealand chase 332 on final day to become World No 1 Test Team – Follow Live Updates
NEW ZEALAND 2ND INNINGS (TARGET: 426 RUNS)
BATTING
R
B
4s
6s
SR
Tom Latham (c)

c van der Dussen b Rabada

1
2
0
0
50.00
Will Young 

c Bavuma b Rabada

0
2
0
0
0.00
Devon Conway 
not out
60
127
8
0
47.24
Henry Nicholls 

 b Maharaj

7
32
0
0
21.87
Daryl Mitchell 

 b Maharaj

24
72
2
2
33.33
Tom Blundell †
not out
1
17
0
0
5.88
Extras
(lb 1)
1
TOTAL
(42 Ov, RR: 2.23)
94/4

Fall of wickets: 1-1 (Will Young, 0.3 ov), 2-6 (Tom Latham, 2.1 ov), 3-25 (Henry Nicholls, 11.2 ov), 4-81 (Daryl Mitchell, 35.2 ov)
Virat Kohli 100th Test: Huge disappointment for fans, Virat Kohli's 100th Test to be played behind closed doors in Mohali
NZ vs SA Live Score, Day 5: World No 1 rank on the line, New Zealand chase 332 on final day to become World No 1 Test Team – Follow Live Updates