ISL Season 8: Indian Super League Semifinals scenario explained, three teams in contention for two spots
ISL Season 8: A 3-1 win over the defending champions worked really well for the Kerala Blasters as they ow have one…
ISL Season 8: A 3-1 win over the defending champions worked really well for the Kerala Blasters as they ow have one lege in the Indian Super League semifinals. The Blasters were aggressive right from the start as they knew that even a draw may not be enough for them and hence they were ruthless and that reaped rewards. Follow all the ISL 2021-22 LIVE Updates only on InsideSport.IN
Mumbai City FC were taken aback by the late first-half goal scored by Sahal Abdul Samad. head coach Des Buckingham has revealed how they were denied a penalty in the first half and how that incident could have changed the outcome of the game. Nevertheless, the Islanders were not that effective in attack as Adrian Luna and Alvaro Vazquez also joined the party in the second half.
Relive the #KBFCMCFC game in 📸s! 💥

Click here to see the full match album 👇🏻 https://t.co/DY3tsJqcWu#HeroISL #LetsFootball #KeralaBlasters #MumbaiCityFC pic.twitter.com/yi9SDx8Ff6

— Indian Super League (@IndSuperLeague) March 2, 2022
Currently, as it stands Jamshedpur FC and Hyderabad FC have already booked their semifinal berths. So it is between three teams fighting for the two remaining spots. While ATK Mohun Bagan have almost confirmed their semifinals berth, there is a possibility that they can miss out on the semifinals if things dont go their way.
ATK Mohun Bagan
The Mariners will play Chenaiyin FC next followed by the last game against Jamshedpur FC. Juan Ferrando's men need a single point to confirm their qualification. But if they lose both their matches which does not look list a possibility considering their current form, then they have a chance of crashing out.
Kerala Blasters
Next in line are the Yellow Army who are all set to make it to the playoffs for the first time since 2016. Kerala Blasters need a single point from their last match against FC Goa to make it to the last four. However, given their current form, Ivan Vukomanovic's men will be looking to win the penultimate clash to keep matters in their own hands. A draw will also suffice given their superior head to head against next challengers Mumbai City FC.
Mumbai City FC
Their fortunes have slipped from their hands with the recent 3-1 defeat against the Kerala Blasters. They face Hyderabad FC in the last fixture of the current campaign and it is a virtual knockout for them. However, if they win scenarios may change given other teams (ATK Mohun Bagan and Blasters) have failed to fulfil their requirements to make it to the semifinals directly.
Also Read: ISL 2022: AIFF DC has issued a stern warning to Sandesh Jhingan, the Indian and ATK Mohun Bagan player – Check Out
Head to head scenario if teams end up with 34 points
There is a unique scenario that they occur if all three teams are stuck with 34 points with all matches done. Then hed to head among the three teams will determine the ones going through. If ATK Mhun lose their last couple of matches, Mumbai City FC can still qualify. The Islanders then would need Kerala Blasters to win their match against FC Goa. Mumbai City will obviously have to win against Hyderabad FC. The Islanders have secured four points against ATK Mohun Bagan this season and by the virtue of head to head if they finish on equal points, Des Buckingham's men will go through to the last four due to superior head to head record.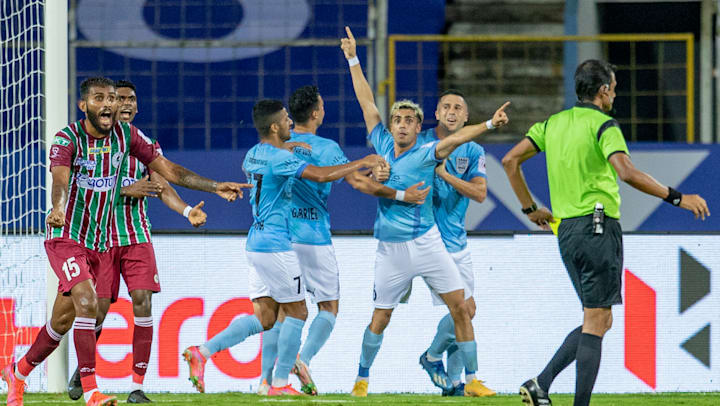 In a normal head to head scenario where all three teams are at a similar juncture, there also the Islanders struggle to make it up to ATK Mohun Bagan or Kerala Blasters' level. A mini table will be formed in case all three teams end up on 34 points each. There four matches between each team will be considered as each team has played the other two teams twice this season. There ATK Mohun Bagan again comes out ahead of Mumbai having five points from four matches. A win and a draw against the Blasters whereas a draw against the Islanders as they lost the first fixture against the defending champions. Kerala Blasters on the other hand will top the table with a double over the Islanders and a draw in the second leg against the Mariners, which puts them up top with seven points. Lastly, Mumbai City have four points from a win and a draw against the Green and Maroons.
Overall this scenario is a very far fetched idea as ATK Mohun Bagan will be looking to win against Chennaiyin FC and put an end to all the doubts. Similarly given the form that the Blasters are in we expect them to win or at least take a point from FC Goa as they have not been that effective this season. But strange things happen in sports and Mumbai City FC will be hoping that luck favours them for once this season and they find a place in the last four which for now looks like a sheer miracle.