IND vs NZ: Venkatesh Iyer impresses Rohit Sharma – India skipper Rohit Sharma is excited with the prospect Venkatesh Iyer can bring to the table in Hardik Pandya's absence. Given a call-up to ready him for Hardik's back-up, Iyer hasn't made an instant impact but he has still managed to have the captain by his side. Rohit said now the task will be to give him opportunities and back him.
"The plan is to keep him in the mix as much as we can. You saw his bowling skills. He looks a very, very bright prospect for us. He got the skills in terms of bowling as well. It's about giving him the confidence and making him play as much as we can and see if he can deliver for us. It's still early days. It has been just three games and he didn't have much of an opportunity to make an impact. But going forward, we will definitely keep an eye on him," Rohit Sharma said at the post-match press conference after India's thumping 73-run victory over Mitchell Santner led New Zealand at the Eden Gardens on Sunday.
IND vs NZ: Rohit Sharma impressed with Venkatesh Iyer's all-round ability, says 'He looks bright prospect for us'
Also Read: IND beat NZ Highlights: Rohit Sharma, Axar Patel help India beat New Zealand by 73 runs, clean sweep series 3-0
Venkatesh Iyer was under the microscope after the sectors decided to turn their attention to probable seam-bowling all-rounders who can fill the void left by an unfit and out of form Hardik Pandya. Iyer played all three matches and could not make an instant impact with the bat.
On Sunday, he got off to a good start with 20 off 15 balls but was ended up hitting the stumps. With the ball though, he made a good start. In three overs, he gave away just 12 runs in exchange for a wicket. However, it was the right situation to assess him as an all-rounder. A fatigued New Zealand were below-par and were struggling at the Eden Gardens.
IND vs NZ: Rohit Sharma impressed with Venkatesh Iyer's all-round ability, says 'He looks bright prospect for us'
But Rohit Sharma believes with the backing and clarity on his role, Venkatesh Iyer will be an asset to the team going forward. With Hardik Pandya still recovering from injury, Iyer could be given a go for the South Africa tour and that is where he will face the real challenge.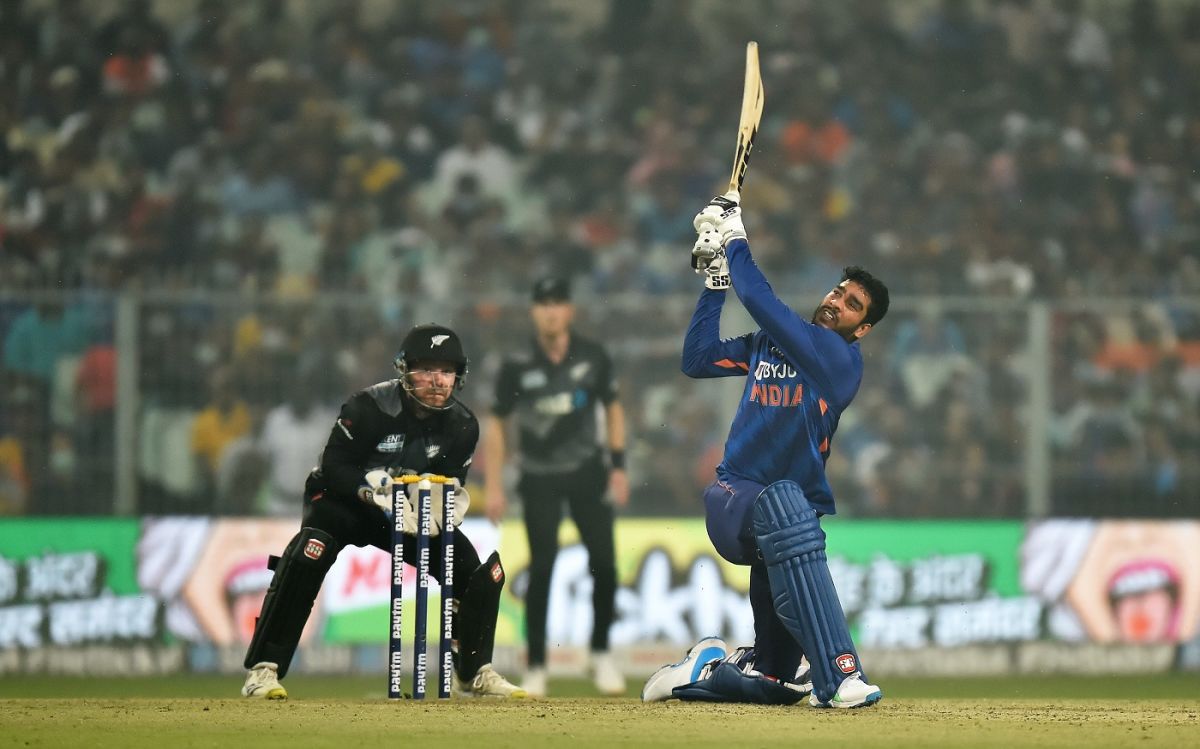 IND vs NZ: Rohit Sharma impressed with Venkatesh Iyer's all-round ability, says 'He looks bright prospect for us'
Also read: IND beat NZ: Humble in win, Rahul Dravid says 'Need to be realistic, not easy for NZ to play series three days after WC final'
"We need to give him a role to bat where he usually doesn't bat. For his franchise, he bats up the order. And it is going to be slightly tough for him to bat up the order here. So, we have given him a role to bat at No 5 or in the lower order, probably 6 or 7. We will see if he can do the job for us. Today he looked quite composed, he was clear in his mindset and he had a very good approach for whatever he wanted to try," Rohit Sharma said.
IND vs NZ: Room for improvement in middle-order
While India did manage a clean sweep with commanding victories, Rohit Sharma wasn't happy with how the middle-order performed. In the first match, Shreyas Iyer and Venkatesh Iyer fell quickly in the chase of 166. On Sunday, Suryakumar Yadav, Rishabh Pant, Venkatesh Iyer and Shreyas Iyer could not capitalise on their good starts.
"Room for improvement will be in the middle order. In the batting front, KL missed out today but his form is critical. Middle-order didn't get much opportunity except today. The spinners did the job for us in the entire series. The way Ashwin bowled, Axar. And how Chahal came back," Rohit Sharma said.
IND vs NZ: Rohit Sharma impressed with Venkatesh Iyer's all-round ability, says 'He looks bright prospect for us'
For more updates on cricket and other sports, follow InsideSport.IN