IND vs NZ 1st Test, Day 4 Stumps: India need 9 wickets to win- Shreyas Iyer's 65 and Wriddhiman Saha's 61 helped India set a 284-run target for Kane Williamson's New Zealand in the 1st Test in Kanpur. Ajinkya Rahane called Saha & Patel back on 234/7 with just 20 minutes left on Day 4. At stumps, Ashwin sent Will Young back as NZ closed the day at 4/1. Follow IND vs NZ LIVE Updates on InsideSport.IN
The target was to get to 300+ lead on Day 4 and put New Zealand in trouble. But India's plans went horribly wrong on Day 4 as their top order tumbled and the middle-order failed once again. Mayank Agarwal (17), Ajinkya Rahane (4), Cheteshwar Pujara (22) disappointed as India struggled to contain Tim Southee and Kyle Jamieson in Kanpur.
IND vs NZ 1st Test, Day 4 Stumps: India need 9 wickets to win as Iyer & Saha help set 284 target for NZ
But Shreyas Iyer's gritty 65-run innings alongside Ravichandran Ashwin (32) helped India fight back in the second session after Kyle Jamieson and Tim Southee wreaked havoc as New Zealand gained an upper hand against India in the opening session.
Shreyas Iyer led the fightback with a brilliant half-century after a century on Test debut. His crucial partnership with Ravichandran Ashwin (52 runs) and Wriddhiman Saha (64 runs). However, Iyer's dismissal didn't dampen the spirits as Wriddhiman Saha and Axar Patel added another 67 runs for the eighth wicket to stretch the lead to 283 before Rahane decided to declare. 
On Day 3, New Zealand lost the last 9 wickets for just 99 runs on Day 3, which sums up, still trailing by 49 runs. With 14/1 on Day 3, India needed to score big on Day 4 and make the Kiwis dance to the tune of the spin. But it hasn't been the case so far.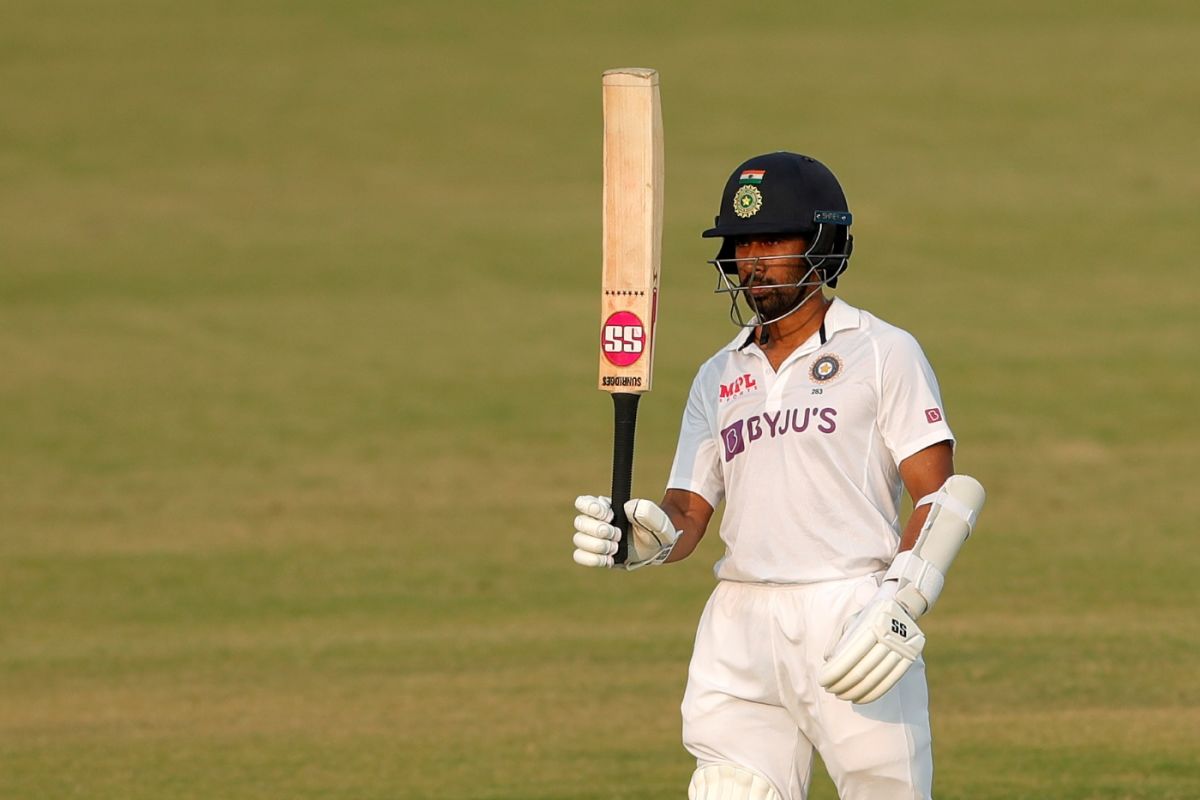 IND vs NZ 1st Test, Day 4 Stumps: India need 9 wickets to win as Iyer & Saha help set 284 target for NZ
IND vs NZ 1st Test: Courtesy Axar Patel 5 wicket haul…
New Zealand 2nd Innings: 4/1, Need 284 to win
Batsmen
 
R
B
4S
6S
SR
Tom Latham
Not out
2
13
0
0
15.38
Will Young
lbw b Ravichandran Ashwin
2
6
0
0
33.33
William Somerville
Not out
0
5
0
0
0.00
Extra
0 (b 0, w 0, nb 0, lb 0)
Total
4/1 (4)
Yet To Bat
KS Williamson, R Taylor, HM Nicholls, TA Blundell, R Ravindra, KA Jamieson, TG Southee, AY Patel
| Fall Of Wickets | FOW | Over |
| --- | --- | --- |
| WA Young | 1-3 | 2.6 |

IND vs NZ LIVE Score: Day 4, 3rd session, 6th hour:
Stumps: That brings the close of the day as India make a huge gain with a wicket as NZ post 4/1 and need 280 on Day 5 with nine wickets in hand. 
DRAMA! Young wants to take a review but he has wasted too long (17 seconds) and was alerted by the umpire. The replay shows the ball missing the stumps. A great miss for NZ and Ashwin was the first to point out that the 15-second timer was over. 
WICKET! Ashwin does the trick. Sharp turn and the ball hits Young's front pad. 
KS Bharat back behind the stumps as Saha paves the way with a stiff neck. 
Will Young and Tom Latham begin New Zealand's chase of 284. Ashwin bowls the first over.  
India 2nd innings: 234/7 decl, lead by 283 runs
IND vs NZ LIVE Score: Day 4, 3rd session, 6th hour
With this India have repeated a unique record. Indian batsmen have scored 50+ partnership for 6th, 7th and 8th wicket for the second time since 2007 in the Oval Test against England. 
Saha, Patel accelerate the scoring. Before India declare, the two will look to add as much as they can.
FIFTY! Wriddhiman Saha smashes a crucial half-century on Test return. It will keep KS Bharat out of the Playing XI for another match. 
The lead has stretched to 255.
IND vs NZ LIVE Score: Day 4, 3rd session, 5th hour
Even though New Zealand batsmen have good record batting in the second innings, it is a mission impossible for them in India. 
India's lead surges to 250+. No visiting team in India have chased 150+ target.
Swing and a miss! Southee almost had his 4th wicket as Axar tried to drive one on the off side. But he missed it. 
FOUR! A brilliant drive and Axar hits Southee for a 4. 
FOUR! Axar Patel hits a boundary off Jamieson. India need quick runs to stretch lead to 300.
Axar Patel joins Wriddhiman Saha in 3rd session. 
IND vs NZ LIVE Score: Day 4, 2nd session, 4th hour
FOUR! Southee back in attack and Iyer welcomes him with a fantastic shot on the onside for a 4. 
IND vs NZ LIVE Score: Day 4, 2nd session, 3rd hour
How will selectors drop Iyer after this? Virat Kohli comes in but one has to go out and it looks like either Pujara or Rahane will have to sit out. 
Iyer special show: He becomes first Indian to score a century and half-century on debut.
FIFTY!

Another fine knock by @ShreyasIyer15 as he brings up his half-century off 109 deliveries.

Live – https://t.co/WRsJCUhS2d #INDvNZ @Paytm pic.twitter.com/9BpbxZXZwT

— BCCI (@BCCI) November 28, 2021
Lead now 150. Iyer and Ashwin steadied the ship after India lost early wickets. Their partnership ensured India stretched the lead to 150+.
FOUR! Tim Southee back in attack and forces an edge off Iyer. It goes through the 2nd slip for a 4. 
FOUR! Ashwin begins with a boundary in the 2nd session. 
Ashwin, Iyer resume 2nd session for India and they need to stretch the lead as much as possible. 
IND vs NZ LIVE Score: Day 4, 1st session, 2nd hour
That will be Lunch on Day 4 of the 1st Test.#TeamIndia 345 & 84/5, lead New Zealand (296) by 133 runs.

Scorecard – https://t.co/WRsJCUhS2d #INDvNZ @Paytm pic.twitter.com/VdJmIvzoSA

— BCCI (@BCCI) November 28, 2021
Lunch: New Zealand dominated India in the 1st session and India will need to find an answer in the 2nd. India lead by only 133 runs and need at least 170 more. 
Southee in Asia: Matches: 12, Wickets: 47, Average: 23.30, Econ: 2.68. It shows how effective he has been on Asian surfaces. 
Good over for India. Both Ashwin and Shreyas go on the offence against Southee and a couple of boundaries in the over. 
WICKET! Another for Tim Southee. He traps Jadeja leg before and India are in a spot of bother.  
WICKET! Tim Southee gets the 50th scalp against India and it was the template bowling he began with. Southee's delivery kept low and Mayank edged it to second slip to depart. 
Ajaz Patel continues. He has improved from the first innings and has led the Kiwi bowling attack on Day 4.
IND vs NZ LIVE: Axar Patel puts up BIG-RECORD Breaking SHOW,…
IND vs NZ LIVE Score: Day 4, 1st session, 1st hour
Edge and a 4 again. Tim Southee's delivery got some swing and Mayank nicked it to the second slip. 
FOUR! Mayank Agarwal fumbles as he steps out to hammer Ajaz for a 6 but it goes for a 4.
WICKET! Rahane departs. Ajaz Patel's delivery kept low again and Rahane failed to read it as it hit his pad. India lose third wicket and a big one on Day 4.  
FOUR! Excellent cover drive by Rahane and it rushes to the boundary for a 4. The skipper is off the mark with a 4. 
FOUR! 1st boundary of the day. Mayank pulls Patel for a 4 but he has been struggling this morning against the odd ball turning or keeping low. 
WICKET! A good review and Cheteshwar Pujara departs. India dealt an early blow on Day 4. Pujara tried to leave the short ball on the leg stump but it was too late as he gloved it. 
DRS! Tom Blundell and Kyle Jamieson are convinced that the delivery touched Pujara's gloves. And review shows the ball touched Pujara's gloves. 
Ajaz Patel comes in early on Day 4 and Mayank wants to go hammering against the spinner. 
The highest 4th innings total at this venue is 240. Hence, if India take 300 lead, New Zealand will be in trouble.
.@mayankcricket and @cheteshwar1 are out there in the middle on Day 4 of the 1st Test.

Live – https://t.co/9kh8Df6cv9 #INDvNZ @Paytm pic.twitter.com/MHOmNCi3s6

— BCCI (@BCCI) November 28, 2021
IND vs NZ 1st Test, Day 4 Stumps: India need 9 wickets to win as Shreyas Iyer & Wriddhiman Saha help set 284 target for New Zealand
 

 

View this post on Instagram

 
Day four at Green Park in Kanpur #INDvNZ pic.twitter.com/fw8HQLk7wU

— BLACKCAPS (@BLACKCAPS) November 28, 2021
Big challenge for Indian Batsmen – Day 4 Kanpur Test: New Zealand opening batter Will Young on Saturday said that the cracks are starting to open up on the Kanpur wicket and the spinners have something to aim at heading into Day Four of the ongoing Test against India.
At stumps on Day 3, India's score read 14/1 with the hosts leading New Zealand by 63 runs. For India, Cheteshwar Pujara (9*) and Mayank Agarwal (4*) are currently unbeaten at the crease.
"The cracks are opening up a little bit further as well as three days' worth of bowlers' footmarks and a bit of rough for the spinners to aim at. A little bit of uneven bounce too.
"I think a lot of our batsmen today were beaten by low bounce & Indian batsmen will also have tough time on Day 4" warned Young.

Stumps India 345 and 14 for 1 (Pujara 9*, Agarwal 4*, Jamieson 1-8) lead New Zealand 296 (Latham 95, Young 89, Axar 5-62, Ashwin 3-82) by 63 runs
IND vs NZ 1st Test, Day 4 Stumps: India need 9 wickets to win as Shreyas Iyer & Wriddhiman Saha help set 284 target for New Zealand
IND NZ Day 3 Highlights – India lead by 63 Runs: After Tom Latham and Will Young's resistance, Indian spinners – especially Axar Patel bowled beautifully to bowl out New Zealand for 296. Patel bagged 5/62, his 5th – 5 wicket haul in his 4 test career as India took 49-runs lead in 1st innings.
At Day 3 stumps, India posted 14/1 with a total lead of 63 runs.

After a huge 151-run opening partnership between Tom Latham and Will Young, India made a fine comeback. With the pitch offering hardly any offer for the bowlers, India struggled in the first one hour. However, after Ravi Ashwin removed Will Young, the flood gates opened.

Axar Patel Shines: Axar Patel triggered the collapse with Ross Taylor's wicket after Umesh Yadav trapped Kane Williamson leg before. Even though Tom Latham continued to put pressure on Indian bowlers, the rest couldn't live up to the expectation.

Henry Nicholls, Tom Blundell, Tim Southee all failed to put up a resistance. Although Kyle Jamieson tried his best but Ashwin sent him back. As for Axar Patel, he continued his golden run in Test cricket, bagging his fifth fifer in just four Tests to take his tally to 32 wickets in just four matches. In the end, New Zealand folded for 296 handing over 49-run lead to the hosts in Kanpur.

What's happening here? 🤔

Stay tuned for more! ⌛️ #TeamIndia #INDvNZ @Paytm pic.twitter.com/PutRfPNm8E

— BCCI (@BCCI) November 27, 2021

However, India didn't do well bad light either. They lost Shubman Gill in an exactly similar fashion to the first innings. Kyle Jamieson's inswinger cleaned up Gill's stumps as India posted 14/1 at Day 3 stumps, 63runs ahead.
Where to Watch India vs New Zealand 1st Test Day 4 LIVE Streaming & LIVE Broadcast: Star Sports Network will broadcast IND vs NZ Test series LIVE & Disney+Hotstar VIP will be the live streaming platform for the series – Check the Engrossing Day 4 of Kanpur Test LIVE & Exclusive on Star Sports & Follow InsideSport.IN for all IND vs NZ LIVE Updates
IND vs NZ LIVE Score – Day 4 Kanpur Test: