Dhruv Singh: I want to stay in Europe and gain more experience, says the Indian youngster featuring for FK Timok Zajecar
Dhruv Singh: When we think of Indian footballers playing in Europe, we think about Bhaichung Bhutia featuring for Bury FC, Sunil Chhetri…
Dhruv Singh: When we think of Indian footballers playing in Europe, we think about Bhaichung Bhutia featuring for Bury FC, Sunil Chhetri turning up for Sporting CP or Gurpreet Singh being the first Indian to play in the Europa League for Stabaek FC in 2016. Apart from them, there are some other players aswell who had trials in Europe and did their best to learn the skills in a more competitive environment. Follow all the Indian Football Updates only on InsideSport.IN
Another such talent who is fighting it out in the second division in Serbia is Dhruv Vikram Singh. The young attacking midfielder who can also slot in as a striker came up through the ranks at Bhaichung Bhutia Football Schools.
Early life
Dhruv comes from a family where sports runs through their veins. His grandfather and father both were renowned sportspersons and hence sports was a metaphor of life for the Singh family.
In an exclusive conversation with InsideSport, Dhruv opened up on the effect that his sports loving family had on him. He shared how his father always understood and supported him even during his rough days and therefore he never felt alone. "It is really a great honour to be born in a sports family I was supported through my thick and thins, they helped me improve in many aspects. They helped me through hard times when I wasn't playing well enough and my performance was low. I never felt like I'm alone and have to fight everything. My dad was there and I knew that he was always there to support me," the teenager began.
"My maternal grandfather passed away when I was very young so I wasn't really able to interact with him that much but he was well known in his scene, so yeah that is it," Dhruv continued.
It was back in fourth grade when little Dhruv started kicking around in school and that's where his love for the game emerged. He gradually started developing and went on loving the game more. After a few years, he joined the Bhaichung Bhutia Football School to get more specialised guidance on the sport.
"In fourth grade, I used to train early morning in my school. My previous school wasn't that good at football so mostly I was alone with the coach. I loved the game very much, I guess football is the only thing that can make me give up my sleep. So as time went by I started loving it even more and now it's a part of my life my daily routine," the youngster revealed.
Also Read: ISL Season 8: Will stay true to our playing style, says Mumbai's Bheke ahead of Blasters clash
On joining FK TImok Zajecar
Dhruv's early career was shaped at BBFS and in 2020 when COVID-19 struck, he like everyone else stopped playing football. The youngster was restricted to training in his backyard to keep himself in shape. It was during this time, Dhruv decided to target overseas. He kept looking for opportunities abroad and with the help of his agent (Scout India) he signed for Serbian second division outfit FK Timok Zajecar. He has signed an initial six months contract with the club and if he manages to impress the coaches then a longer contract awaits.
"Scout India gave me this opportunity, they sent my CV to the club and I was called for trials. Luckily they needed someone in my position and I got selected and signed a contract for 6 months," Dhruv revealed.
Life in Serbia
Dhruv highlights how his club is in the peaceful city of Zajecar away from distractions as his mind and soul is totally devoted to training. He shared how he did not have many challenges in getting along with the players and with the new atmosphere. However, his primary challenge was on the field to adjust to the high standards and speed in training.
"My club is in a small city called Zaječar which is very quiet and I guess it is a perfect place for football because you don't have any distractions. I guess for me it wasn't that difficult to adjust here, outside the field because I have friendly nature. So I was friends with most of them pretty fast. The only challenge I have faced till now is in training which is very intense as compared to India. You don't have time to think so my body is getting used to the speed of the game. It was pretty hard at first it still is but I'm getting used to it."
The youngster added how FK Timok Zajecar is filled with talented players, all of them striving to become better professionals. He shares how some players have been a part of Partizan Belgrade in the past and have shared the dressing room with Juventus talisman Dusan Vlahovic. So it is a pretty high level. Dhruv even shared how his head coach Srdjan Stojcevski has loads of experience in coaching. Stojcevski had a stint with the Serbian U-19 team where he was the assistant coach. He has also been a part of Red Star's U19 setup for a few months.
"Club is filled with talented players, who have way more experience than me they all have played top leagues of Serbia. Some of them have played for Partizan (Belgrade) which is like a top club here. Some of them played with some very famous players, who are now playing Champions League one is in Juventus Dusan Vlahovic. So yeah it is fun to play with them and I'm learning every day.
"Our head coach was the assistant coach of the Serbian national team, so I guess that explains how good he is. He's one of the best coaches I've trained under. He has a lot of experienced and is very humble and easy to talk to. You can have fun with him off the ground but on the ground, he teaches you things you can't even imagine learning by yourself," the young Indian shared.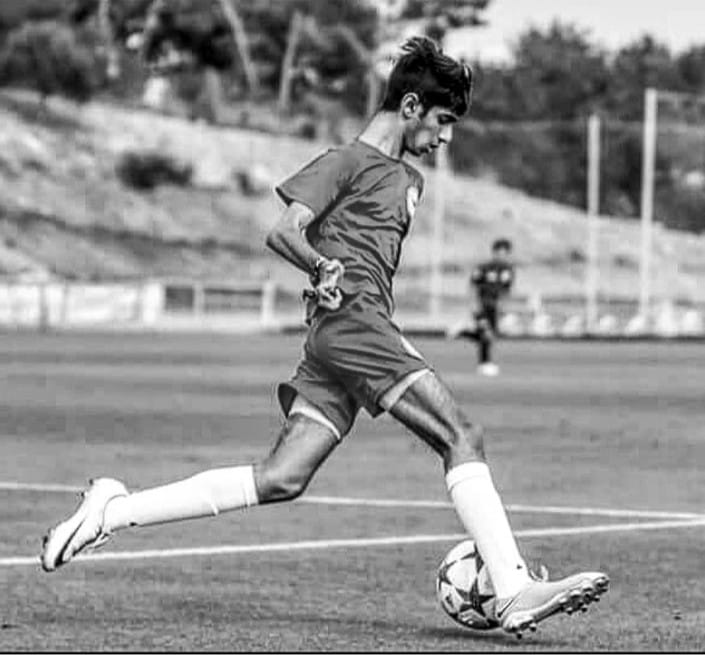 Future Plans of staying in Europe
Like many Indian footballers, Dhruv wants to hustle and fight for his place in Europe, that's his primary aim. He feels gaining experience in these countries will help him develop into a great player. But he is ready to play for Indian clubs if he fails to cut in in Europe.
"I want to continue my journey in Europe and play for more professional clubs to gain more experience and become even a better player so yes I want to hustle even harder in Europe and try for bigger clubs and hustle as much I can if I don't get any offer from different clubs in Europe then yes I'll try for Indian clubs," the BBFS product shared.
Also Read: ISL Season 8: I think we should have won that match, says SC East Bengal's Mario Rivera after draw against NorthEast United
Rarely do we see some Indian footballers going for trials in European countries and not many apart from the ones mentioned above have made it big in Europe. Speaking on why Indians do not take risk of venturing, Dhruv highlights the glaring issues that young Indian needs to take care of before thinking of pursuing a career in football and more importantly travelling to Europe for trials. "I'll say young Indians can definitely play in foreign leagues because you have more time to get used to the training pattern, intensity and many more things. But it's very difficult and you need a good amount of luck to get selected in European clubs. I guess many reasons are stopping Indians from playing in Europe like financial problems, parent's support, studies and many more things. You need to sacrifice a few things if you wanna be a professional," highlighted young Dhruv.
Lastly, the 18-year-old revealed his love for Indian national team captain Sunil Chettri and Paris Saint Germain star Lionel Messi. " I follow Sunil Chhetri a lot in India football and overall I am a Lionel Messi fan," the youngster concluded.