ICC T20 Rankings: Suryakumar Yadav's BIGGEST day AWAITS, 50 Plus knock can make SKY overtake Babar Azam as World's BEST T20 Batsman
ICC T20 Rankings: Race for World No 1 T20 Batsman: Suryakumar Yadav has seen a meteoric rise to Team India in just a…
ICC T20 Rankings: Race for World No 1 T20 Batsman: Suryakumar Yadav has seen a meteoric rise to Team India in just a couple of years. Since making his debut in March 2021, he is all set to take the World No 1 throne in T20I rankings. Suryakumar Yadav will have to wait till he will be able to dethrone Babar Azam for World No 1 rank. Follow IND vs WI 5TH T20 Live Updates on InsideSport.IN.
Suryakumar Yadav took exactly 506 days to become India's best batsman in T20s. In just 23 matches, he has scored 672 runs at an average of 38 and a strike rate of 175.60.
But in the 21 innings, he has played, he has scored a century and five 50+ knocks. It was his 44-ball 76-run knock against Windies in the 3rd T20 that helped him breathe near Babar Azam's neck. In 4th T20 he got out on 24. Today with a 50 Plus knock, SKY can become World No 1 T20 Batsman.
ICC T20 Rankings: Suryakumar Yadav's BIGGEST day AWAITS, 50 Plus knock can make SKY overtake Babar Azam as World's BEST T20 Batsman
India T20 WC Squad: Big promotion coming for Hardik Pandya, selectors set to make him permanent vice-captain in T20 cricket ahead of KL Rahul
With 818 points, Babar Azam leads the Ranking Table. In fact, he has dominated the rankings for the last one year. But there is a new king of T20 and that is Suryakumar Yadav. He is just two points behind Babar. But let's check first how is ranking points calculated.
ICC T20 Rankings: How ICC players' rankings measured? 
A batter gets more points for runs scored in the second innings. But there is value in half-century and century.
If a player scores run at a difficult time for the team, he gets more rating points.
In a low-scoring match, a batter gets more rating points than a high-scoring match.
A batter gets more points if he top scores for the team and the team wins the match.
He will also get a bonus point if it is against a strong team.
Players get a bonus point for not-outs.
ICC T20 Rankings: Suryakumar Yadav's BIGGEST day TODAY, just 50 runs required to overtake Babar Azam and become new World No 1 T20 Batsman: Follow IND vs WI 4TH T20 LIVE
ICC T20 Rankings: How can Suryakumar Yadav dethrone Babar Azam?
Babar Azam is the current leader with 818 points while Suryakumar Yadav is close 2nd with 816 points.
Babar Azam's next T20 assignment will be in the Asia Cup 2022.
Suryakumar Yadav can get past Babar Azam with just one impactful innings.
It doesn't need to be a half-century. If SKY saves India from a crisis with 30-ball 40 or helps India win the 4th T20, he will dethrone Babar.
Similarly, if Suryakumar scores a half-century in Florida, he will surpass Babar Azam as he is not playing any matches until against India in Asia Cup.
However, if Suryakumar doesn't manage to score any runs in the 4th T20, he will have another chance on Sunday in the 5th T20.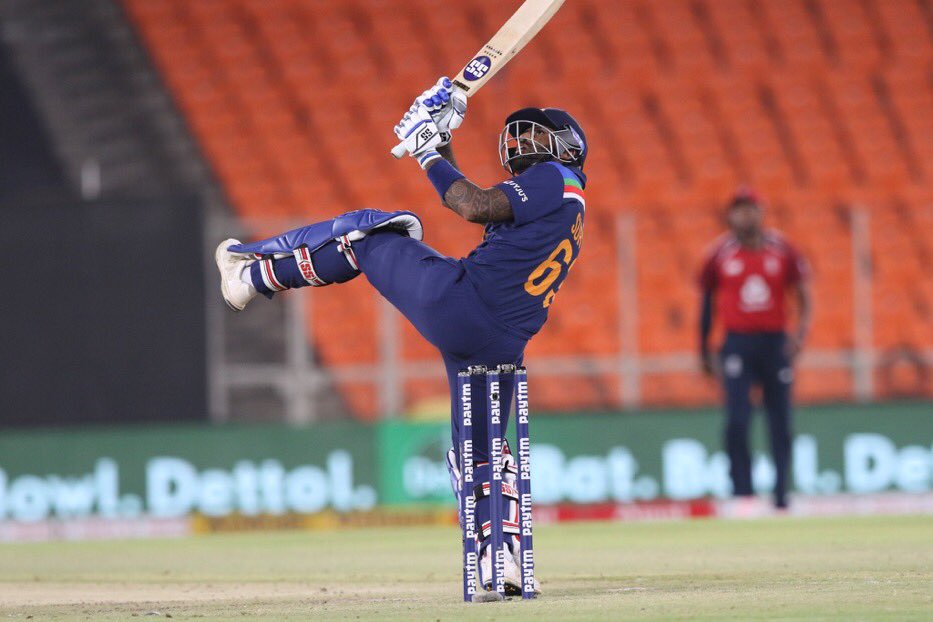 Since making his T20 debut against England with a Nataraj shot for 6 against Jofra Archer, SKY has become India's integral part in white-ball cricket. Although he did not have much success in the T20 World Cup, he has ensured he remains one of the first names in the team. He slammed his maiden T20I century against England as India bossed over Jos Buttler & Co.
With Asia Cup 2022 & T20 World Cup around the corner, Suryakumar is considered India's ace. It's his flexibility to open, bat at No 3, 4, 5 and even 6 or 7 as a finisher helps India in deciding the combination.
Follow InsideSport on GOOGLE NEWS / Follow IND vs WI Live Updates with InsideSport.IN.