Argentina vs Bolivia LIVE: – After the dramatic suspension of their clash with Brazil last time out, Argentina put in a professional performance to clinch a convincing 3-0 win over Bolivia. Captain Lionel Messi scored a delightful hat-trick as the Copa America champions made light work of their opponents to solidify their place in the FIFA World Cup qualifying. The six-time Ballon d'Or winner also broke Pele's record to become the highest South American male player in history, taking his tally to 79 with a hat-trick.
Argentina vs Bolivia LIVE: Captain Leo Messi scores delightful hat-trick as Copa America holders clinch 3-0 win in World Cup Qualifying
⚽ @Argentina 🇦🇷 3 (Lionel Messi x3) 🆚 #Bolivia 🇧🇴 0

👉 ¡Final del partido en el Monumental! pic.twitter.com/5KxWoSXURj

— Selección Argentina 🇦🇷 (@Argentina) September 10, 2021
@6:56 AM: Full time.
@6:54 AM: Joaquin goes for goal from distance again, but this time his shot goes wide after a minor deflection.
@6:52 AM: Messi is hunting for the hat-trick and the Argentine captain gets there after Lampe parries a thunderous Joaquin Correa straight into his path. Messi only has to hit a first time finish into the back of the net, and the six-time Ballon d'Or winner does so with some ease to put his side 3-0 ahead.
@6:48 AM: Exquiel Palacios, Lucas Martinez come in, Nicolas Otamendi, Rodrigo De Paul make way as Agentina make final changes.
@6:47 AM: Nico Gonzalez seizes a short backpass from Sagredo, but his effort is well dealt with by Lampe, who also blocks his safety pass to keep Argentina at bay.
@6:43 AM: Ramiro Vaca is penalised for a reckless challenge after he crashes into Paredes from behind.
@6:40 AM: Moreno tumbles inside the box after a challenge from Acuna, but his huge calls for a penalty die down as the flag is raised for offside.
@6:40 AM: Bolivia make another change, Gabriel Villamil comes on, replaces Jesus Sagredo.
@6:37 AM: Messi finds the net again, only for it to be ruled offside. The Argentine captain has put in yet another stellar performance, scoring twice from his six shots, while making three key passes.
@6:34 AM: Argentina make a twin substitution, Angel Di Maria and Lautaro Martinez are off, Nico Gonzalez, Angel Correa come on.
@6:34 AM: Another chance comes Lautaro's way but the Argentine continues to frustrate in front of goal.
@6:32 AM: Bolivia make a double substitution, Roberto Fernandez, Carmelo Algarane come on for Henry Vaca and Erwin Saavedra.
@6:30 AM: Lionel Messi doubles his tally with another delightful piece of play. The PSG man exchanges some neat passes with Lautaro before a ricochet lands kindly into him inside the box. Messi feints to send the keeper the wrong way and make it 2-0
@6:25 AM: Alejandro Gomez comes off after a decent shift, Joaquin Correa comes in as the first change.
@6:25 AM: Messi is at it again as he drives through the Bolivian defence to win a free-kick just outside the box. However, the set piece results in nothing.
@6:22 AM: De Paul has another crack at goal after Messi dinks in a wonderful ball in his path, only for the shot to go well over the bar.
@6:15 AM: Leandro Paredes threatens to double Argentina's advantage with a 30-yard strike, but Lampe has it saved.
@6:13 AM: Argentian have dominated proceedings so far, but will be aiming to be more clinical, with only 1 goal from their 11 shots on goal.
@6:10 AM: Bolivia make the first substituiton of the game, Ramiro Vaca comes on for Moises Villaroel.
⚽ @Argentina 🇦🇷 1 (Lionel Messi) 🆚 #Bolivia 🇧🇴 0

👉 ¡En marcha el segundo tiempo en el estadio de @RiverPlate! pic.twitter.com/4DGxq4mfNv

— Selección Argentina 🇦🇷 (@Argentina) September 10, 2021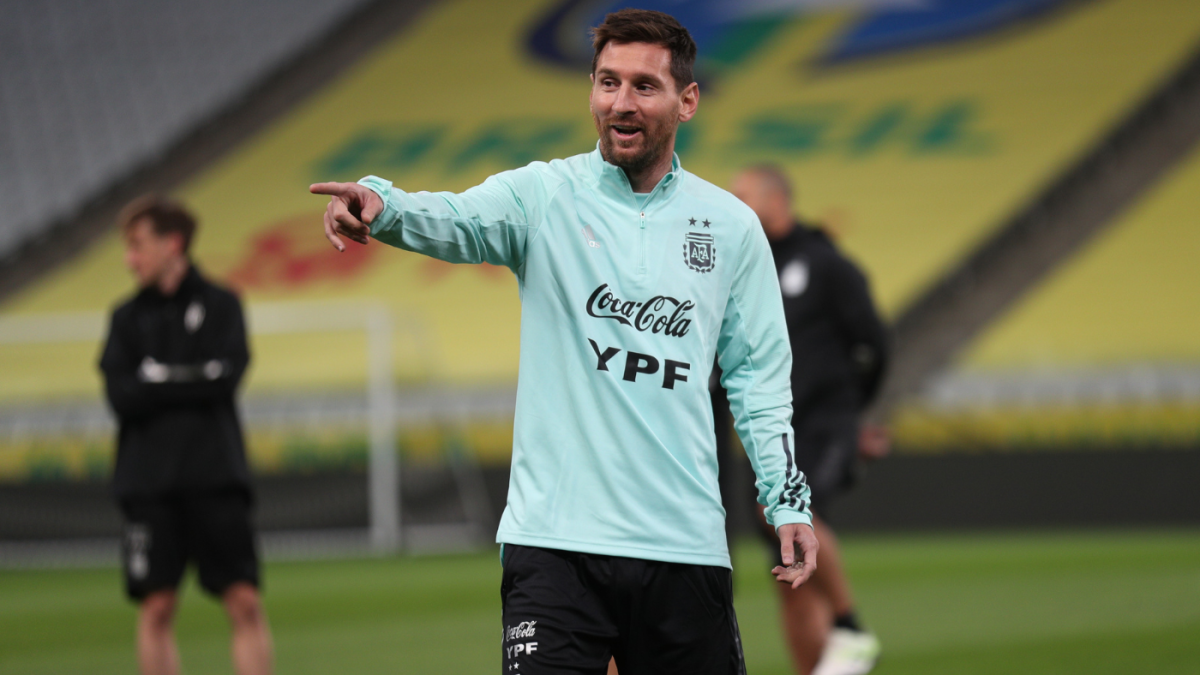 Argentina vs Bolivia LIVE: Line-ups
Argentina: Musso; Pezzela, Molina, Otamendi, Acuna; De Paul, Paredes, Alejandro Gomez; Di Maria, Martinez, Messi
Bolivia: Lampe; Quinteros, Haquin, Jusino, Segredo; Saavedra, Villarroel; Sagredo, Vaca, Justiniano; Moreno
When and where to watch Argentina vs Bolivia
When is Argentina vs Bolivia going to be played?
Argentina vs Bolivia will be played on 10th September at 05:00 AM
FIFA World Cup Qualifiers live streaming: Where is Argentina vs Bolivia going to be played?
Argentina vs Bolivia will be played at the El Monumental
FIFA World Cup Qualifiers LIVE streaming: Where can I watch Argentina vs Bolivia live?
Fans can watch Argentina vs Bolivia live on the Sony Sports Network and SonyLiv
FIFA World Cup Qualifiers LIVE streaming: When, where, and how to watch the new season 2021/22 live in your country, India
Which TV channel will broadcast the World Cup Qualifiers Matches?
The Matches will be telecasted on Sony Sports Network in India. Fans can enjoy the match live on Sony Ten 1, 2, 3 and their HD Channels as well.
World Cup Qualifiers LIVE Stream: Where can you live stream the Matches?
The World Cup Qualifiers matches will be available for streaming on SonyLiv and Jio TV. Fans will need to purchase a premium SonyLiv account to live stream all the matches.
Premier League: Chelsea fined £25,000 by FA for failing to control players in 1-1 draw vs Liverpool at Anfield