UEFA Nations League 2022/23: SUI 0-1 ESP, Spain WINS against Swiss, Pablo Sarabia's strike ensures 3 points for Visitors, Follow Switzerland vs Spain LIVE Updates
UEFA Nations League 2022/23: Switzerland vs Spain LIVE – Spain ensured their first victory of the campaign with a 1-0 win over…
UEFA Nations League 2022/23: Switzerland vs Spain LIVE – Spain ensured their first victory of the campaign with a 1-0 win over Switzerland. Pablo Sarabia gave his side an early lead in the first half as Luis Enrique and his side acquired the second spot in the group standings behind Portugal. Follow Switzerland vs Spain LIVE updates with InsideSport.IN
Nations League 2022/23 Points Table and Full Schedule, Follow UNL Live Updates
UEFA Nations League 2022/23: SUI 0-1 ESP, Spain WINS against Swiss, Pablo Sarabia's strike ensures 3 points for Visitors, Follow Switzerland vs Spain LIVE Updates
A dash by the Spanish side saw them creating a wonderful opportunity to open their account. Marcos Llorente slid the ball to his fellow compatriot Pablo Sarabia who simply taps the ball at the back of the net to give Spain a deserving goal.
However, there seems to be a shroud of controversy in the goal, at the time when Llorente released the ball, Sarabia was offside by inches. After a lengthy discussion by the VAR, much to the dismay of everyone, the goal stood as the Spanish team celebrated.
Nothing changed much in the second half. Spain sat back initially and enjoyed their possession-based game. La Roja had around 66% ball possession with Barcelona wonder-kid Gavi playing a crucial part in controlling the tempo of the game.
🏁 ¡¡FINAL, FINAL, FINAAAAAAAL EN SUIZA!!

La @SeFutbol logra un triunfo de importancia 𝐕𝐈𝐓𝐀𝐋 ante una Suiza que tuvo sus ocasiones en el tramo final del encuentro.

⚽️ @Pablosarabia92 (13′)

🇨🇭 🆚 🇪🇸 | 0-1 | 90+4'#VamosEspaña | #NationsLeague pic.twitter.com/YEWCFVEIEq

— Selección Española de Fútbol (@SeFutbol) June 9, 2022
UEFA Nations League 2022/23: SUI 0-1 ESP, Spain WINS against Swiss, Pablo Sarabia's strike ensures 3 points for Visitors, Follow Switzerland vs Spain LIVE Updates
The Swiss however decided to increase their pressure and went on to launch attacks in the middle of the second half but encounter a resilient defense from Spain. The Spanish side didn't leave an inch of space in the field as they constantly thwarted all Swiss hopes for an equalizer.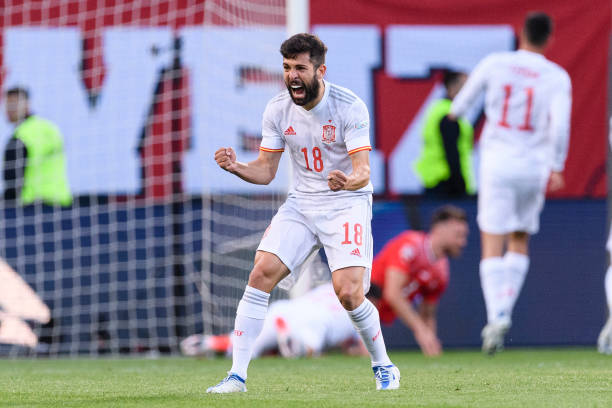 Towards the end of the game saw Spain picked up their pace to go out and look for their insurance goal, but squandered quite a few opportunities in the final third. After drawing their previous two games, Spain now with this win has picked up 5 points and stands second in the group, 2 points behind Portigal.
UEFA Nations League 2022/23: SUI 0-1 ESP, Spain WINS against Swiss, Pablo Sarabia's strike ensures 3 points for Visitors, Follow Switzerland vs Spain LIVE Updates