ISL Season 8: ISL Season 8: The Indian Super League has been marred with rising COVID-19 cases. In the past week, numerous matches have been postponed after keeping the safety of the players and staff in mind. The matches will be all rescheduled as promised by the league organising committee. Follow all the ISL 2021-22 LIVE Updates only on InsideSport.IN
While there have been a lot of noise regarding the league going on a hiatus, nothing official has been announced by the Football Sports Development Limited (FSDL). The ISL is going on despite the matches getting rescheduled and that includes Friday's game between Jamshedpur FC and Mumbai City.
Match 67 of #HeroISL 2021-22 between @JamshedpurFC & @MumbaiCityFC has been postponed. (1/3)

League Statement: https://t.co/mbtJg2nSu6#JFCMCFC #LetsFootball pic.twitter.com/Df20oaBueR

— Indian Super League (@IndSuperLeague) January 20, 2022
But recently All India Football Federation (AIFF) general secretary Kushal Das told The Hindu that the league will not take any break despite the rising COVID-19 cases in the bubble and consistent postponing of matches.
Teams with positive cases have isolated completely and have not been allowed to hit the training ground. While the I-League saw contrasting fortunes and has been suspended for at least two months now, the ISL will not entertain any break according to Kushal Das.
"We have a strong medical team. It [decision] can't be based on sporting merit, but on medical advice," said Das. "There have been a few cases here and there. ISL was nearly 45 days into the competition before we started having cases. With I-League, it was reported in the first round."
ATK Mohun Bagan have been the worst hit club with many players testing positive for the virus. Therefore three matches involving the Mariners have been cancelled. Whereas on the other hand Chennaiyin FC and Mumbai City FC are the only two teams to experience no cases in their camp. Therefore recently Chennaiyin FC head coach Bozidar Bandovic was irked by the talk of the ISL taking a break.
"We don't have cases. We've been following all the rules and protocols. What other teams do and how they've got cases, that's a question for others. For us, there is no question of a break," the Chennaiyin FC tactician opined.
ISL Season 8: Five things new signing Diego Mauricio will bring to Mumbai City FC
ISL's primary problem with going on a break has to be massive congestion in the schedule. There are numerous tournaments scheduled after the ISL season and delaying the end will hamper the plans for the Indian national team. The Blue Tigers will also be looking to prepare for the AFC Asian Cup qualifiers. The teams have already struggled with scheduling and Bengaluru FC head coach Marco Pezzaiouli who is also not a fan of going on break highlighted how a break may put the entire football schedule at risk inflicting injuries to several players.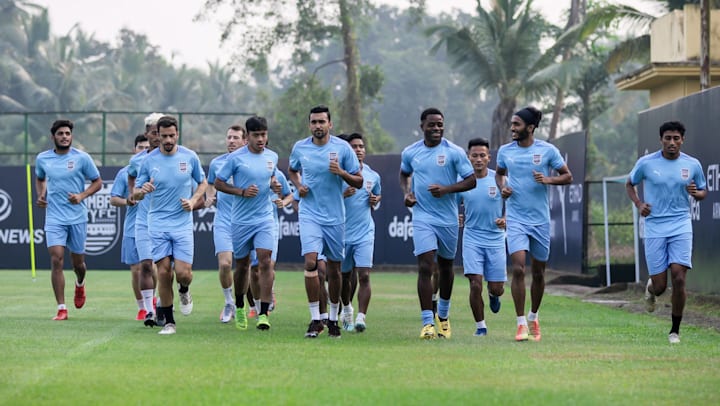 If the League takes a break and has to be finished within the same timeframe, then it means an already tight schedule has to be made tighter," he said. "Players stand a big risk of injuries or burn out," the German tactician pointed out.
However, SC East Bengal CEO Shivaji Samaddar is of a different opinion. Samaddar wants the league to go on a hiatus for 10-15 days to stabilise the situation before resuming again. "A break of around 10 -12 days is quite necessary. A lot of clubs believe a break will sort things out. Instead, the ISL management spoke about putting in stricter SOPs and continuing. They have made the gymnasiums out of bounds and made tests mandatory every day even to go to practice," Col. Samaddar said.
Amidst the rising cases, the only glimmer of hope is how teams have recently come out for training. Apart from Jamshedpur FC, all the clubs are out on training though the number of players and staff are less. But overall things are improving and it looks like things may get sorted very soon without a need of a break.