FIFA World Cup 2022: Group A – Hosts Qatar to battle out against Ecuador, Senegal and Netherlands – All you need to know about Group A teams, fixtures following the World Cup Final draw – WC 2022 Schedule
FIFA World Cup 2022: Group A – The FIFA World Cup 2022 draws are here and some of the big countries go…
FIFA World Cup 2022: Group A – The FIFA World Cup 2022 draws are here and some of the big countries go head-to-head to win the World Cup in Qatar. The draw took place on Friday 1st April with a total of eight groups and 32 teams announced. Group A contains the hosts Qatar who are also slotted with Ecuador, Senegal, and Netherlands Follow InsideSport.IN for the latest FIFA World Cup updates.
FIFA World Cup 2022: Group A – Hosts Qatar to battle out against Ecuador, Senegal and Netherlands – All you need to know about Group A teams, fixtures following the World Cup Final draw – WC 2022 Schedule
Also Read: FIFA World Cup Draws LIVE: The World Cup Final draw in full – Cristiano Ronaldo vs Suarez in Group H, Lionel Messi vs Lewandowski in Group C, Check Group of Death
GROUP A
Group A or the first group of the FIFA World Cup 2022 will see the hosts, Qatar pairing with Ecuador along with Senegal and the Netherlands. The first game of the competition will see Qatar take on Ecuador.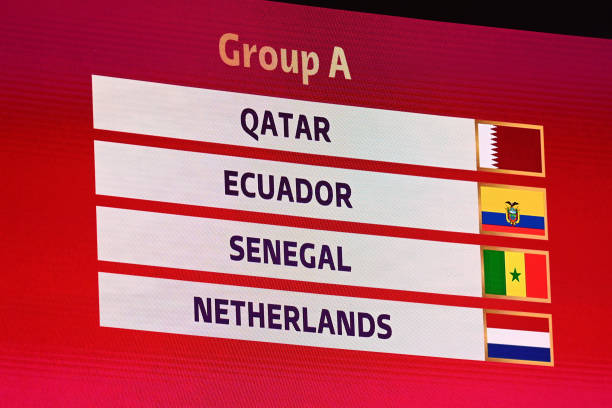 On the other hand, Senegal will play their opening game against the Netherlands. The Dutch being the European Giants are one of the strongest teams in the group. It is very likely that the Netherlands will top the group and will lead the charge for the Potential Quarter Finals.
The #FIFAWorldCup groups are set 🤩

We can't wait! 🏆#FinalDraw pic.twitter.com/uaDfdIvbaZ

— FIFA World Cup (@FIFAWorldCup) April 1, 2022
FIFA World Cup Draws LIVE: The World Cup Final draw is set
| | | | | | | | |
| --- | --- | --- | --- | --- | --- | --- | --- |
| GROUP A | GROUP B | GROUP C | GROUP D | GROUP E | GROUP F | GROUP G | GROUP H |
| Qatar | England | Argentina | France | Spain | Belgium | Brazil | Portugal |
| Ecuador | Iran | Saudi Arabia | IC Playoff 1 | IC Playoff 2 | Canada | Serbia | Ghana |
| Senegal | USA | Mexico | Denmark | Germany | Morocco | Switzerland | Uruguay |
| Netherlands | Euro Playoff | Poland | Tunisia | Japan | Croatia | Cameroon | Korea Republic |
When does FIFA WORLD CUP 2022 begin?
The first group stage fixture later this year will be held on November 21st.
That game will feature hosts Qatar and another side from Group A, and will kick-off at 1pm local time (10am BST).
The tournament will run over one month, with the final scheduled for December 18 and with a 6pm local time kick-off (3pm BST).
FIFA World Cup 2022: Group A – Hosts Qatar to battle out against Ecuador, Senegal and Netherlands – All you need to know about Group A teams, fixtures following the World Cup Final draw – WC 2022 Schedule
Also Read: FIFA World Cup Groups 2022: Qatar to host opening match against Ecuador, Spain joins Japan Group 4 with Germany at the Group of DEATH
FIFA WORLD CUP 2022: KEY DATES
Group stage draw: April 1
Group stage: November 21 – December 2
Last-16 – December 3-6
Quarter-finals – December 9-10
Semi-finals – December 13-14
FIFA WORLD CUP FINAL – December 18
World Cup 2022 schedule
Group Stage –
November 21
Qatar vs Ecuador
Senegal vs Netherlands
England vs Iran
United States vs Wales/Scotland/Ukraine
November 22
Argentina vs Saudi Arabia
Mexico vs Poland
France vs Australia/UAE/Peru
November 23

Denmark vs Tunisia
Spain vs New Zealand
Germany vs Japan
Belgium vs Canada
Morocco vs Croatia
November 24
Brazil vs Serbia
Switzerlands vs Cameroon
Portugal vs Ghana
Uruguay vs South Korea
November 25
Qatar vs Senegal
Netherlands vs Ecuador
England vs United States
Wales/Scotland/Ukraine vs Iran
November 26
Argentina vs Mexico
Poland vs Saudi Arabia
France vs Denmark
Tunisia vs Wales/Scotland/Ukraine
November 27
Spain vs Germany
Japan vs Costa Rica/New Zealand
Belgium vs Morcco
Croatia vs Canada
November 28
Brazil vs Switzerland
Cameroon vs Serbia
Portugal vs Uruguay
South Korea vs Ghana
November 29
Netherlands vs Qatar
Ecuador vs Senegal
Wales/Scotland/Ukraine vs England
Iran vs United States
November 30
Poland vs Argentina
Saudi Arabia vs Mexico
Tunisia vs France
Australia/UAE/Peru vs Denmark
December 1
Japan vs Spain
Costa Rica/New Zealand vs Germany
Croatia vs Belgium
Canada vs Morocco
December 2
Cameroon vs Brazil
Serbia vs Switzerland
South Korea vs Portugal
Ghana vs Uruguay
Last 16
Saturday, December 3
Match 49 – 1A v 2B – Khalifa International Stadium, 1500
Match 50 – 1C v 2D – Al Rayyan Stadium, 1900
Sunday, December 4
Match 52 – 1D v 2C – Al Thumama Stadium, 1500
Match 51 – 1B v 2A – Al Bayt Stadium, 1900
Monday, December 5
Match 53 – 1E v 2F – Al Janoub Stadium, 1500
Match 54 – 1G v 2H – Ras Abu Aboud Stadium, 1900
Tuesday, December 6
Match 55 – 1F v 2E – Education City Stadium, 1500
Match 56 – 1H v 2G – Lusail Stadium, 1900
Quarter-finals
Friday, December 9
Match 57 – Winner of Match 49 v Winner Match 50 – Lusail Stadium, 1900
Match 58 – Winner of Match 53 v Winner Match 54 – Education City Stadium, 1500
Saturday, December 10
Match 59 – Winner Match 51 v Winner Match 52 – Al Bayt Stadium, 1900
Match 60 – Winner Match 55 v Winner Match 56 – Al Thumama Stadium, 1500
Semi-finals
Tuesday, December 13
Match 61 – Winner Match 57 v Winner Match 58 – Lusail Stadium, 1900
Wednesday, December 14
Match 62 – Winner Match 59 v Winner Match 60 – Al Bayt Stadium, 1900
Third-place play-off
Saturday, December 17
Match 63 – Khalifa International Stadium, 1500
Final
Sunday, December 18
Match 64 – Lusail Stadium, 1500
FIFA World Cup 2022: Group A – Hosts Qatar to battle out against Ecuador, Senegal and Netherlands – All you need to know about Group A teams, fixtures following the World Cup Final draw – WC 2022 Schedule