PAK vs ENG Highlights: Haris Rauf, Rizwan star as Pakistan claw back to level series 2-2: Check Pakistan vs England 4th T20 Highlights
PAK vs ENG Highlights – Pakistan WIN by 3 runs: PAK ENG T20 Series Tied at 2-2: Pakistan have levelled the 7-match…
PAK vs ENG Highlights – Pakistan WIN by 3 runs: PAK ENG T20 Series Tied at 2-2: Pakistan have levelled the 7-match series 2-2 on the back of a thrilling finish in the 4th T20. Set to chase 167, England experienced a top-order collapse after being reduced to 18/3. However, England middle order was up to the task with Ben Duckett, Harry Brook and Moeen Ali contributing valuable runs. But it was Liam Dawson's 17-ball 34 that took England closer to the target. However, a last-moment harakiri by England helped Pakistan edge England by just 3 runs. Follow Pakistan England 4th T20 Highlights with InsideSport.IN.
PAK vs ENG Highlights: Haris Rauf, Rizwan star as Pakistan claw back to level series 2-2: Check Pakistan vs England 4th T20 Highlights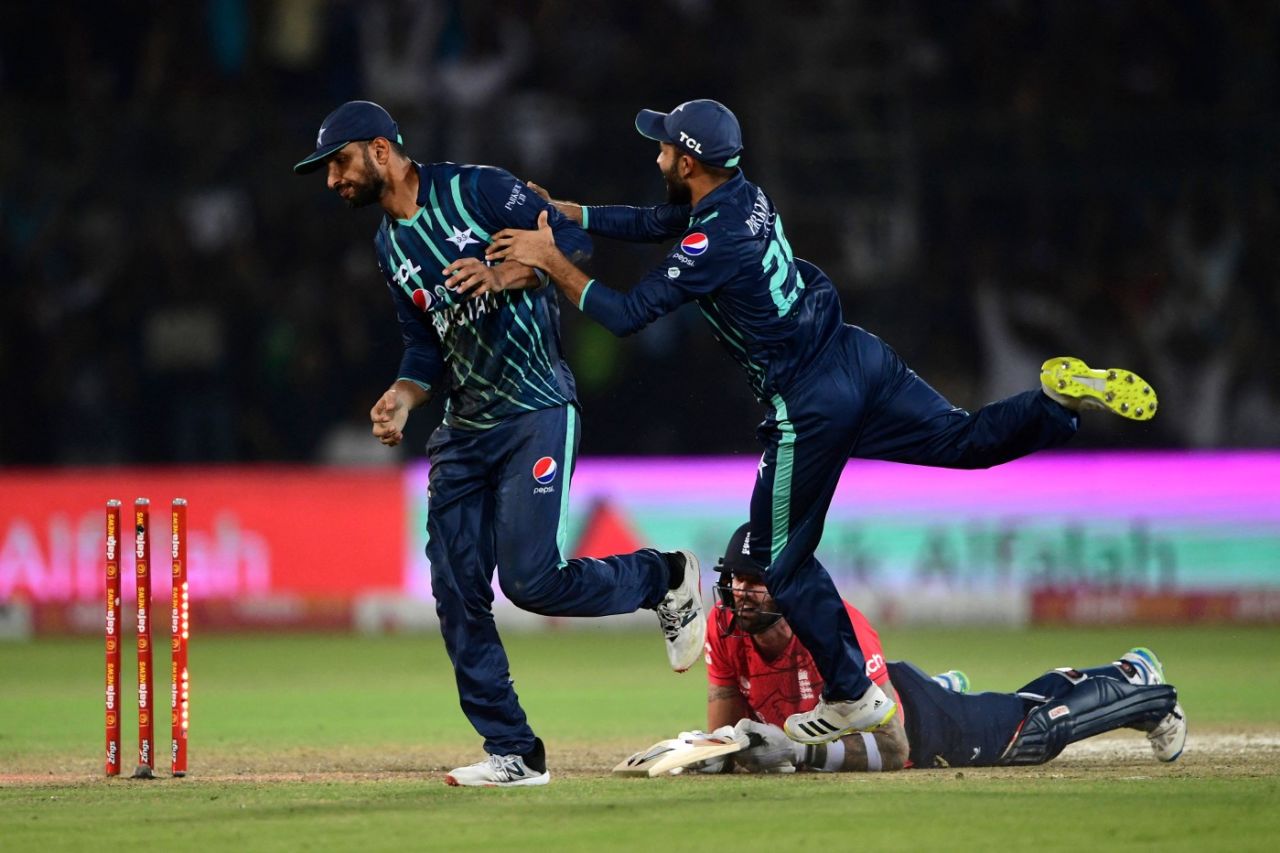 Earlier, In form Mohammed Rizwan again proved to be tough to dislodge for England bowlers. Rizwan scored 88 for Pakistan of just 67 balls and added 97 runs with Babar Azam for the opening wicket. But as Babar was dismissed for 36 – Pakistan lost their way and struggled for quick runs andd a couple of hue maximums from Asif Ali took them to 166/4. 
In response, England slipped to 18/3 with Mohammad Nawaz and Mohammad Hasnain doin the damage. Harry Brook and Ben Duckett continued their good form from the last game but was not enough to lead the visitors to victory.
Just when England had lost all hope, Liam Dawson turned the game around with a massive 24-run over. The match was in their pocket before Haris Rauf's stunning comeback, helping Pakistan win. England needed just 5 runs from the last 10  deliveries but were all out for 163, handing Pakistan a series-levelling win.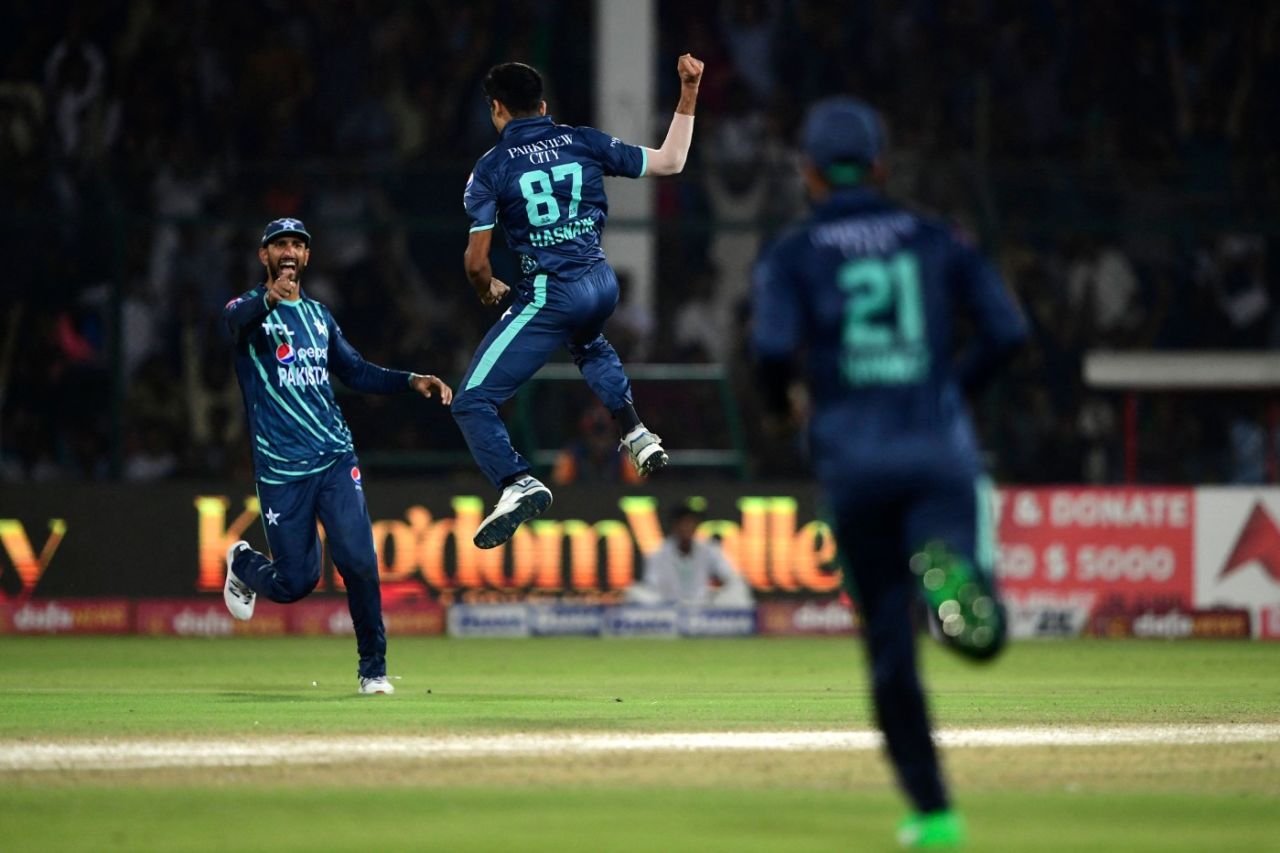 PAK vs ENG Highlights: Haris Rauf, Rizwan star as Pakistan claw back to level series 2-2: Check Pakistan vs England 4th T20 Highlights
England Scorecard
BATTING
R
B
M
4s
6s
SR

Phil Salt †

c Mohammad Wasim b Mohammad Nawaz

8
4
3
2
0
200.00

Alex Hales 

c Usman Qadir b Mohammad Hasnain

5
3
7
1
0
166.66

Will Jacks 

b Mohammad Hasnain

0
3
9
0
0
0.00

Ben Duckett 

lbw b Mohammad Nawaz

33
24
32
5
0
137.50

Harry Brook 

c Mohammad Hasnain b Mohammad Wasim

34
29
64
2
1
117.24

Moeen Ali (c)

b Mohammad Nawaz

29
20
29
3
1
145.00

David Willey 

b Haris Rauf

11
10
21
2
0
110.00

Liam Dawson 

c sub (Mohammad Haris) b Haris Rauf

34
17
26
5
1
200.00

Adil Rashid 

not out
3
3
19
0
0
100.00

Olly Stone 

b Haris Rauf

0
1
2
0
0
0.00

Reece Topley 

run out (Shan Masood)

0
3
7
0
0
0.00
Extras
(lb 3, nb 1, w 2)
6
TOTAL

19.2 Ov

 (RR: 8.43)

163

Fall of wickets: 1-8 (Phil Salt, 0.4 ov), 2-13 (Alex Hales, 1.2 ov), 3-14 (Will Jacks, 1.6 ov), 4-57 (Ben Duckett, 7.2 ov), 5-106 (Moeen Ali, 13.2 ov), 6-113 (Harry Brook, 14.2 ov), 7-130 (David Willey, 16.3 ov), 8-162 (Liam Dawson, 18.3 ov), 9-162 (Olly Stone, 18.4 ov), 10-163 (Reece Topley, 19.2 ov)
| BOWLING | O | M | R | W | ECON | 0s | 4s | 6s | WD | NB |
| --- | --- | --- | --- | --- | --- | --- | --- | --- | --- | --- |
| Mohammad Nawaz | 4 | 0 | 35 | 3 | 8.75 | 10 | 3 | 2 | 1 | 0 |
| Mohammad Hasnain | 4 | 0 | 40 | 2 | 10.00 | 11 | 6 | 1 | 0 | 1 |
| Mohammad Wasim | 3.2 | 0 | 30 | 1 | 9.00 | 6 | 5 | 0 | 1 | 0 |
| Haris Rauf | 4 | 0 | 32 | 3 | 8.00 | 9 | 5 | 0 | 0 | 0 |
| Iftikhar Ahmed | 4 | 0 | 23 | 0 | 5.75 | 5 | 1 | 0 | 0 | 0 |
Pakistan Innings ScoreCARD – 166/4 in 20 overs

Pakistan (Playing XI): Mohammad Rizwan(w), Babar Azam(c), Shan Masood, Iftikhar Ahmed, Khushdil Shah, Mohammad Nawaz, Asif Ali, Usman Qadir, Haris Rauf, Mohammad Hasnain, Mohammad Wasim Jr
England (Playing XI): Alex Hales, Philip Salt(w), Will Jacks, Ben Duckett, Harry Brook, Moeen Ali(c), David Willey, Liam Dawson, Adil Rashid, Olly Stone, Reece Topley
PAK vs ENG Highlights: Haris Rauf, Rizwan star as Pakistan claw back to level series 2-2: Check Pakistan vs England 4th T20 Highlights