IND beat NZ – Mumbai Test: India won by 372 runs, seal the series: Mayank Agarwal's heroics with the bat and Jayant Yadav's four-wicket haul in the second innings helped India defeat New Zealand by 372 runs in the second Test of the two-match series here at the Wankhede Stadium on Monday. Follow India vs New Zealand Updates on InsideSport.IN.
IND beat NZ: India take revenge from New Zealand, beat the World Champion by 372 runs in the Mumbai Test to seal the series
#TeamIndia win the 2nd Test by 372 runs to clinch the series 1-0.

Scorecard – https://t.co/KYV5Z1jAEM #INDvNZ @Paytm pic.twitter.com/uCdBEH4M6h

— BCCI (@BCCI) December 6, 2021
With this win, India sealed the two-match series 1-0 and now Virat Kohli's side will head to South Africa for three Tests and three ODIs, beginning December 26. However, the second Test will be remembered for Ajaz Patel's ten-wicket haul in the first innings which made him just the third bowler in the history of the game after Jim Laker and Anil Kumble to achieve the feat.
Resuming Day 4 at 140/5, overnight batters Rachin Ravindra (18) and Henry Nicholls managed to add just 22 more runs to the total before the former was scalped by Jayant Yadav and the visitors were starring down the barrel, still needing 378 runs for the win with just four wickets in hand.
In his very next over, Jayant Yadav had Kyle Jamieson and Tim Southee dismissed for a duck and it seemed like that the hosts would wrap up the victory before the lunch break on Day 4.
The final two wickets also fell in quick succession and in the end, New Zealand was bowled out for 167, handing the hosts a 372-run win.
IND beat NZ: India take revenge from New Zealand, beat the World Champion by 372 runs in the Mumbai Test to seal the series
IND vs NZ Day 4 Scorecard: 
New Zealand have not lost a Test match since February 2020. Their last defeat dates back to 03 January 2020 when they faced 279 runs defeat against Australia.
Since then, Kiwis have defeated India, West Indies & Pakistan in two Test matches each. They won 1 against England while the other ended in a draw. New Zealand thrashed India again in the WTC Final and managed to draw the Kanpur Test
Day 4 Pitch report: Expect turn, expect bounce – that's what Simon Doull reckons. The spinners will be a threat again and the game get over in an hour or so today. New Zealand batters will have to bat immensely well and cautiously to resist.
@09:02 AM – It's time for huddle talk. Virat Kohli & Co. gearing for Day 4 – which probably can be the last day in ongoing Test match
Hello & good morning from Mumbai for Day 4 of the 2nd @Paytm #INDvNZ Test 👋#TeamIndia pic.twitter.com/TUXico0HbY

— BCCI (@BCCI) December 6, 2021
@08:46 AM – The Kiwis have a mammoth total of 400 to chase while India is just 5 wickets away. Check out what Rachin Ravindra has to say –
What will be the key to withstanding the Indian bowlers on day 4? Hear from overnight batsman Rachin Ravindra (2*) as he & Henry Nicholls (36*) prepare to resume at 140-5. Follow live from 5pm in NZ on @skysportnz & @SENZ_Radio. Live scoring | https://t.co/tKeqyM6myd #INDvNZ pic.twitter.com/Cy7a0uJ9Cw

— BLACKCAPS (@BLACKCAPS) December 5, 2021
@08:44 – India's new Test hero – Shreyas Iyer shares his birthday with two more heroes – Jasprit Bumrah & R Jadeja. Wishing the trio a very happy birthday –
Birthday wishes to the terrific trio of @Jaspritbumrah93, @imjadeja and @ShreyasIyer15. 🎂 👏 👏#TeamIndia pic.twitter.com/7tkEadTE0f

— BCCI (@BCCI) December 6, 2021
Hello & welcome to the IND vs NZ 2nd Test Day 4 live updates. New Zealand need 400 runs to chase or need to survive two days to avoid a defeat at Wankhede Test. On the opposite, India need just 5 wickets to seal the 2-match series & also claim the reclaim the World No 1 spot.
---
Also Read: IND vs NZ Day 3 Stumps: India 5 wicket away from victory after Ashwin, Axar rattle New Zealand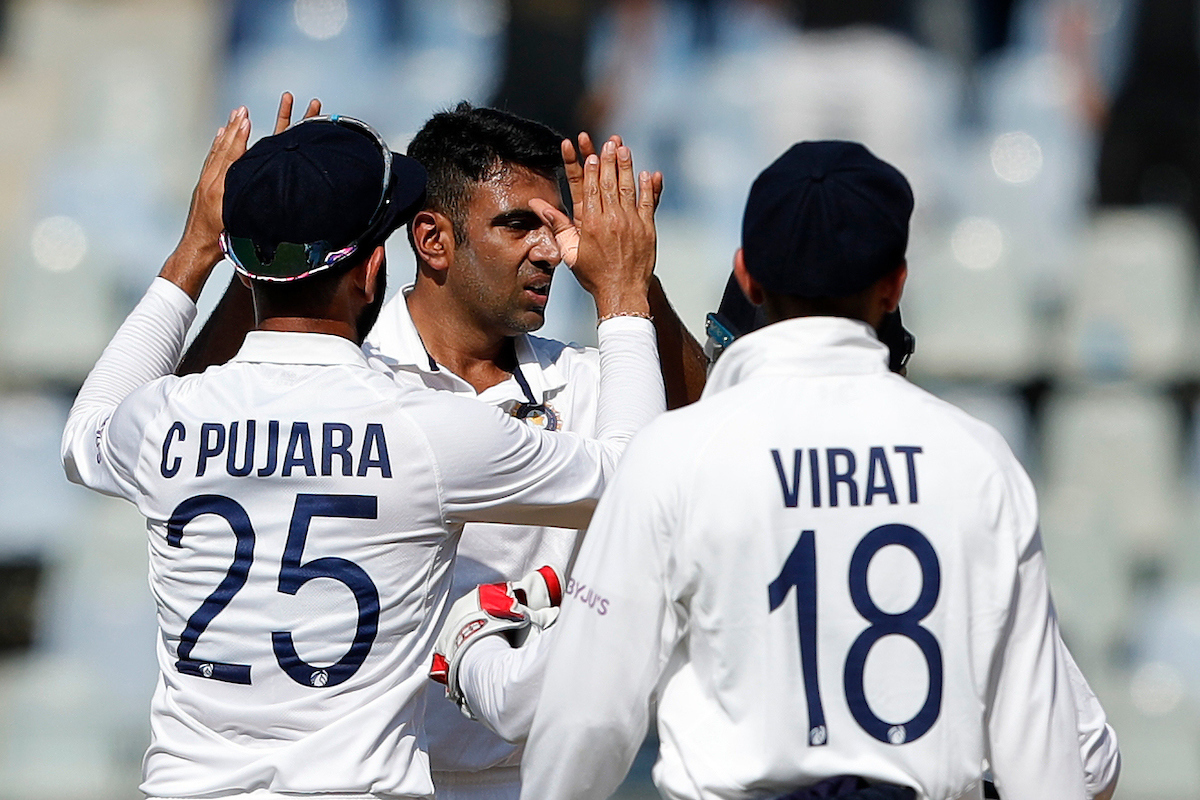 Ravichandran Ashwin has done the bulk of the job, cleaning up three Kiwis while Axar Patel has contributed with one. As the Wankhede pitch has favoured spinners with Ajaz Patel taking 14 wickets in the match, Ashwin and Patel will look to complete the job on Day 4. However, Axar Patel believes it will be a difficult job as the pitch has eased out and will help the batsmen.
"Two days earlier, the ball was bouncing a bit due to the moisture. As the match is progressing, it's becoming a little slow. It's easier for batters to play off the back foot. But we've played in such conditions. So we know what to do. We have to keep patience on such a wicket," Axar Patel said at a virtual press conference after the end of the day's play.
However, considering Henry Nicholls is the only specialist batsman on the crease and have an inexperienced Rachin Ravindra with him, followed by Kyle Jamieson and Tim Southee, it should not be a difficult job. The question is how soon can India bowl out New Zealand and seal the series 1-0 to climb to the 2nd spot on the WTC Points table.
IND vs NZ LIVE Score: Virat Kohli & Co five wickets away from reclaiming No 1, Follow Day 4 Ball by Ball LIVE Updates
IND vs NZ Day 3 Summary:
India dominated Day 3 of the second Test against New Zealand here at Wankhede Stadium, Mumbai on Sunday. Beginning the day at 69/0, Mayank Agarwal followed up his century with a 62-run solid knock. While Virat Kohli failed with the bat again, Cheteshwar Pujara's valuable 47 and Axar Patel's blitzkrieg 41 off 26 helped India post 276/7 before declaring and setting a mammoth 540 target.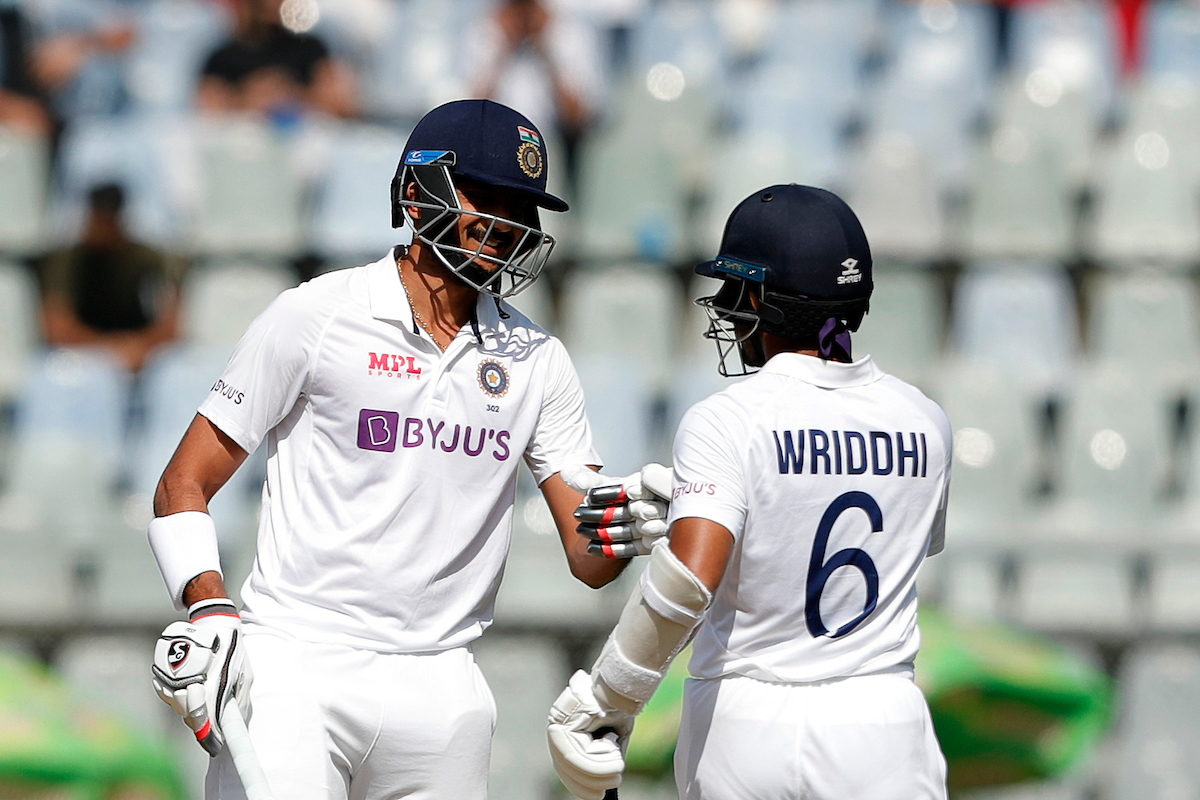 Also Read: IND vs NZ Live: Ajaz Patel's creates flurry of records with 14-wicket haul in Mumbai Test, check out
For New Zealand, it was never going to be easy. Daryl Mitchell and Henry Nicholls were the only positive for the visitors on Sunday as Kiwis score read 140/5 at the end of Day 3 of the ongoing second Test against India.
IND vs NZ LIVE Score: Virat Kohli & Co five wickets away from reclaiming No 1, Follow Day 4 Ball by Ball LIVE Updates
Chasing a mammoth target of 540, New Zealand had a hard time finding momentum after India declared their innings on 276/6 at Wankhede. The Kiwis now need 400 runs to win the second Test while India requires five wickets to register a series victory over New Zealand.
Also read: IND vs NZ Live: Axar Patel opens up on batting skills ahead of South Africa tour, says, 'Team has belief in my abilities'
For more sports news and IND vs NZ updates, follow Insidesport.IN