NBA Hall of Fame Requirements 2021: On May 15, 2021, Kevin Garnett, Tim Duncan, and Kobe Bryant will enter one of the most extraordinary HOF classes. The six-time champion Michael Jordan will also be in attendance to give the award to the Black Mamba.
More than 50 Hall of Famers are expected to be in attendance for the ceremony, including all presenters.
Naismith Memorial Basketball Hall of Fame Class of 2020 Enshrinement Ceremony to be Televised Live by ESPN on Saturday, May 15 at 5:30 p.m. Press Conference Live on NBA TV on Friday and Awards Gala on ESPN on Saturday. #20HoopClass

Note: All times ET

📰: https://t.co/ZClwNaq8VF pic.twitter.com/Gv9DYaIyuI

— Basketball HOF (@Hoophall) May 11, 2021
NBA Hall of Fame 2021: The 2020 Hall of Fame Inductees and Presenters
Patrick Baumann, presented by Russ Granik ('13), Vlade Divac ('19)
Kobe Bryant, presented by Michael Jordan ('09)
Tamika Catchings, presented by Alonzo Mourning ('14), Dawn Staley ('13)
Tim Duncan, presented by David Robinson ('09)
Kevin Garnett, presented by Isiah Thomas ('00)
Kim Mulkey, presented by Michael Jordan ('09)
Barbara Stevens, presented by Geno Auriemma ('06), Muffet McGraw ('17)
Eddie Sutton, presented by John Calipari ('15), Bill Self ('17), Sidney Moncrief ('19)
Rudy Tomjanovich, presented by Calvin Murphy ('93), Hakeem Olajuwon ('08)
NBA Hall of Fame Requirements 2021: Eligibility Criteria For a Player to be Inducted in the NBA Hall of Fame
For an NBA player, the H.O.F. commission will only acknowledge an application if the player retired for four complete seasons and who can receive the enshrinement in the fifth year. As for Kobe, he retired in 2016, which makes the current year his promptest shot at winning the recognition.
Once the qualification is met, the Basketball Hall of Fame (BHOF) needs a completed proposal form by October 31. Apart from this, the team adds the received forms to the approved slate and then presents them to appropriate organizations for further review.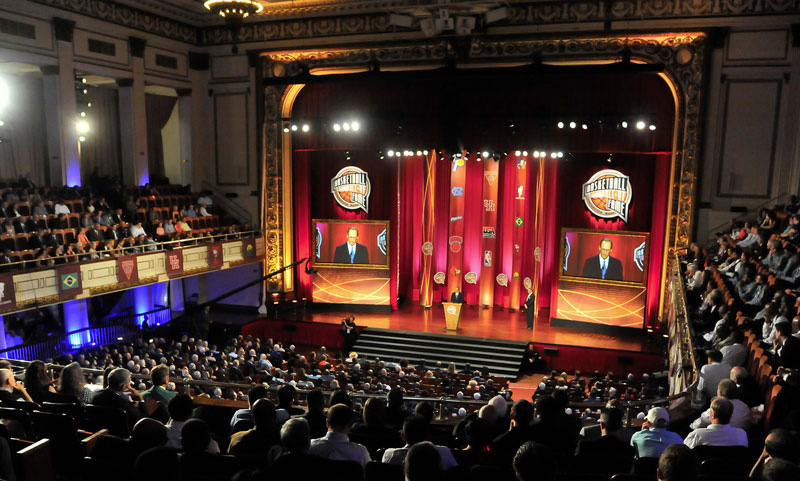 NBA Hall of Fame Requirements: Who are the "Decision Makers?"
The Naismith Memorial BHOF has set up two screening committees in North American and Women's committees. If a candidate gets zero votes from both sides, their candidature views a revocation for 5 years.
At most, the two sides can elect 14 (10+4) finalists. Check out the 10 finalists for the Class of 2021 NBA Hall of Fame.
After that, they send the chosen names for approval by the Board of Trustees and the Honors Committee. Upon permission from these groups, the finalists reach the final door. The 'Direct-Elect committees' then carefully make the review and elect the enshrinees.