UFC 282: Jan Blachowicz vs Magomed Ankalaev: Age, Height, Record, Net Worth, Social Media Followers and Other Stats Comparison
UFC 282: Jan Blachowicz vs Magomed Ankalaev will be the main event for a stacked UFC 282 card this weekend. The two…
UFC 282: Jan Blachowicz vs Magomed Ankalaev will be the main event for a stacked UFC 282 card this weekend. The two will face off for the light-heavyweight title. And while it promises to be a cracker, let's take a closer look at both fighters' records, physical attributes, and more. Follow UFC 282: Jan Blachowicz vs Magomed Ankalaev LIVE Streaming updates with Insidesport.IN
READ ALSO: UFC 282: Blachowicz vs Ankalaev: 5 best wins of Jan Blachowicz
Jan Blachowicz vs Magomed Ankalaev record and physical attributes
Blachowicz is the more experienced fighter with a 29-9-0 record, as compared to Ankalaev's 18-1-0 record. Ankalaev is also nine years younger than 39-year-old Blachowicz. The Polish fighter has a 31% KO rate, whereas the Russian boasts a 56% KO rate.
UFC 282: Jan Blachowicz vs Magomed Ankalaev: Age, Height, Record, Net Worth, Social Media Followers, and Other Stats Comparison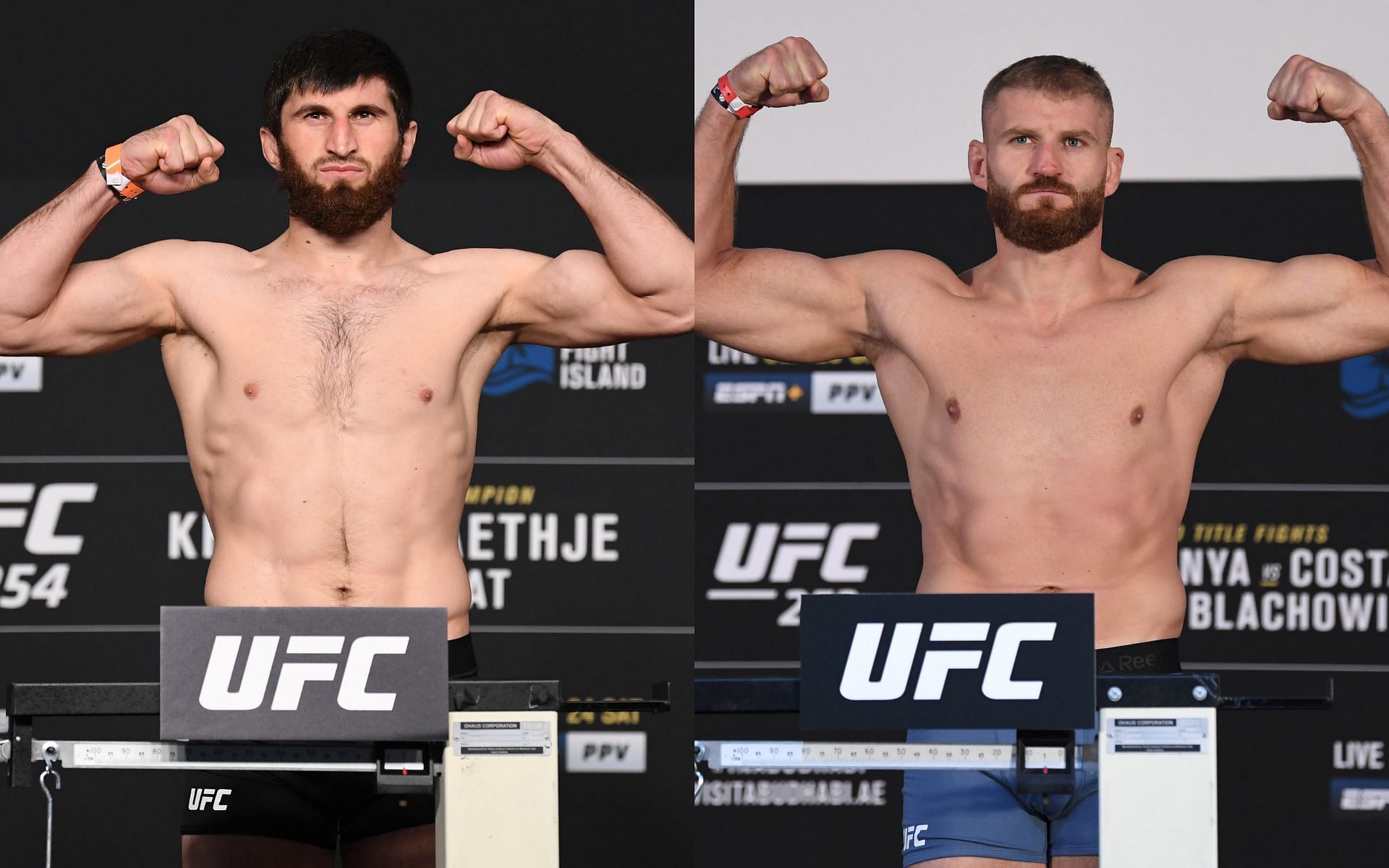 However, Blachowicz has the better submission rate, with 31% of his wins coming via submission, whereas Ankalaev is yet to win by submission. And while Blachowicz has a better takedown success rate, Ankalaev has a better takedown defense percentage.
Both fighters match fairly evenly in their physical attributes. Ankalaev is 6'3", with a 75" punch reach and a 46" leg reach, whereas Blachowicz is 6'2", with a punch reach of 78", and a leg reach of 44". Both fighters will weigh in at 205 pounds. However, their weight is subject to change on fight night.
Jan Blachowicz vs Magomed Ankalaev Net worth, social media, and other stats before UFC 282
According to reports, Blachowicz has a net worth of $3 million, whereas Ankalaev has a net worth of $900,000. In terms of social media, Magomed Ankalaev has 345,000 followers on Instagram, while Blachowicz has 841,000 followers.
Ankalaev comes into the UFC 282 main event on a 9-fight win streak, while Blachowicz comes into the fight on the back of one win after losing the title to Glover Teixeira. Both fighters land more than three significant strikes per minute with similar accuracy.
Therefore, all these stats point to the UFC 282 main event being a very close contest between two great light heavyweights. Who do you think will come out on top when they step into the octagon on December 10?
Follow UFC 282: Jan Blachowicz vs Magomed Ankalaev LIVE Streaming updates with Insidesport.IN