NBA Free Agency Tracker 2021: Check out Top 5 Shooting Guards. NBA free agency ahead of the 2021-22 season will begin on Monday, Aug. 2, at 6 p.m. ET, with contracts allowed to be officially signed Friday, Aug. 6, at 12:01 p.m, the league said.
For organizations, free agency is one of the fundamental forms of team-building. In enhancement to trades and the draft, this is where teams expect to find the players wanted to move from one tier of opposition to another.
The following key dates have been announced: pic.twitter.com/pKUJ7ETW3c

— NBA Communications (@NBAPR) April 19, 2021
The 2021 free agency class was supposed to feature several superstars, but players like Giannis Antetokounmpo and Bradley Beal signed contract continuations to take their names off the market.
However, that does not mean there won't be some big names available for teams to try and sign. Veteran stars like Kyle Lowry, Victor Oladipo, and DeMar DeRozan are all set to be unrestricted free agents.
Top 5 Shooting Guards available in the NBA Free Agency 2021
Victor Oladipo
Victor Oladipo is dealing with one more injury scare, but imaging following the latest incident reportedly revealed no additional structural damage. That's obviously good news, but Oladipo remains out and his injury history has reached a point that could scare some suitors away.
Still, he has shown some flashes this season of his former All-Star self, especially with the Indiana Pacers before he got traded to the Houston Rockets.
If he can stay injury-free, hit threes at an ordinary rate, and contribute time defending opponent players, he could be a very valuable player this offseason.
Tim Hardaway Jr.
He is another high-volume floor-spacer, Tim Hardaway Jr. can also contribute to scoring as well as defending.
He has a 39.5 three-point percentage on 7.3 attempts over the past 2 seasons, but in 2020-21, he is also posting superior-average performance as a pick-and-roll ball-handler.
Although he is not the primary creator, having wings that can initiate weakside actions and present a few catch-and-shoot opportunities for the star is important.
Norman Powell (Player Option)
Norman Powell's breakout season with the Toronto Raptors and Portland Trail Blazers could have him in line for an attractive raise over the $10.9 million he is earning this season.
This season, he is averaging 19.0 points and 2.7 threes and shooting 43.0 percent from three. The Raptors are plus-1.9 points per 100 possessions when Lowry and Fred VanVleet play without Powell, and they were plus-8.1 when they played with him.
In Portland, the Blazers have a plus-2.9 net rating when Damian Lillard and CJ McCollum play without Powell and are plus-19.0 when they play with him.
Duncan Robinson (Restricted)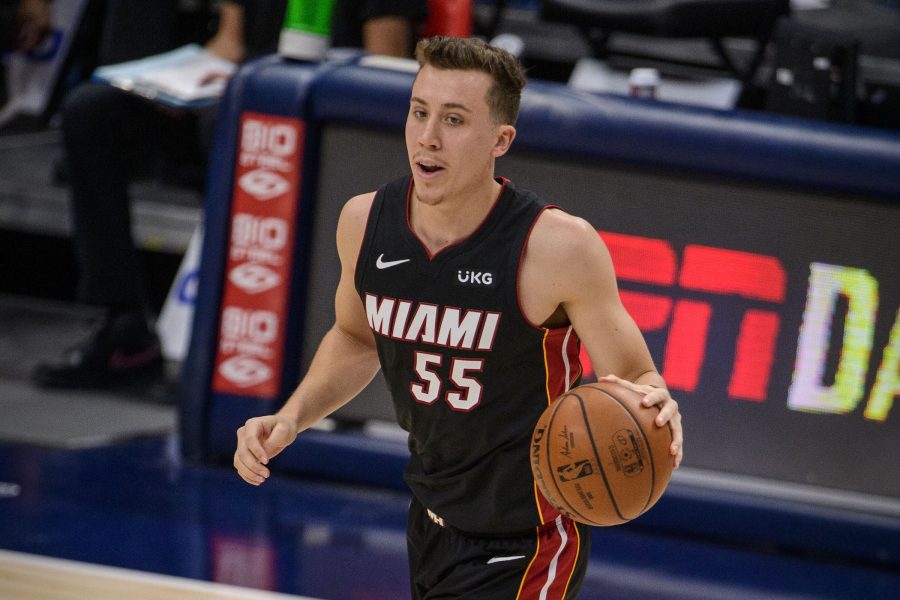 Duncan Robinson's efficiency is profoundly dependable on his shooting, so an eFG% slip of over five points from last season to 2020-21 is significant.
The way he moves off the ball and shoots off the catch, Robinson holds the concentration of an energetic and high-IQ perimeter defender.
The points per possession on the shots he does get can traverse for a lot of carelessness throughout the rest of the roster.
NBA Free Agency: DeMar DeRozan
Given his evolving role with the San Antonio Spurs, DeMar DeRozan apparently could have been placed anyplace from shooting guard to power forward. That makes him the top free agent this offseason, along with Chris Paul.
After years as an approximately 80s- or 90s-style 2-guard, DeRozan is now a positionless playmaker equating a career-high 7.1 assists and often driving lineups as a nominal 4.
His off-ball defense and well-below-average marks in three-point percentage and eFG% remain a bit of a concern, but on the right team, he could be a serious floor-raiser.
Top 5 Point Guards available in the NBA Free Agency 2021