NBA 2021: Former Kentucky men's basketball star Terrence Clarke died following a car crash in Los Angeles on Thursday, his agent, Rich Paul, confirmed to ESPN's Adrian Wojnarowski. Clarke was 19 years old.
Clarke was a 6'7″ guard who averaged 9.6 points, 2.6 rebounds, and 2.0 assists in eight games with Kentucky, and was assumed to play a vital part before an unlucky ankle injury ended his regular season in late December.
Rich Paul: "We are saddened and devastated by the tragic loss of Terrence Clarke. He was an incredible, hard-working young man. He was excited for what was ahead of him and ready to fulfill his dreams…" https://t.co/YLZb0fSSV8

— Adrian Wojnarowski (@wojespn) April 23, 2021
"I am absolutely gutted and sick tonight," Kentucky head coach John Calipari said in a statement. "A young person who we all love has just lost his life too soon, one with all of his dreams and hopes ahead of him. Terrence Clarke was a beautiful kid, someone who owned the room with his personality, smile, and joy. People gravitated to him, and to hear we have lost him is just hard for all of us to comprehend right now. We are all in shock."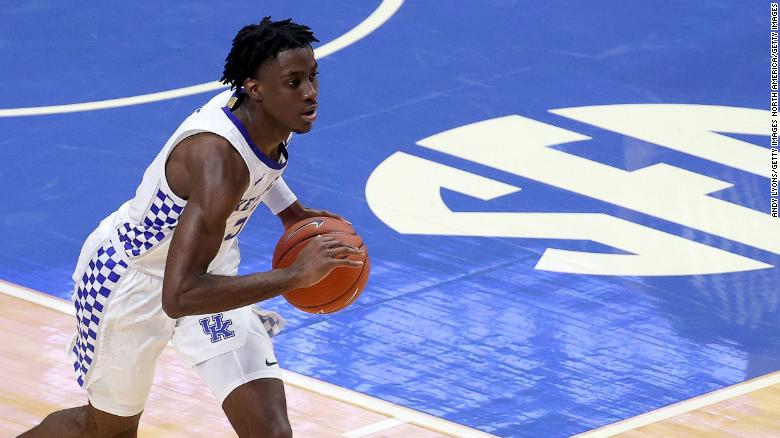 The Boston resident was working out in Southern California, training for the 2021 NBA draft preceding the crash. After one season with the Wildcats, Clarke declared he was turning pro and contracting with an agent.
News of Clarke's death was immediately felt across both college and pro basketball with many taking to Twitter to mourn the loss.
This is how NBA stars and others reacted to his death
you gone too soon.

— Jalen Green🤍 (@JalenGreen) April 23, 2021
RIP LIL BRO💕❤️ 💔 pic.twitter.com/IU22MqJjZr

— Shareef O'Neal (@SSJreef) April 23, 2021
Nahhh it's no way bro

— Cade Cunningham (@CadeCunningham_) April 23, 2021
Rest In Peace Terrence Clarke
Keep the Clarke family in your prayers 🙏🏾 https://t.co/I0nkTbEDIu

— JJJ (@jarenjacksonjr) April 23, 2021
Mo Bamba: "I just want to say my condolences to the Clarke family. I found out midgame that Terrence Clarke, who was a promising young man, promising young athlete who, quite frankly, would have been in this league next year, he died. … My heart …

— Josh Robbins (@JoshuaBRobbins) April 23, 2021
Rest Easy Terrence Clarke😞🙏🏽 pic.twitter.com/yyAgoEIhcT

— Trae Young (@TheTraeYoung) April 23, 2021
After being labeled as a McDonald's All-American in high school, Clarke chose Kentucky over proposals from Baylor, UConn, Illinois, Kansas, Louisville, Syracuse, UCLA, Duke, Michigan, and Villanova.
In declaring his choice to turn pro, Clarke said having the possibility to represent the Wildcats was a "lifelong goal" and the event was one he would keep with him permanently.
NBA 2021: Why did LeBron James Delete his Tweet about Police Shooting of Ma'Khia Bryant?