Suns vs Lakers Game 5 Live in NBA Playoffs: Phoenix Suns vs LA Lakers- 2nd June NBA LIVE stream, watch online, Schedules, Date, India time, Live Link, Scores: Suns thump Lakers 115-85 to take a 3-2 lead in the series
Devin Booker scored 30 points after two quiet games and the Phoenix Suns sent LeBron James to the locker room early, dismantling the Los Angeles Lakers 115-85 Tuesday night to take a 3-2 first-round series lead.
The Suns won in Los Angeles on Sunday to tie the series and went right at the Anthony Davis-less Lakers in front of a revved-up crowd in Game 5.
Game 6 will be back in the Staples Center. It is still not confirmed whether Anthony Davis will be available for that.
Suns vs Lakers Quarter 4
Suns win, 115-85. I assure you, it was not that close. Game 6 will be played on Thursday. If Phoenix wins, they will advance to the second round and end the Lakers' title defense.
A lot of the end-of-the-bench guys for the Lakers are auditioning for bigger roles in Game 6. Ben McLemore. Montrezl Harrell. Talen Horton-Tucker. We won't see Jared Dudley or Alfonzo McKinnie, but basically, anyone else needs to be on the table for Game 6.
Suns vs Lakers Quarter 3
Although KCP is out, he as well a Schroder have 0 points. If Game 6 is anything like this, it is almost certain that the Lakers will be knocked out in Round 1.
Bridges nails a 3 to push the lead back above 30. No mercy from Phoenix here.
Chris Paul remained in the game to shoot a pair of free throws before leaving the court and heading back to the locker room.
Kentavious Caldwell-Pope is headed back to the locker room. He missed Game 4 with knee soreness, and now, it looks like he's aggravated whatever was bothering him. He is out for the remainder of this game.
Chris Paul is hurt. He seems to have reinjured his shoulder.
Dennis Schroder has been extremely poor in this game. He is 0-7.
Jae Crowder beats the clock and pushes the lead to 32. LeBron answers with a 3 of his own.
Alex Caruso was just standing all alone wide open under the basket. Naturally, Kentavious Caldwell-Pope threw the pass off of the backboard. Nothing changing thus far in the second half.
The handles though. Sheesh 🥵 pic.twitter.com/v8gR0qOJaB

— Phoenix Suns (@Suns) June 2, 2021
Suns vs Lakers Quarter 2
The Lakers put Ben McLemore in the game and naturally, Chris Paul starts hunting him immediately. The Lakers have no answer. It is 55-28.
And now the Lakers are losing their composure. That Andre Drummond foul is the definition of unacceptable. The Lakers haven't made a field goal this entire quarter. Chris Paul makes a 3 and the building explodes. The Suns lead by 21. The Lakers have no answers whatsoever.
Booker from the corner and the lead is up to 18.
The Lakers are complaining every time a Sun so much as breathes on them. Yes, only getting five free throws so far is a major problem, but that's no excuse to shirk defensive duties. This is unacceptable on every level.
Book things#RallyTheValley pic.twitter.com/AZMRLqOxJS

— Phoenix Suns (@Suns) June 2, 2021
The Lakers have 4 turnovers now.
It's 40-26 Suns. Cameron Payne has 12 points thus far, outscoring every single Laker. The title defense is in critical danger right now.
The Lakers have to do something on offense. Don't be surprised if now is finally the moment we see Montrezl Harrell. Yes, the Suns will hunt him in pick-and-roll, but newsflash, they're scoring at will anyway. The Lakers need some energy.
Awful sequence from Andre Drummond there. Turns it over with a horrible pass, then gets punked in the post by Ayton.
The Lakers have NOT gone to Montrezl Harrell as expected to start the second quarter, but that's because LeBron isn't taking a rest either.
Suns vs Lakers Quarter 1
Devin Booker is having the game of his life. That's 18 points for the Phoenix shooting guard.
That's been the difference thus far as the Suns lead 34-26. The Suns have a young star capable of generating offense for them. LeBron just hasn't been that kind of player thus far tonight.
LeBron heads to the bench with 46.3 seconds left. These are the problem minutes for the Lakers. They've struggled to generate anything offensively without him in this series.
That's 13 points for Devin Booker to go along with 10 for Cam Payne. They're responsible for almost 80% of Phoenix's scoring.
Drummond is in for Gasol with around two minutes left. Interesting that they haven't gone to Harrell yet, but that might come when LeBron goes to the bench. That's when his offense is most valuable, but it's rare to see Drummond do two separate shifts in the first quarter.
Caruso and Matthews have both taken shots on defense recently. They both got up, but it just goes to show how physical the postseason is.
It's 19-10 Phoenix after that 14-0 run by the Suns. Timeout Lakers. So much is going wrong for the Lakers on offense right now. Nobody is moving. Everybody is afraid to shoot. The defense will stabilize. Phoenix is just making tough shots right now. But if the Lakers can't score? None of this matters.
We Love the hustle, @mikal_bridges pic.twitter.com/6DqEBlGfgT

— Phoenix Suns (@Suns) June 2, 2021
Devin Booker takes a hit in the paint from Gasol and is still able to get his circus shot in. He goes to the line and converts hi FT.
Quick hook for Andre Drummond. Marc Gasol is the first sub in the game for the Lakers. It's not a surprise. The Lakers need all of the shooting they can get. Alex Caruso is in for Dennis Schroder as well.
It's 10-10 with a bit more than five minutes in the books. LeBron has half of those Laker points, but he's really settling for jumpers too easily thus far. We see this from time to time when he makes his first one.
It's just rare to see him taking so many of them in a big game. Normally, this is where we'd see him attack the basket relentlessly.
Markieff Morris post-ups are not great end-of-clock possessions. Morris makes it up with a great block on DeAndre Ayton.
LeBron starts out hot. He gets a deep seal for a layup on his first shot and then walks into a 3-pointer for five quick ones. Seeing that 3 go in was absolutely huge considering he went 1-for-7 from behind the arc in Game 4.
Those 3's are great, but really, the key to the game will be James getting to the basket.
With the Lakers playing big, the Suns didn't have much choice in their defensive alignment. Jae Crowder had to guard Anthony Davis because Mikal Bridges couldn't. But with Davis out, the Suns have adjusted and Crowder is getting the first look on LeBron James instead.
Suns vs Lakers Starting 5 and Pre-Game Updates
THE 5. pic.twitter.com/6NIxCLeWeE

— Phoenix Suns (@Suns) June 2, 2021
KCP 🔙
Keef 🆙 pic.twitter.com/IvPHRieK2e

— Los Angeles Lakers (@Lakers) June 2, 2021
Morris started for AD from Feb. 24 to April 19 when Davis was out with the calf injury. He had a strong stretch of games before an ankle injury at New York on April 12.
Morris most recently started LAL's May 12 game vs. HOU when LeBron/AD were both out.
Markieff Morris will start for Anthony Davis (out with the groin injury) tonight in Phoenix.
Frank Vogel said he doesn't believe the knee that AD initiall sprained in the first half of Game 3 is an issue. He was playing through that. This is more about the groin, which has been the "bigger priority."
Frank Vogel said Anthony Davis is a game-time decision. KCP will play.
The biggest storyline of Game 5 is that Anthony Davis is questionable after sustaining a groin injury in Game 4.
The Suns have the best chance of taking the lead in Game 5 and being in the driver's seat as we enter the final few games of Round 1.
NBA Playoffs to be live-streamed in more than 200 countries. Watch NBA Playoffs Live here.
Match Details: Phoenix Suns vs LA Lakers
Time: 07:30 A.M. (IST)
Date: 02-06-2021
Venue: Talking Stick Resort Arena, Phoenix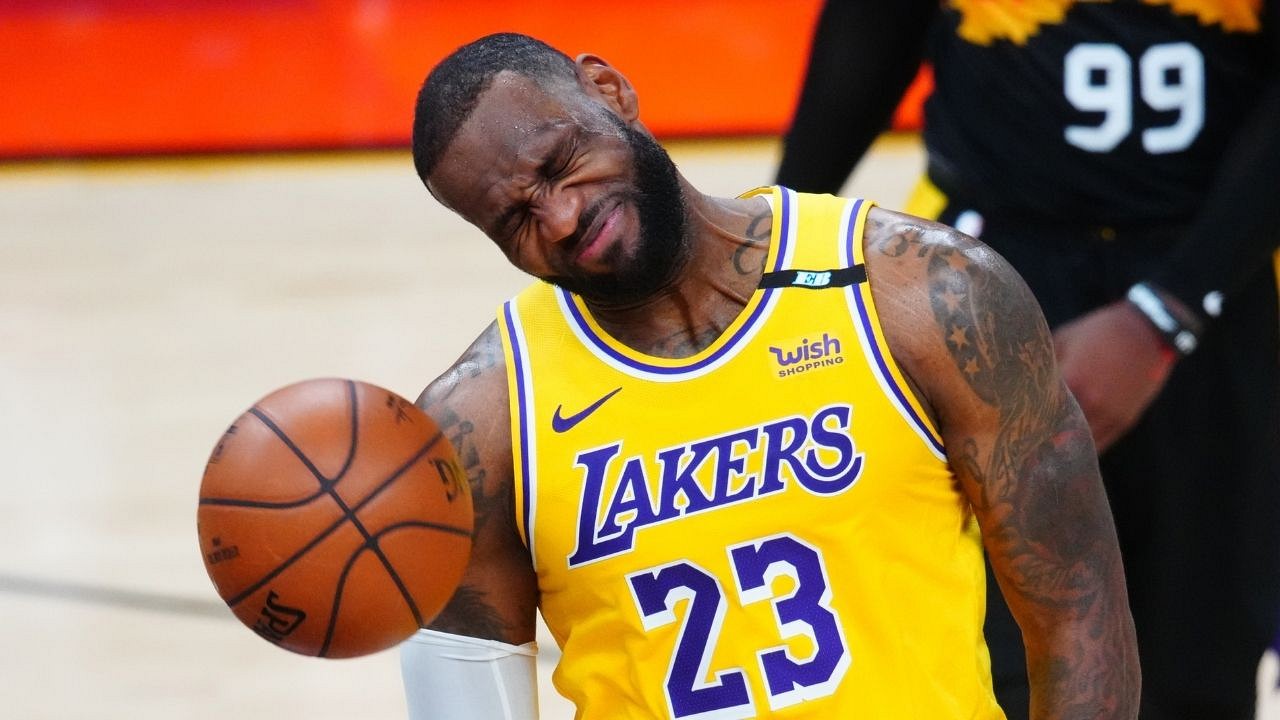 NBA fans can watch the NBA Scores and games LIVE here.
NBA TV coverage: Suns vs Lakers live in NBA Playoffs 2021
NBA games will be broadcasted nationally across ESPN and TNT.
NBA Playoffs 2021 Live stream: Suns vs Lakers live stream
Every game will be available live via NBA TV, while the nationally broadcast game will also be available via ESPN digital platforms.
NBA Playoffs Schedule: Find the latest NBA Playoffs Schedule here