NBA Hall of Fame 2021: This is what LeBron James had to say about Kobe Bryant's induction
NBA Hall of Fame 2021: Kevin Garnett, Tim Duncan, and Kobe Bryant will enter one of the most extraordinary HOF classes. The six-time…
NBA Hall of Fame 2021: Kevin Garnett, Tim Duncan, and Kobe Bryant will enter one of the most extraordinary HOF classes. The six-time champion Michael Jordan will also be in attendance to give the award to the Black Mamba. Check out what LeBron James had to say about Kobe Bryant's induction
NBA Hall of Fame 2021: The 2020 Hall of Fame Inductees and Presenters
Patrick Baumann, presented by Russ Granik ('13), Vlade Divac ('19)
Kobe Bryant, presented by Michael Jordan ('09)
Tamika Catchings, presented by Alonzo Mourning ('14), Dawn Staley ('13)
Tim Duncan, presented by David Robinson ('09)
Kevin Garnett, presented by Isiah Thomas ('00)
Kim Mulkey, presented by Michael Jordan ('09)
Barbara Stevens, presented by Geno Auriemma ('06), Muffet McGraw ('17)
Eddie Sutton, presented by John Calipari ('15), Bill Self ('17), Sidney Moncrief ('19)
Rudy Tomjanovich, presented by Calvin Murphy ('93), Hakeem Olajuwon ('08)
Naismith Memorial Basketball Hall of Fame Class of 2020 Enshrinement Ceremony to be Televised Live by ESPN on Saturday, May 15 at 5:30 p.m. Press Conference Live on NBA TV on Friday and Awards Gala on ESPN on Saturday. #20HoopClass

Note: All times ET

📰: https://t.co/ZClwNaq8VF pic.twitter.com/Gv9DYaIyuI

— Basketball HOF (@Hoophall) May 11, 2021
After the Los Angeles Lakers' 122-115 win over the Indiana Pacers on Saturday, LeBron James discussed Kobe Bryant's induction into the Naismith Memorial Basketball Hall of Fame.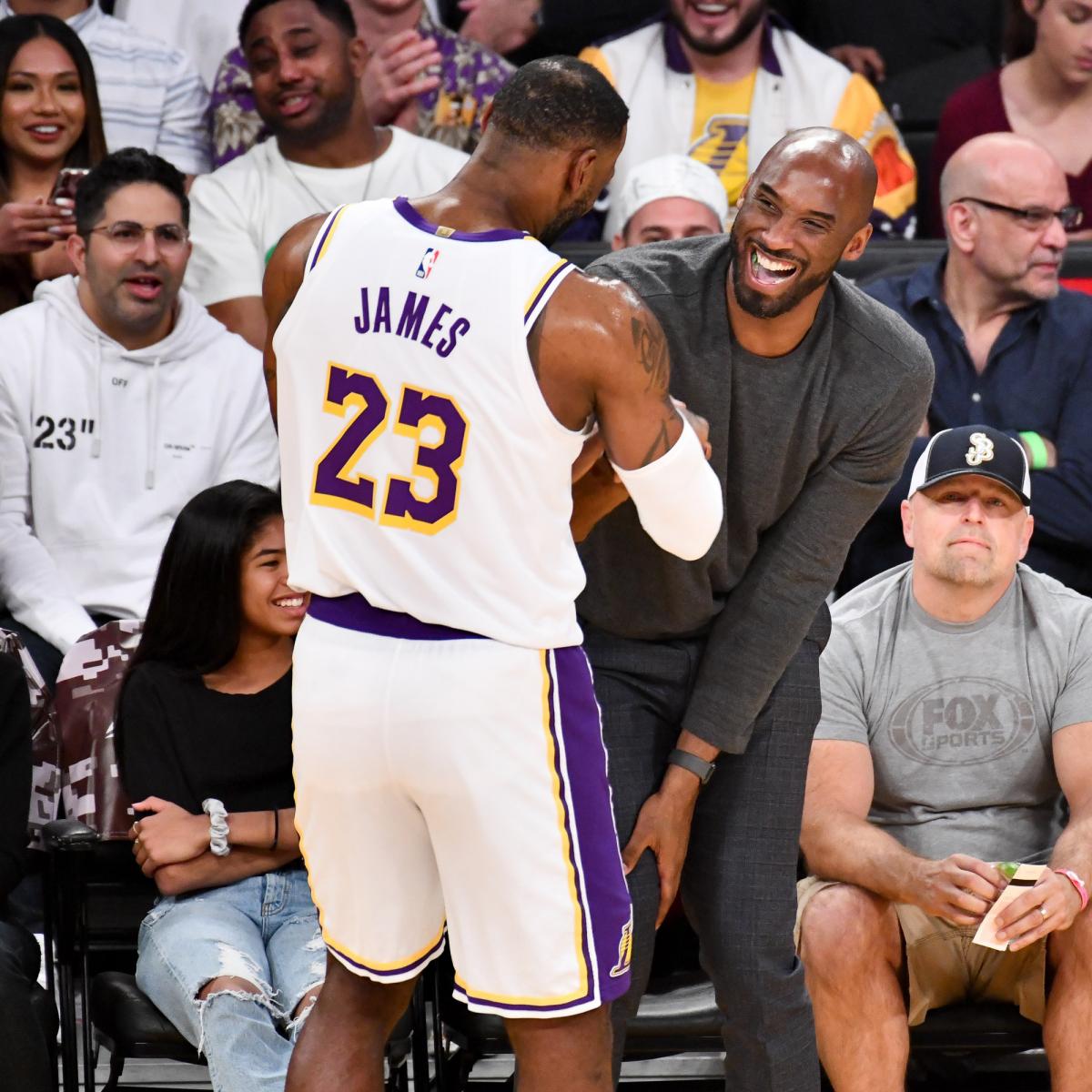 Mike Trudell of Spectrum SportsNet asked James about Bryant's induction, and the Lakers superstar responded with the following:
"It's a celebration for another Laker great, and just happy to be a part of his legacy."

LeBron pays respect to Kobe ahead of his Hall of Fame induction 💜💛

(via @SpectrumSN)pic.twitter.com/SLyxPa580t

— Bleacher Report (@BleacherReport) May 15, 2021
James said Kobe and Gianna will be "looking down" and watching the enshrinement ceremony. Kobe's widow, Vanessa Bryant, put the Hall of Fame jacket on their eldest daughter, Natalia Bryant, Friday during the Tip-Off Celebration and Awards Gala:
Natalia Bryant put on the Hall of Fame jacket to honor her dad, Kobe 🙏

(via @Hoophall) pic.twitter.com/iIVbYxtRyR

— Bleacher Report (@BleacherReport) May 15, 2021
Kobe Bryant was also an 18-time All-Star, two-time NBA Finals MVP, two-time NBA scoring champion, and one-time NBA MVP.
Kobe Bryant Stats
For his career, Kobe averaged 25.0 points, 5.2 rebounds, 4.7 assists, and 1.4 steals per game over 1,346 contests, all of which were played in purple and gold.
With 33,643 career points, Bryant sits fourth on the NBA's all-time scoring list behind only Kareem Abdul-Jabbar, Karl Malone, and LeBron.
James has followed in Bryant's footsteps, as he helped lead the Lakers to a championship last season, and is looking to repeat this season, which is something Kobe managed to do three times in his career.
NBA Hall of Fame 2021: Check Out Kobe Bryant's HOF Exhibit, Designed by Vanessa Bryant