Ligue 1: PSG boss Pochettino thought Lionel Messi's transfer move to PSG was a joke- Lionel Messi shocked the entire sports fraternity when he decided to leave his boyhood club FC Barcelona and make the transfer move to the French giants PSG. Messi, 34, left the Spanish side and signed a two-year contract with Paris St Germain (PSG), with an option for a third year.
🖼️🖌️ #PSGxMESSI

❤️💙 pic.twitter.com/E79nUJ0ckD

— Paris Saint-Germain (@PSG_inside) August 11, 2021
Ligue 1 Lionel Messi transfer: Pochettino's conversation with PSG's sporting director
However, Paris Saint-Germain coach Mauricio Pochettino has admitted that he thought the club's sporting director Leonardo was playing a prank on him when he was first told that Lionel Messi's signing was feasible.
"Leonardo called me and said: 'The possibility is there. Would you like it or not?' The good thing is that he called me to ask. I said to myself: 'Is it a question?' I thought it was a joke, no? Of course," Pochettino said.
"I told him: 'Do we have to go and get him? Do I have to drive the van?' And that is when the negotiation started. From then on Leonardo would call me every night to tell me how the situation was."
Messi, 34, had agreed to a new five-year contract with Barca, with his previous deal having expired on June 30. However, that contract would have meant Barca's wage bill would stand at 110% of their revenue.
Ligue 1: PSG boss Pochettino thought Lionel Messi's transfer move to PSG was a joke
"Everyone had assumed that Messi would continue at Barcelona," Pochettino said.
"Many clubs, if not all clubs, dreamt of having Messi, with him being a free agent. From the moment that PSG showed an interest, Leo wanted to come here. Everything happened very fast. We must highlight the work done by Leonardo, by our president, and all the club executives that in two or three days were able to complete the signing of the best player in the world."
"Who can't think that PSG wouldn't want him [Mbappe] to continue here for many more years?" Pochettino added. "The club will try to convince him and seduce him to continue here."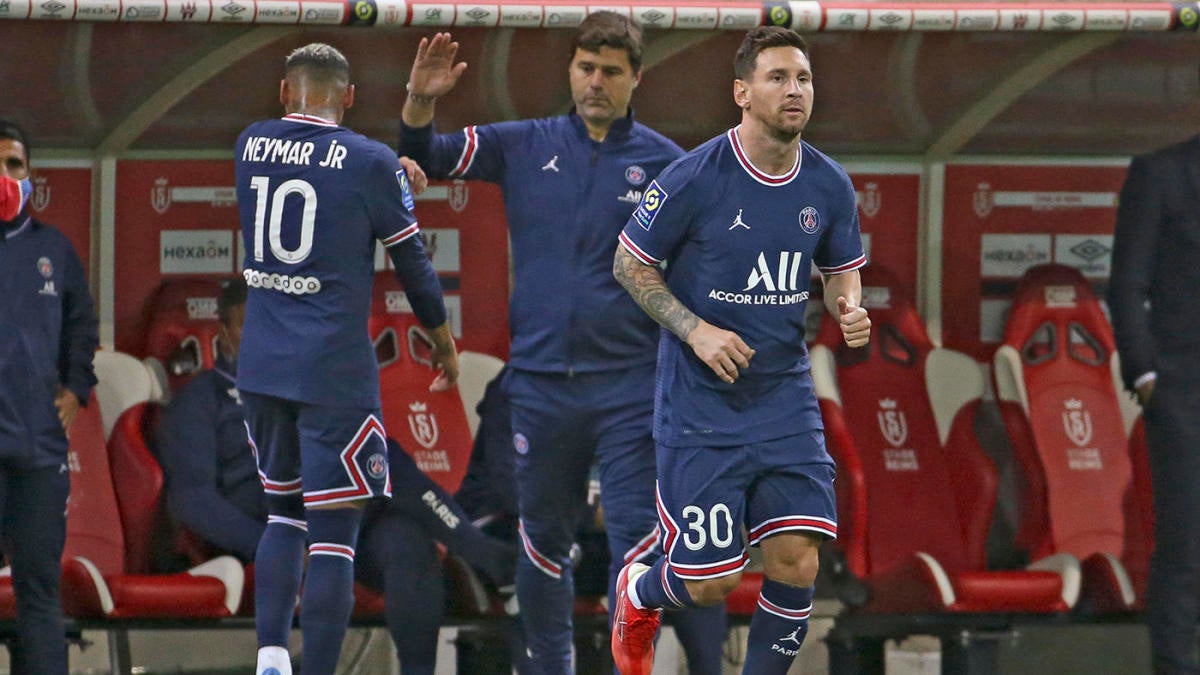 Ligue 1 Mbappe transfer:
Kylian Mbappe fell short of saying he would leave Paris St Germain when his contract expires at the end of the season but Real Madrid president Florentino Perez said he was optimistic the France striker would join the Spanish giants.
The 22-year-old told the Ligue 1 club he wanted to join Real Madrid during the close season, only for PSG to turn down the Spanish club's offers.
Asked if he was going to leave next summer, Mbappe told French sports daily L'Equipe: "I've been in football long enough now to know that yesterday's truth is not necessarily today's, nor tomorrow's. If I was told that Messi was going to play at PSG, I wouldn't have believed it, so you never know what's going to happen."
Perez, however, told Spanish paper El Debate on Monday that his club would have news on Mbappe in January. "Hopefully everything can be sorted on the first of January," he said. Perez's comments provoked an angry reaction from PSG sporting director Leonardo.
Ligue 1: PSG boss Pochettino thought Lionel Messi's transfer move to PSG was a joke