Lakers vs Suns Live Game 6 in NBA Playoffs: LA Lakers vs Phoenix Suns- 4th June NBA LIVE stream, watch online, Schedules, Date, India time, Live Link, Scores: Suns win 113-100, knock out defending champions LA Lakers
The Phoenix Suns have knocked out LeBron James and the Lakers in the 1st Round of the NBA Playoffs.
Credit has to be given to Devin Booker who has been exceptional in this series. In game 6, Booker had 47 points, 3 assists, and 11 rebounds. The Lakers were unlucky with Davis' early exit after he tried to play through injury.
Scoring also came from Jae Crowder and Mikal Bridges as they scored 28 points combined and had 13 rebounds.
The Suns will now face the Nuggets in the Conference Semi-Finals.
Lakers vs Suns Quarter 4
Devin Booker was NOT ejected. The Suns just took him out of the game. Regardless, it's over. Suns 113. Lakers 100.
Kept our foot on the gas 💯⛽️💨 pic.twitter.com/5fe9djBG0B

— Phoenix Suns (@Suns) June 4, 2021
Devin Booker and Jae Crowder both get ejected for technicals.
Another 3 from Crowder, and if there was any doubt, it looks like that will clinch it.
Who's cuttin' onions? Cause we are 😭😭😭😭😭😭 pic.twitter.com/ho2PcYXH7a

— Phoenix Suns (@Suns) June 4, 2021
Twice, Wes Matthews has taken a 3 to cut the lead to single digits. Twice, he's missed it.
LeBron didn't come back in after that stoppage. The Lakers are trying to get him one last little spurt of rest.
Chris Paul from mid-range and the lead is back up to 17. That'll probably do it, but LeBron should be back in after this timeout.
Bridges from the corner and the lead is back up to 15.
LeBron is going to the bench. Lakers down 12. Can the Suns put this away before he comes back?
The Lakers have cut it to 10, but they're running low on time.
LeBron has played 32 of the 36 minutes thus far. KCP's 2nd at 28, and both are in to start the 4th Q.

LeBron: 24 points, 7 boards, 4 asssits, 2 blocks, 1 steal
KCP: 17 points on 6 of 9 FG's with 3 3's

— Mike Trudell (@LakersReporter) June 4, 2021
That Cam Johnson 3 has the lead back up to 16.
The lead is down to 11! That's the lowest since the first quarter!
Lakers vs Suns Quarter 3
Devin Booker again! He pushes the lead back up to 16 with the 3. He has 37.
Talen Horton-Tucker just got called for a technical foul for bumping Cam Johnson. The Lakers take two steps forward and one back.
They're calling it a flagrant foul on Markieff Morris.
THE BIG FELLA! 😤 pic.twitter.com/ojnEzLiNxM

— Phoenix Suns (@Suns) June 4, 2021
The Lakers can't stop fouling. They're not gonna win this game if they keep giving the Suns free throws.
Stay with the fight.

(📺: @SpectrumSN & TNT) pic.twitter.com/u4EwsOO9dm

— Los Angeles Lakers (@Lakers) June 4, 2021
Wes Matthews had a chance to cut the lead down to single digits on that 3-pointer. Chris Paul has some demons in this building. Remember, he had a chance to close out the Rockets as a member of the Clippers in a Game 6 so very much like this one in 2015.
Wes Matthews for 3! It's down 12! The Lakers have cut the lead in more than half. We're gonna have some competitive basketball down the stretch here.
Dennis Schroder's offense has been all over the place this series, but you can't question his defensive effort tonight.
The Lakers are playing more aggressively on defense. That double helped get them a stop. At the very least, the Lakers need to be varying their looks like that.
The Lakers keep hovering around. Give them a shred of credit for that. When Game 5 got out of hand, it stayed out of hand. When Game 6 got out of hand, the Lakers fought back. The deficit was once 29. It's now hovered around 19.
Neither Alex Caruso not Anthony Davis will return to the game.
Lakers vs Suns Quarter 2
Double technicals on Crowder and Caldwell-Pope, and now we're headed for a review to see if that was a flagrant foul.
This is one of those games where the stats just don't capture how effective everyone really is. LeBron has 14 points.
Very few of them have been particularly impressive. He's been passive all series and without Anthony Davis, it has robbed the Lakers of any chance at winning this thing.
That play is just the ultimate proof of how hobbled LeBron is. He has no explosiveness whatsoever right now.
Every time the Lakers start to get a whiff of momentum, Devin Booker does something that reminds you what a blowout this game is.
Devin Booker ends that mini-run by the Lakers with a turnaround jumper, but now, with LeBron out, the Lakers are showing a little bit of fight.
KCP is hot and the Lakers have quickly cut the lead to 21. There's still a LONG way to go, but they finally have a little bit of life.
The Suns have scored 11 3s.
Even Torrey Craig is shooting better than the Lakers right now. This is one of the more one-sided games in recent history.
Talen Horton-Tucker is getting a look. So is Markieff Morris. The Lakers are trying anything and everything to find some momentum here.
Lakers vs Suns Quarter 1
It's 36-14 Suns after a quarter. Never say never with three quarters to go, but the Lakers don't look like a team capable of winning a championship thus far.
Anthony Davis is back out of the locker room, but it doesn't look like he's ready to come back into the game.
It's 27-10 Suns after eight minutes. Considering how the Laker offense has played lately, it might take the Lakers a whole quarter just to get to 27 points. It looks like their season is coming to an end tonight.
AD went back to the locker room after going down. pic.twitter.com/Z3POnG4Qws

— Bleacher Report (@BleacherReport) June 4, 2021
Anthony Davis called for his teammates to commit a foul so he could get off the floor, clearly laboring with his groin injury.

LAL trail 14-7 as Kyle Kuzma checks in at the 6:35 mark.

— Mike Trudell (@LakersReporter) June 4, 2021
Anthony Davis is out. Kyle Kuzma has taken his place. Davis headed back to the locker room.
Chris Paul just sought out Anthony Davis on a pick-and-roll switch. You almost never see that, but with Anthony Davis injured, Paul wanted to test him. Davis passes that test and the Lakers get a shot-clock violation.
3-3 from the arc!

BOSSMAN MOVES! 😤 pic.twitter.com/uuNz7fTpw0

— Phoenix Suns (@Suns) June 4, 2021
Phoenix jumps out to a 14-5 lead thanks to some red-hot shooting from the Suns. Jae Crowder has outscored the Lakers 9-5 thus far with three 3-pointers. Many of the same problems have persisted for the Lakers.
They just can't generate offense with LeBron James and Anthony Davis physically compromised.
Dennis is missing his jumpers thus far, but he's not showing fear in taking them. That matters for the Lakers, who chronically hesitate behind the arc.
Jae Crowder seems to have found his stroke. He struggled earlier in this series but has made his first two 3-pointers tonight. LeBron answers back with a three of his own.
Chris Paul is short on his first jumper from the mid-range. Something to monitor.
LeBron James is guarding Chris Paul to open this game. The Lakers are trying to cut off the head of the Phoenix defense trusting that the body will die thereafter. Paul's injury did that for them early in the series. Of course, if Devin Booker keeps making jumpers at this rate, it won't matter.
Crowder starts us off with a 3. Major miscommunication for the Lakers there defensively.
Lakers vs Suns Starting 5 and Pre-Game Updates
THE 5. pic.twitter.com/eZhfbdbfC3

— Phoenix Suns (@Suns) June 4, 2021
The Lakers went 15-5 with this group before AD got hurt in February, but they haven't started together in a while due to all the injuries and health and safety absences, plus Drummond's acquisition.
The key on offense was spacing/passing provided by Gasol at the 5.
Lakers starters: Schroder, KCP, LeBron, Davis, and Gasol
Tonight's injury update for the Suns:
Abdel Nader: OUT – Right Knee Arthroscopy
Ty-Shon Alexander: OUT – (Illness: Non-Covid)
Suns coach Monty Williams said the Suns haven't done anything besides shootaround today since the last game.
He said Chris Paul looked "the same as he did the other day," from a health standpoint. Sounds like he's no worse for wear from that collision with Matthews in Game 5.
The Los Angeles Lakers were facing an uphill battle entering Game 5 as they would be without the services of All-Star big man Anthony Davis.
Devin Booker was superb for Phoenix as he led all scorers with 30 points on 13-for-23 shooting from the field to go along with seven rebounds and five assists.
NBA Playoffs to be live-streamed in more than 200 countries. Watch NBA Playoffs Live here.
Match Details: LA Lakers vs Phoenix Suns
Time: 08:00 AM IST
Date: 04-06-2021
Venue: Staples Center, Los Angeles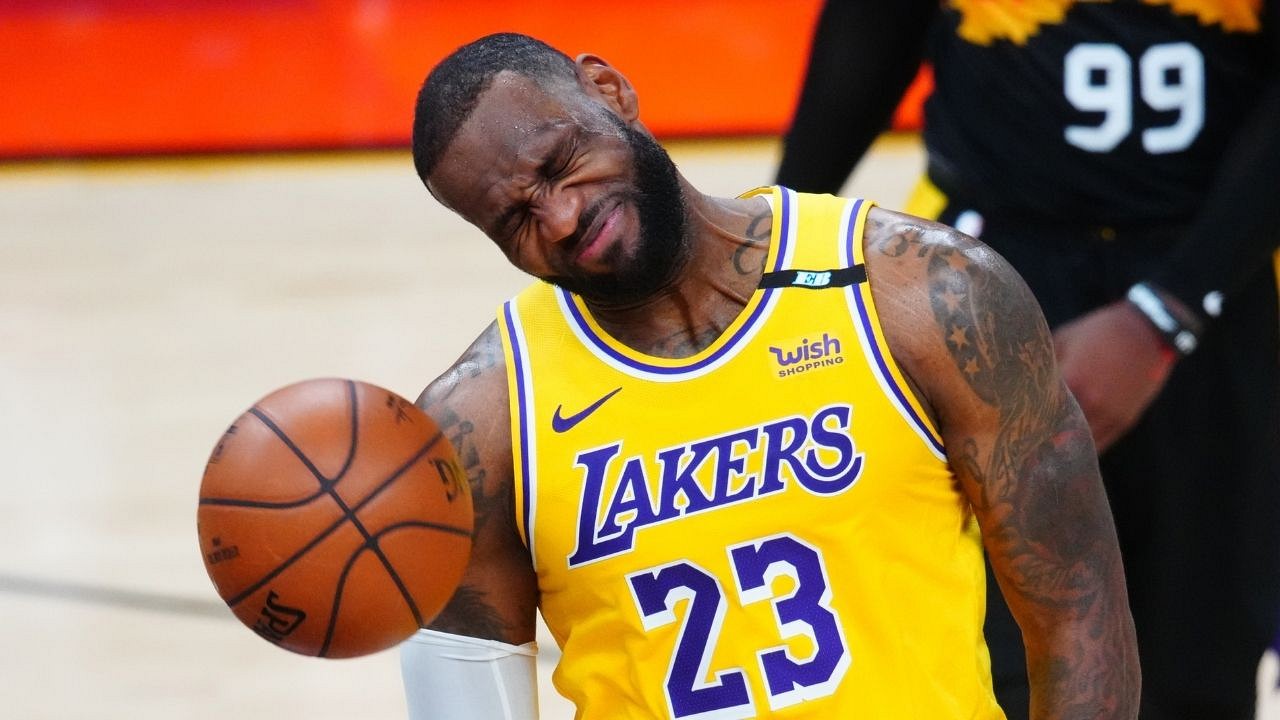 NBA fans can watch the NBA Scores and games LIVE here.
NBA TV coverage: Lakers vs Suns Live in NBA Playoffs 2021
NBA games will be broadcasted nationally across ESPN and TNT.
NBA Playoffs 2021 Live stream: Lakers vs Suns Live stream
Every game will be available live via NBA TV, while the nationally broadcast game will also be available via ESPN digital platforms.
NBA Playoffs Schedule: Find the latest NBA Playoffs Schedule here