ISL Season 8: We had many chances to win the game, states Odisha FC's Kino Garcia after 1-1 draw against ATK Mohun Bagan
ISL Season 8: Odisha FC have been hot and cold this season and once again they showed that they can go toe…
ISL Season 8: Odisha FC have been hot and cold this season and once again they showed that they can go toe to toe with the big guns in the Indian Super League. The Kalinga Warriors act as proper party poopers for ATK Mohun Bagan as they held them to a 1-1 stalemate. It was an important game for the Green and Maroons in the context of the ISL Shield and position at the summit and winning would have kept them in course but Odisha FC had other plans. Follow ISL 2021-22 LIVE Updates only on InsideSport.IN
Odisha FC coach Kino Garcia was overall satisfied with his team's performance but felt that they should have won the game especially due to several chances that they squandered. Despite being out of the semifinals race but Garcia highlights how playing for the fans is also very important
"We knew that but here we are professional and want to compete in every match. We want Odisha FC to have a good season, we also try to make the fans proud. I think today we had a really hard game against ATK Mohun Bagan but honestly, we had many clear chances to win the game," the Odisha FC boss stated at the post-match press conference.
Proud of that performance.#OdishaFC #AmaTeamAmaGame #ANewDawn #OFCATKMB pic.twitter.com/SMsjYM3rpD

— Odisha FC (@OdishaFC) February 24, 2022
Kino Garcia was a little upset as well as the Kalinga Warriors missed a few chances as they could have won the match by winning that match. Malaysian midfielder Liridon Kraasniqi who struck the woodwork late in the game would have been exceptional for Krasniqi had it gone in, it would have been a winner from the last match in the ISL this season.
"I think we had many chances. We had a plan against ATK Mohun Bagan, we knew how to close the spaces and I think that we didn't suffer a lot against one of the best teams in the Hero ISL. We had really good chances, with Aridai and also the penalty so, I think that we had really clear chances during the game and I'm really proud of the performance of my players and how they gave everything today on the pitch," Kino Garcia revealed.
Also Read: ISL Season 8: It was a disappointing result for us, says ATK Mohun Bagan's Juan Ferrando after 1-1 draw against Odisha FC
Odisha FC scripted two draws against ATK Mohun Bagan this season. Garcia added how the Kalinga Warriors have failed to pick up three points despite playing to their best of capabilities. He feels that their team should be higher in the league as they have dropped points for some of the smaller details in the game.
"We prepare every match the same, with the same interest and with the same work. We try to work with better ideas and better plans sometimes, they work, and sometimes they don't. I think that today the plan worked. If you remember against Chennaiyin FC, we have also had bad luck in having many chances and then receiving the draw and against FC Goa the same, so I think that football owes one to us because I think that the team deserves to be higher in the league. Thinking in some matches that we did not get the three points because of small details and against ATK Mohun Bagan, we knew the power that they have but we knew how to close the spaces. But as you know sometimes it works sometimes it doesn't. I think that today the team was good," the Spaniard explained his stance when he was asked about two draws against the Green and Maroons.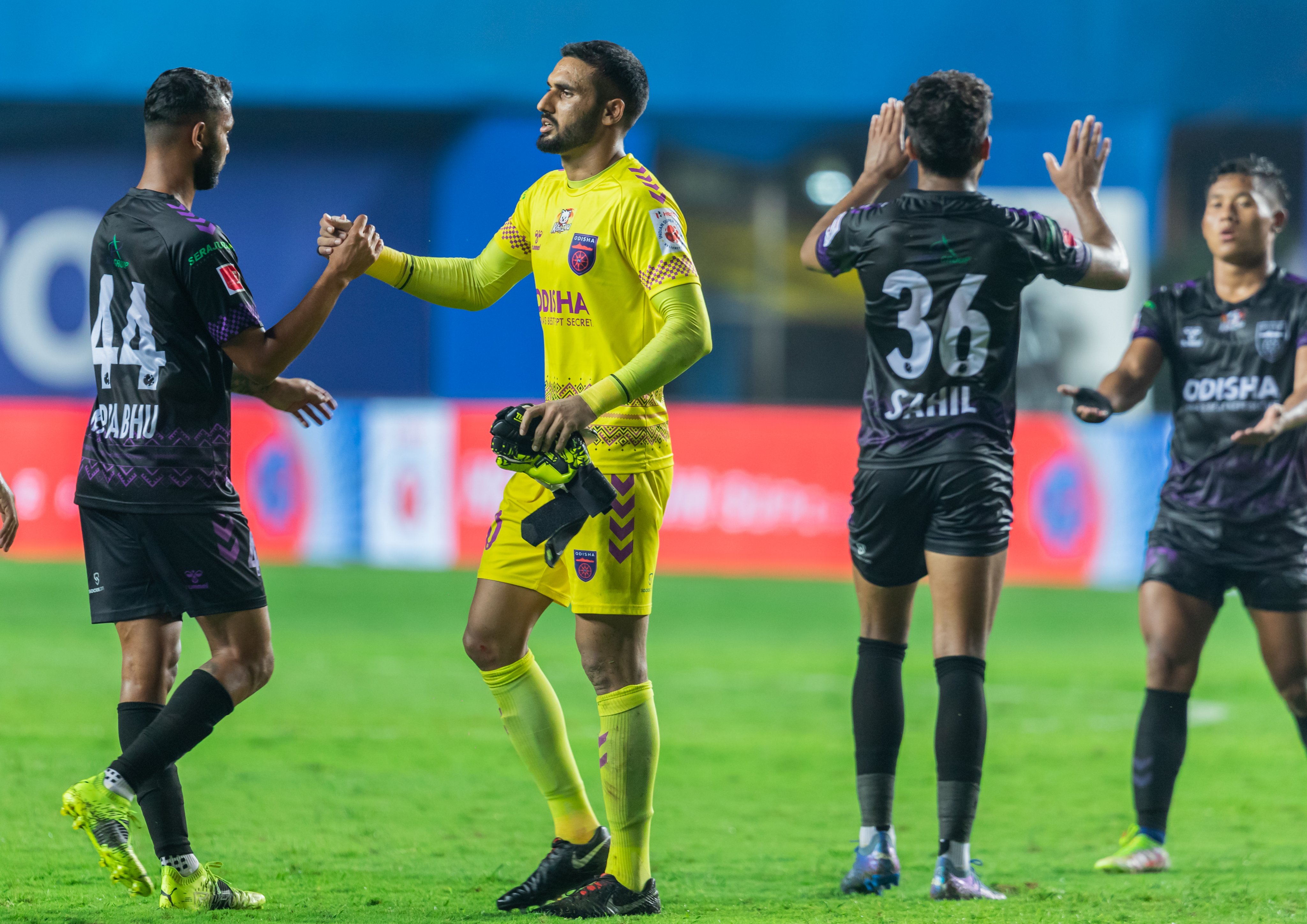 Lastly, Kino Garcia was clear that he wants his players to go out there and enjoy the ISL. Odisha FC have 10 days now and they will look to return against Jamshedpur FC on the 4th of March. He adds how the plan will be similar against the Men of Steel aswell to put them in difficulties and bag a positive result.
"The plan is to enjoy the last game and ensure that the players enjoy it. Today, I'm really happy for Sebastian Thangmuansang, he didn't play much during the season and he did a wonderful job. So sometimes, the player is working hard and you give them a chance and I think that he deserved to be one of the better players of the game. We will try to prepare against Jamshedpur FC, put them in difficulties, try to make the best match possible against them, and enjoy our last day in Goa," he signed off.