ISL Finals: Hyderabad FC are ready to write their own history as they face off Kerala Blasters in the Indian Super League finals. This is their first ever final and winning it will mean the world to their passionate supporters. It has been a very long and tough season and winning it will be a major task for the Nizams. Follow all the ISL 2021-22 LIVE Updates only on InsideSport.IN
Hyderabad FC head coach Manolo Marquez lavished praise on his players for a stupendous ISL campaign where they overcame several obstacles starting with COVID-19, isolations and also living in a bio bubble. Marquez's men picked up pace in midseason and majorly led the standing before dropping down and allowing Jamshedpur FC to lift the ISL Shield.
🙌 One last hurdle, together!

The @IndSuperLeague final, the only thing on our minds… 💪#HFCKBFC #ForTheCup 🏆 #ThisIsOurGame #మనహైదరాబాద్ #HyderabadFC pic.twitter.com/oChCzRNAIh

— Hyderabad FC (@HydFCOfficial) March 19, 2022
"I think that it was a hard season, especially in terms of mentality. But I think that we have a very good thing, which is our strength in the group, that we have, with the players, and with the staff and all are working in the same direction," Manolo Marquez said ahead of the big final.
Also Read: ISL Finals: KBFC's Harmanjot Khabra, Hyderabad's Bartholomew Ogbeche headline talent on display – Check combined ISL Final XI
The Spaniard rues the missed opportunity that they faced in the match against Jamshedpur FC where they missed out on a lot of players. Marquez felt that playing that in full strength may have had a different outcome than the Men of Steel.
"I think that the club is growing step by step, season by season. We were very, very close last season. This season we finished second and we'll always have the doubt of what would happen if we played the match against Jamshedpur FC with a full strength squad. If we had won that game, we could have been the League Winners' Shield holders.
"But okay, we know that every team had problems due to the Covid-19 situation. But, I am very very satisfied, the players are incredible and it felt good to train them. Now, there's only one game left, anything can happen tomorrow."
Marquez did not pay much heed when he was quizzed on his opinion on facing the Kerala Blasters in the finals. He confidently added on how he believes that his team can beat any team in the league on their day. "The characteristics of the Hero ISL 2021-22 is that every team can beat every team. There are (strong) teams which did not qualify for the finals. We knew that if we were not good with our performance, we could lose to any team. At the moments we were good, we knew that we could beat every team. It has been a season of ups and downs for Kerala Blasters FC. They did not start well, but sometimes football is like this," Marquez opined.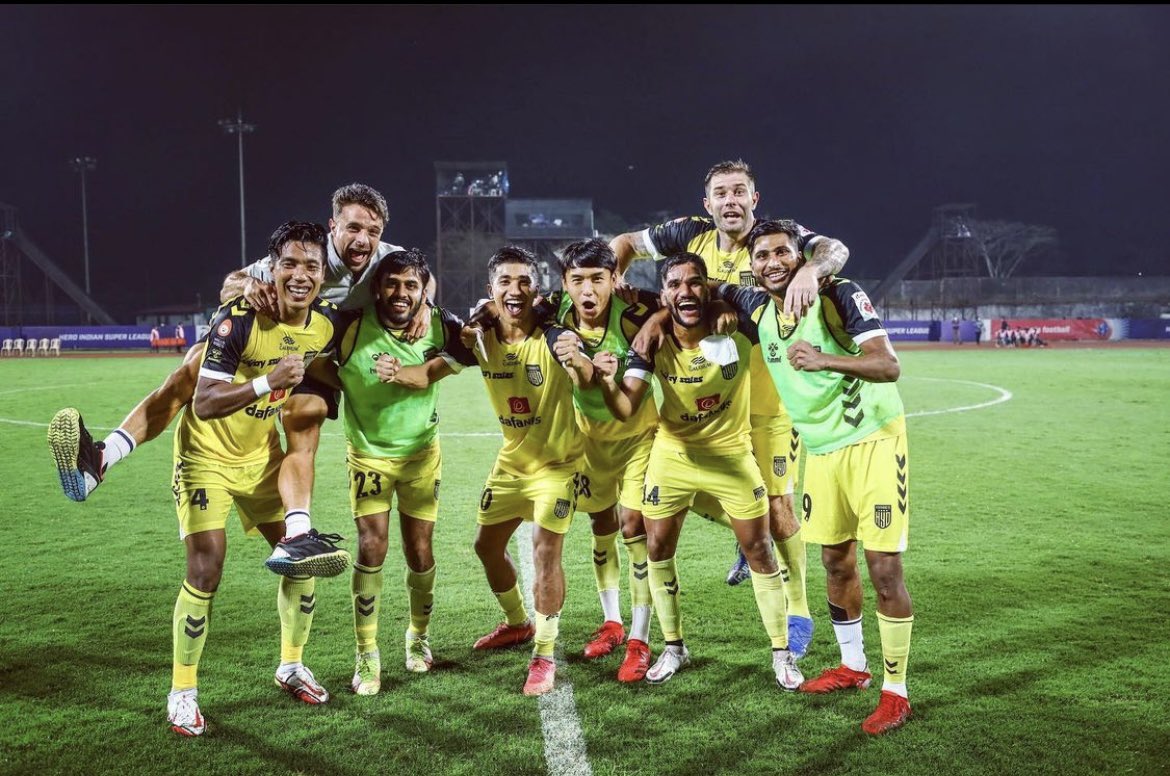 The finals also mark the return of the fans as the match is sold out already and supporters all across Kerala and Hyderabad are travelling to Goa to support their team. Marquez feels it is fantastic for the pl;ayers, as they will, get that drive from the fans after two years.
"It's fantastic. Football is for the fans, because when you play without people in the stands, you can hear everything that is being spoken on the other bench. And when the stadium is full, maybe you cannot hear anything. It is better, for the players, for the atmosphere, if you can play it in front of 18,000 or 20,000 people, it's better," the Spaniard concluded.