ISL Finals: It's a pleasure for my boys to play in the finals, says Kerala Blasters' Ivan Vukomanovic ahead of the finals against Hyderabad FC
ISL Finals: Kerala Blasters have had a tumultuous time in recent years, so for them to reach the Indian Super League finals…
ISL Finals: Kerala Blasters have had a tumultuous time in recent years, so for them to reach the Indian Super League finals was a big feat. The Yellow Army started slowly but gradually gained momentum and gained a lot of rhythm in their push for a place in the playoffs. Follow all the ISL 2021-22 LIVE Updates only on InsideSport.IN
Head coach Ivan Vukomanovic just like his opposite number praised his players for an outstanding ISL campaign. The Serbian has been a great calming presence in the team as he took them from 10th position to fourth in the league standings. The Blasters were very consistent during mid-season. They were also in the race to win the ISL Shield before it was bagged by the Jamshedpur FC.
It's been a pleasure watching you all train together, lads 💛

One final time this season, head on over to our YouTube channel watch a new Training Unfiltered!

👉🏼 https://t.co/0Bz502cqMU#HFCKBFC #YennumYellow #KBFC #കേരളബ്ലാസ്റ്റേഴ്സ് pic.twitter.com/81wViztNT2

— Kerala Blasters FC (@KeralaBlasters) March 19, 2022
"Seeing all the disappointments that have happened in previous seasons, I think that this year, we came back with the strength and the force that allowed us to be here today. And we are grateful for that. I think that the boys have been doing a great job since day one and we are so pleased to be here today with you guys. I think that it's a huge achievement for the club after a long period and try to prepare and finish with a beauty. So we hope for the best," Vukomanovic stated in the press conference for the finals by congratulating his players on a fantastic season.
The Yellow Army are known for their high pressing game and Ivan Vukomanovic will more or less stick to that philosophy. The Serbian tactician continued maintaining similar intensities even when several players were down with COVID-19. While Vukomanovic likes to maintain a set philosophy, he also knows how to evolve with transition and pressing patterns.
"Well, I think that's an important aspect of modern life. When you look at all the aspects of modern life, the important thing is evolution. Every day new things are coming out. Football is the same. Football is part of that evolution. Every year when you look at modern football at the highest level, there are certain things improving year-by-year. That's why we see the top players improving every year with certain tendencies. And me as a coach, I will like to follow those things and implement those things," the Serbian tactician added.
Also Read: ISL Finals: KBFC's Harmanjot Khabra, Hyderabad's Bartholomew Ogbeche headline talent on display – Check combined ISL Final XI
It was surprising to see Adrian Luna not accompany his head coach in the finals as that is the norm set by the league over the years. So when asked about the Uruguayan, Vukomanovic added on how Luna is little doubtful for the finals. "Luna was also with the medical team. We still don't know who will be the captain tomorrow. Today we have a training session to evaluate those things and hopefully, everything will be alright."
Vukomanovic highlighted how the finals will be a big motivation for the youngsters to make a name for themselves. Therefore he feels that the finals are the easiest due to that motivational factors. The Serbian also added that he knows his opponents as they have already met each other twice this season.
"Tomorrow's game, I must tell you honestly, it's the easiest game to play. Because you are motivated and concentrated. Tomorrow's opponent, we know each other. As a player, you dream about these games. You dream about playing in front of big crowds in the finals. It's a pleasure and tomorrow I hope my boys enjoy the game and do their best," Ivan Vukomanovic added.
Speaking about the opponents, Vukomanovic praised Bartholomew Ogbeche and tagged him as one of the greatest foreigners to ever play in the league. "We must say that he's one of the greatest players ever to play in the ISL. Even after our last game against Hyderbad, we were checking and talking to him. I even remember playing against him back in France. When you're capable of maintaining your body on a professional level, you can last longer," the Blasters head coach stated.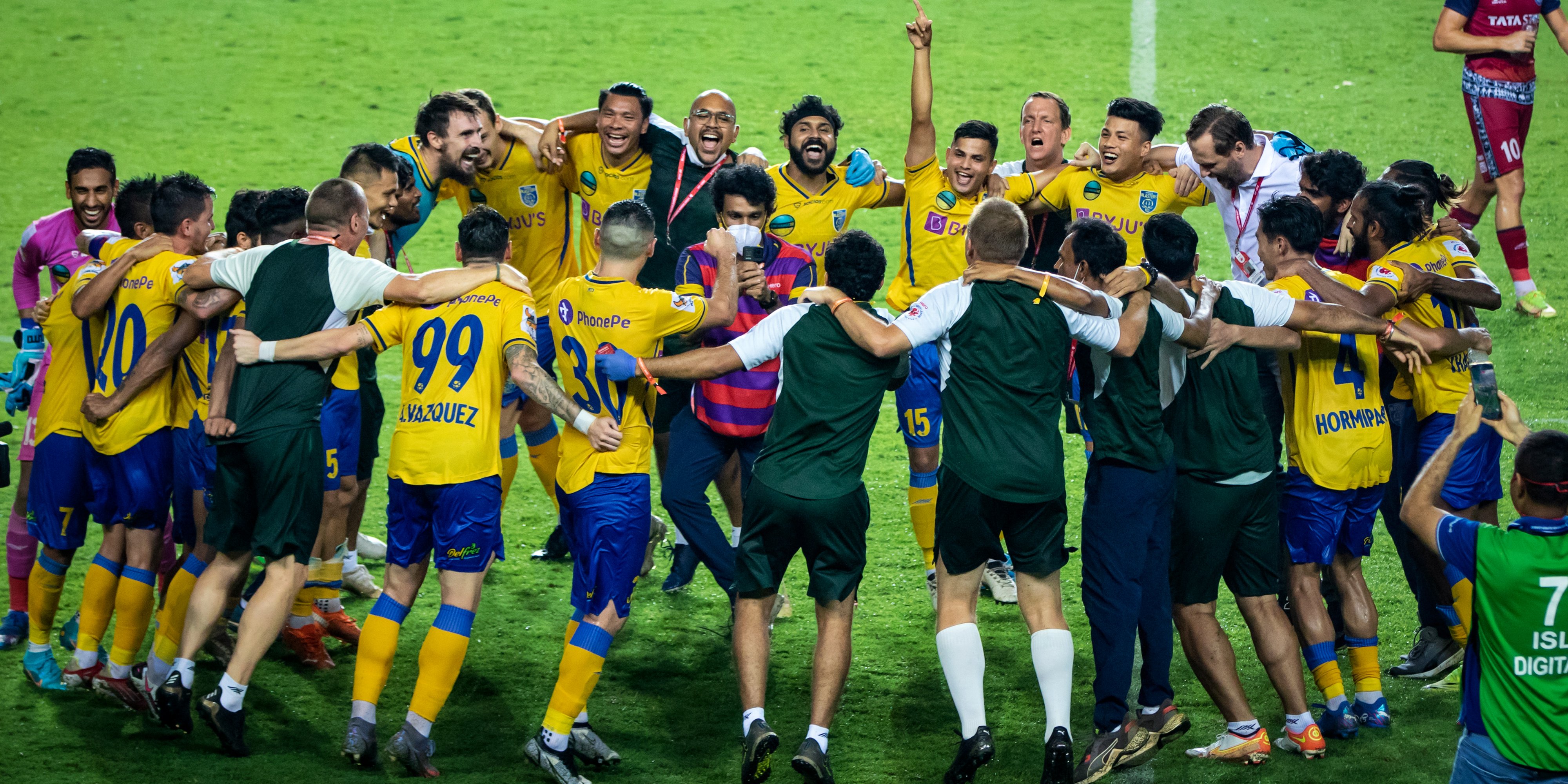 Lastly the 44-year-old shared his thoughts son fans returning to the stadium after two years in the ISL. The occasion will see several travelling fans come to Goa from Kerala and Hyderabad to witness the historic finals. Vukomanovic shared how playing in front of a jam-packed stadium always motivates players to push harder and do better.
"I feel that playing in the last couple of months without the fans is weird. Playing in empty stadiums is not a good feeling. Now that we are going to play in front of the fans, it's an extra motivation," said Vukomanovic. "You dream about playing in front of the crowd. You dream about playing for your country, your people and your loved ones," he concluded.