Icons Series: Follow Icons Series Live Updates – Former Indian cricketer Yuvraj Singh will be seen in a completely new avatar at the end of this month, as he will be playing golf. Singh has been drafted as one of the 24 celebrities who will compete in the Icons Series, a celebrity golf tournament, which is set to take place in New York's Liberty National Golf Course, on June 30 and July 1. Follow Icons Series live updates on InsideSport.IN.
Mumbai vs MP LIVE Score: Ranji Trophy Final between Mumbai vs Madhya Pradesh starts tomorrow: Follow RANJI FINAL LIVE
Speaking about the event, the 2011 ICC Cricket World cup-winning all-rounder said "I'm really excited to join the Icons Series and represent India in the Rest of the World Team. We already have a team full of great talent and the toughest of competitors and it's going to be nice to actually play alongside AB De Villiers, Ricky Ponting and Brian Lara after years of battling it out in the middle on the cricket field in our own sport."
Icons Series: Yuvraj Singh set to appear in NEW AVATAR, will be seen playing GOLF alongside AB de Villiers, Ricky Ponting, Pep Guardiola and others at Icons Series
Can't wait to play in the @IconsSeries at @LibNatGolf! All the Indians in New York and New Jersey, come and show us your support!

🎟️ The first 20 people to use the code "Yuvraj" will unlock a free ticket! Booking fees apply. Tickets available at https://t.co/WItVIfbwVc pic.twitter.com/LerPj2ikZK

— Yuvraj Singh (@YUVSTRONG12) June 21, 2022
Yuvraj is a part of a star-studded Rest of the World team, being led by Ernie Els. Besides him, Ricky Ponting, AB de Villiers, Brain Lara, retired tennis star Ash Barty and Manchester City manager Pep Guardiola are also a part of the team.
Team Rest of the World will compete will Team USA, who are being led by Fred Couples and have many renowned stars in their team, including swimming superstar Michael Phelps and former NFL quarterback Ben Roethlisberger.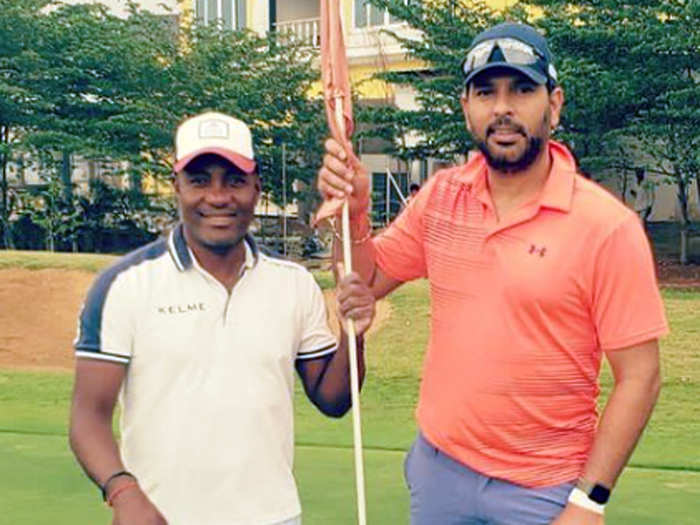 Speaking about his opposition, Yuvraj added. "I can see how seriously TEAM USA is taking the event but I will be ready and can't wait to get out there. I'm looking forward to seeing all the Indian fans down at Liberty National."
Icons Series: Yuvraj Singh set to appear in NEW AVATAR, will be seen playing GOLF alongside AB de Villiers, Ricky Ponting, Pep Guardiola and others at Icons Series
Meanwhile, Team USA's skipper Fred Couples said "I love match-play golf and I'm looking forward to leading Team USA at Liberty National in June. The pedigree of the athletes in my team speaks for itself and what could be better than to win at the place of our Presidents Cup victory in 2017. It promises to be a phenomenal tournament and we're excited to compete against Ernie's team of international icons."
Team USA:
Fred Couples (Captain)
Michael Phelps
Michael Strahan
Ben Roethlisberger
R. Smith
Andrew Whitworth
Robbie Gould
John Smoltz
Ivan Rodriguez
Marshall Faull
Reggie Bush
To Be Announced
To Be Announced
Team Rest of the World:
Ernie Els (Captain)
Ash Barty
Pep Guardiola
Harry Kane
Canelo Alvarez
AB de Villiers
James Milner
George Gregan
Ricky Ponting
Brain Lara
Yuvraj Singh
To be announced
To be announced
Icons Series: Yuvraj Singh set to appear in NEW AVATAR, will be seen playing GOLF alongside AB de Villiers, Ricky Ponting, Pep Guardiola and others at Icons Series
Follow InsideSport on GOOGLE NEWS