England vs Pakistan 3rd Test, Day 5 live at Ageas Bowl, Southampton, starts at 3.30pm IST – Live Cricket Score, ENG vs PAK Live Updates, Live on Sony LIV, Ball-by-Ball Commentary updates from 3rd Test, Day 5 between England and Pakistan.
Team Lineups
England Playing XI: Rory Burns, Dominic Sibley, Zak Crawley, Joe Root(c), Ollie Pope, Jos Buttler(w), Chris Woakes, Dominic Bess, Jofra Archer, Stuart Broad, James Anderson
Pakistan Playing XI: Shan Masood, Abid Ali, Azhar Ali(c), Babar Azam, Asad Shafiq, Fawad Alam, Mohammad Rizwan(w), Yasir Shah, Mohammad Abbas, Shaheen Afridi, Naseem Shah
England vs Pakistan 3rd Test Day 5 Live updates
10.43pm
That's a wrap. Thank you for joining us. See you guys next time.
10.41pm
Match Summary
10.39pm
Match Drawn
Stumps, Day 5
England and Pakistan draw third and final Test – England win series 1-0.
10.30pm
Azam punish Anderson
Babar adds to his boundary tally by whipping Anderson behind square on the leg side and then bags four more in front of square on the off-side as the bowler errs too full.
10.18pm
Wicket for Root; PAK go 4 down
A wicket for England and it's Joe Root who has Asad Shafiq out caught at forward short leg. Pakistan. FOW-172/4
10.17pm
Half-century for Babar Azam
50 up for @babarazam258! #ENGvPAK pic.twitter.com/PAkQZsi8bO

— Pakistan Cricket (@TheRealPCB) August 25, 2020
10.10pm
Babar not holding back
Pakistan might be playing for a draw but that isn't stopping Babar Azam from playing his shots. He lofted Joe Root for a couple of boundaries.
10.06pm
Yet another bowling change from Root
A little more than 10 overs left for new balls and Jor Root wants to rush through it.
9.52pm
Looks like Broad and Anderson will be saved for the second new ball and we will get to that point at breakneck speed if Root continues to scoot through his overs this quickly. Pakistan 142/3 after 72 overs 
9.32pm
Milestone for Babar Azam as well
The flamboyant Pakistan right-hander crosses 2K Test runs.
Babar Azam has passed 2000 Test runs ? #ENGvPAK SCORECARD ▶️ https://t.co/ZFClksEjKM pic.twitter.com/HXEuiANJG5

— ICC (@ICC) August 25, 2020
9.30pm
Azam-Shafiq hold fort
Anderson could have added another one
Anderson is not far away from wicket No 601 with a pitched-up delivery snaking past Shafiq's outside edge as it darts back in a touch to the right-hander. Shafiq rather fishing at that one.
9.12pm
Watch the historic delivery here!
Finally he does it! ?

6️⃣0️⃣0️⃣ for Jimmy Anderson ? #ENGvPAK pic.twitter.com/A5QG6rIuPg

— James Lewer (@james_lewer) August 25, 2020
9.10pm
Anderson scripts history; gets his 600th wicket
The landmark scalp comes as Azhar edges through to Root in the cordon after the bowler finds some extra bounce. FOW-112/3
THE GREATEST!! ? pic.twitter.com/eid6wGKKEW

— England Cricket (@englandcricket) August 25, 2020
9pm
Consecutive maidens from Archer
Archer keeping Pakistan on a string as they are unable to score off his in his first two overs of the day. Anderson bowling with him at the other end and is making sure the batsman puts bat on ball. PAK-105/2 after 60 overs.
8.45pm
The players are walking out to the field and we will resume after a delay of over five hours
8.37pm
Pakistan to bat 45 overs
Play to resume at 8.45pm
8.28pm
Inspection at 8.30pm IST, with a view to playing at 8.45pm IST
7.48pm
Another inspection scheduled at 8.15pmIST. The super-soppers have trundled back out to try and deal with a couple of those wet patches. The umpires are having a chat with both teams and the decision could go either way.
7.20pm
Inspection at 7.30pm
The final inspection before the play starts will be at 7:30 PM IST. The umpires have previously decided it's still too wet and that's why another inspection is needed.
5.30pm
Good news for the fans!
The run-up covers are being taken off, supersoppers in action.
4.15pm
News from Ageas Bowl!
Next inspection at 1.40pm local time (6.10pm) IST so there will be no play before lunch. Two clear hours and we will be good to go- that's something to look forward to.
?☔ PITCH INSPECTION AT 1.40PM ?☔

The rain apparently easing at @TheAgeasBowl, but it's still to be a while before any play – confirmed by news of a 1.40pm inspection.#ENGvPAK ????????? #raisethebat #⃣

? Watch ? https://t.co/oAO0jpke3A
? Blog ? https://t.co/zB2e5N7Bgh

— Sky Sports Cricket (@SkyCricket) August 25, 2020
4pm
Rain has stopped!
The groundstaff is predicting that it will take at least a couple hours delay after the rain stops to dry the outfield. Talk about cutting it close!!
3.42pm
Action is promised!
Some of the forecasts for this afternoon are looking brighter, so there's every chance we'll get on at some stage. James Anderson is also eager to go down to the pitch in pursuit of his #600 Test wickets
3.17pm
Start delayed!
A delayed start is expected as it is still quite wet in Southampton. The covers are on, it looks pretty dark.
3pm
Pakistan praying to rain gods!
If Pakistan fails to hold fort, the Men in Green will succumb to their first Test series defeat on English soil after a decade.
2.47pm
Weather Update
The weather forecast suggests there's a rain forecast in the range of 70% between 10:00 AM and 11:00 AM in Southampton. While in the second half, the weather is to remain mostly cloudy.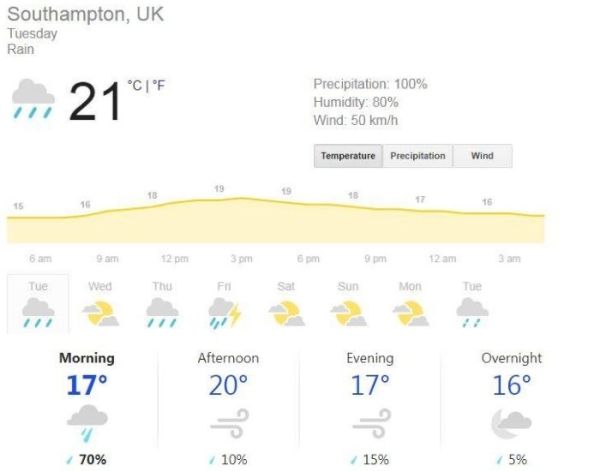 2.25pm
Day 4 highlights
Catch all the happenings from the penultimate day of the England vs Pakistan 3rd Test here.
Jimmy searches for 600 and we look for victory on the final day of the series ????????

Full Highlights: https://t.co/kFks3L6lQq#ENGvPAK pic.twitter.com/fh7EQYHyBE

— England Cricket (@englandcricket) August 25, 2020
2pm
Hello peeps and welcome back the last and final day of the three-Test #raisethebat series. The England vs Pakistan 3rd Test Day 5 is expected to produce some brilliant spells, especially with James Anderson waiting on 599 wickets and hoping to script history by registering the 600 Test wickets milestone.
England vs Pakistan 3rd Test Day 5 Live
James Anderson's quest to become the first fast bowler to take 600 Test wickets continues as a combination of rain and bad light interrupted England vs Pakistan 3rd Test Day 4 contest.
Stuart Broad (1-23) got the breakthrough as the players returned for an extended final session following a four-hour delay, pinning Masood in front not playing a shot. Anderson later, got Abid Ali, trapping him lbw as Pakistan closed Day 4's play at 100 for 2 and trailing by 210 runs.
Click Here For Watch ENG vs PAK Live Score
Sony Live Link –https://www.sonyliv.com/sports/cricket-pakistan-tour-of-england-1700000240