England vs Pakistan 3rd T20I in Old Trafford, Manchester live starts at 10.30pm IST on September 1 – Live Cricket Score, ENG vs PAK Live Updates, Live on Sony LIV, Ball-by-Ball Commentary updates from 3rd T20I between England and Pakistan.
Here is the England vs Pakistan 3rd T20 Live Updates
2.10am
That's a wrap guys. Thank you for joining us. See you guys next time.
2.08am
Match Summary
2.05am
Pakistan wins by 5 runs!
A thrilling encounter which went down to the wire but it's Pakistan who held their nerves to get over the line.
2am
Wahab gets the big wicket;Moeen Ali dismissed for 61
England could be toast. Ali plinking back to Wahab after being cramped for room on the pull. FOW-174/8
1.56am
Chris Jordan run out; ENG 7 down
Jordan drops and runs, looking to get Moeen back on strike. He succeeds but is run out himself as Wahab shoots down the stumps off his own bowling with a superb pick-up and throw. FOW-172/7
1.53am
ENG 6 down!
Shaheen is being battered by Moeen but clatters Gregory's stumps as the England man misses with his attempted slog off a slower ball. FOW-170/6
1.45am
A blistering 25 ball half-century for Moeen Ali
Ali chips golf-style over midwicket for a 25-ball fifty, his second in T20I cricket. England need 30 from 18 balls.
1.43am
Massive over for England
6,6,6
Back-to-back sixes and three in the over! England need 43 from 24 balls.
Tight finish on the cards ?

Live clips: https://t.co/w2Hf8Th8EH#ENGvPAK pic.twitter.com/bOZ2bsQSYP

— England Cricket (@englandcricket) September 1, 2020
1.39am
England needs 62 from 30 balls with five wickets in hand
1.35am
Sam Billing dismissed!
Billings rushed as he looks to heave over the leg-side and gets a leading edge to third man. Wahab striking in his comeback over. FOW-126/5
1.32am
Moeen Ali at his very best!
England need 66 from 36

The four over long-on was good but the SIX over long-off was spectacular as Moeen holds his pose after truly nailing a Shaheen delivery that pitched in the slot.
1.25am
England cross 100-run mark
England are trying to find their way back in and Billings finally gets the first big hit of his game. With the help of some clever running between the wickets and a Moeen Ali boundary to Shadab, England reach 100. ENG-104/4 after 12 overs.
1.20am
Huge miss for Sarfaraz and Pakistan!
Moeen charged, missed a quick ball, gave up on getting back to the crease, but Safaraz took an age to gather and couldn't break the stumps!
1.17am
Billings rise to the occasion!
England need 105 from 10 overs to win the game and the series

Billings has done his best to free up some of the pressure. After hitting Shadab for a four in the last over, he hits Riaz for another one to keep the runrate in check. ENG-86/4 after 10 overs.
1.10am
Tide turning for Pakistan!
Banton departs just shy of a third consecutive half-century on 46!
England struggling; goes 4 down
Rauf's second over is far superior to his expensive first and yields the wicket of Banton, who is out lbw on review to an in-swinger playing across the line. FOW-69/4
1.03am
ENG lose 3rd wicket!

A terrible mix-up between the batsmen sees the captain run out. Morgan set off after driving to cover but Banton changed his mind and left his skipper stranded halfway down the pitch. FOW-65/3
12.54am
50 up for England
Banton pulls the final delivery of the powerplay behind square on the leg-side for a boundary. ENG-54/2 after 6 overs
12.49am
Massive over for England; 16 runs off it!
This has been a damaging 16-run over for Pakistan as a no-ball is flicked away by Banton for yet another boundary to fine leg. Banton is unable to batter a boundary from the free hit, though, due to good work from the man at midwicket. ENG-43/2 after 5 overs
12.43am
ENG lose Malan cheaply for 7
Tremendous awareness from Fakhar inches from the deep midwicket boundary as he manages to keep inside the rope as he leaps to pouch Malan's slog sweep. FOW-26/2
12.38am
Tom Banton to England's rescue
4,4,4
England have a young bruiser of their own in Banton. The Somerset man rolls out the reverse sweep here, picking up two boundaries off Imad with the stroke, albeit that one came close to being caught by the bloke at backward point. Imad is also flogged through the covers in a 12-run over. ENG-15/1 after 2 overs
12.30am
Early drama for England!
Bairstow departs for duck!
Shaheen Afridi provides a brilliant start to the vistors as he bowls over the destructive Bairstow on the fourth ball of the innings. The batsman departs for a duck. On comes Dawid Malan to partner Tom Banton. ENG are 1/1 after 0.4 overs.
12.25am
Aaaand we are back with the England chase!
12.15am
PAK 190/4 after 20 overs
Batting summary
Bowling summary
12.10am
Catch dropped!
Imad slogs a slower delivery straight up, looks to be a simple catch coming in from long-on,but Curran shells it this time! PAK-181/4 after 19 overs
? WICKET – AND A DROP! ?

A second for Jordan as Shadab smashes to Curran at mid-off – before Curran shells Imad next ball! #ENGvPAK

Pakistan 181-4 with one over to go ??

? Watch on SS Cricket ? https://t.co/u8egcMmInk
? Blog / in-play clips ? https://t.co/4LqurAjq9A

— Sky Sports Cricket (@SkyCricket) September 1, 2020
12.07am
Shadab Khan dismissed!
Jordan again. Shadab departs, swatting a full ball straight down Curran's throat at mid-off. FOW-177/4
12.01am
Unstoppable Hafeez!
Hafeez hits his fifth six of the innings and Curran has his head in his hands. PAK-159/3 after 17 overs.
11.53pm
Expensive from Gregory; goes for 14 runs
Gregory gets another go, but proves a costly move as his final over goes for 14. He bowls a no-ball – a high full toss – and while he limits the damage from the resulting free hit to just a single, Hafeez and Shadab both add boundaries later in the over. PAK-148/3 after 16 overs
11.46pm
Watch the delivery here!
SOUND ON ?@CJordan ? Devastating yorkers

Live score/clips: https://t.co/qyXZF1YUI4 pic.twitter.com/DhPBsagDeF

— England Cricket (@englandcricket) September 1, 2020
11.44pm
Breakthrough for England!
Jordan comes back and breaks this partnership by doing what he does best, bowling full, straight, yorker-length on the stumps and flattering Haider's off-peg. It brings to an end a simply superb debut knock from the 19-year-old. FOW-132/3
11.40pm

Hafeez, who simply smashes six straight back down the ground – sweetly-struck, straight out of the middle of the bat – while he sweeps four more square. PAK-130/2 after 14 overs
A third consecutive T20I fifty for Mohammad Hafeez ? #ENGvPAK SCORECARD ▶️ https://t.co/WA7iUHz2m0 pic.twitter.com/E9TsId1eur

— ICC (@ICC) September 1, 2020
11.37pm
Hafeez really does fancy that short boundary at midwicket from this end and, this time, he smashes Curran away for six over cow corner. PAK-117/2 after 13 overs
11.30pm
Half-century on debut for Haider Ali
5️⃣0️⃣ on T20I debut for Haider Ali ? ?

He's taken just 28 balls to reach the mark ? #ENGvPAK SCORECARD ▶️ https://t.co/WA7iUHz2m0 pic.twitter.com/sx2yWTCesz

— ICC (@ICC) September 1, 2020
11.25pm
100 up for Pakistan
Hafeez slog-sweeps Rashid for a couple of near identical sixes into the stands at deep midwicket, targeting that short boundary. Rashid's two overs so far have cost 27 runs and Pakistan's 100 comes up. PAK-100/2 after 11 overs
100 ?#ENGvPAK pic.twitter.com/Pf4d6azyow

— Pakistan Cricket (@TheRealPCB) September 1, 2020
11.20pm
50 partnership for Ali-Hafeez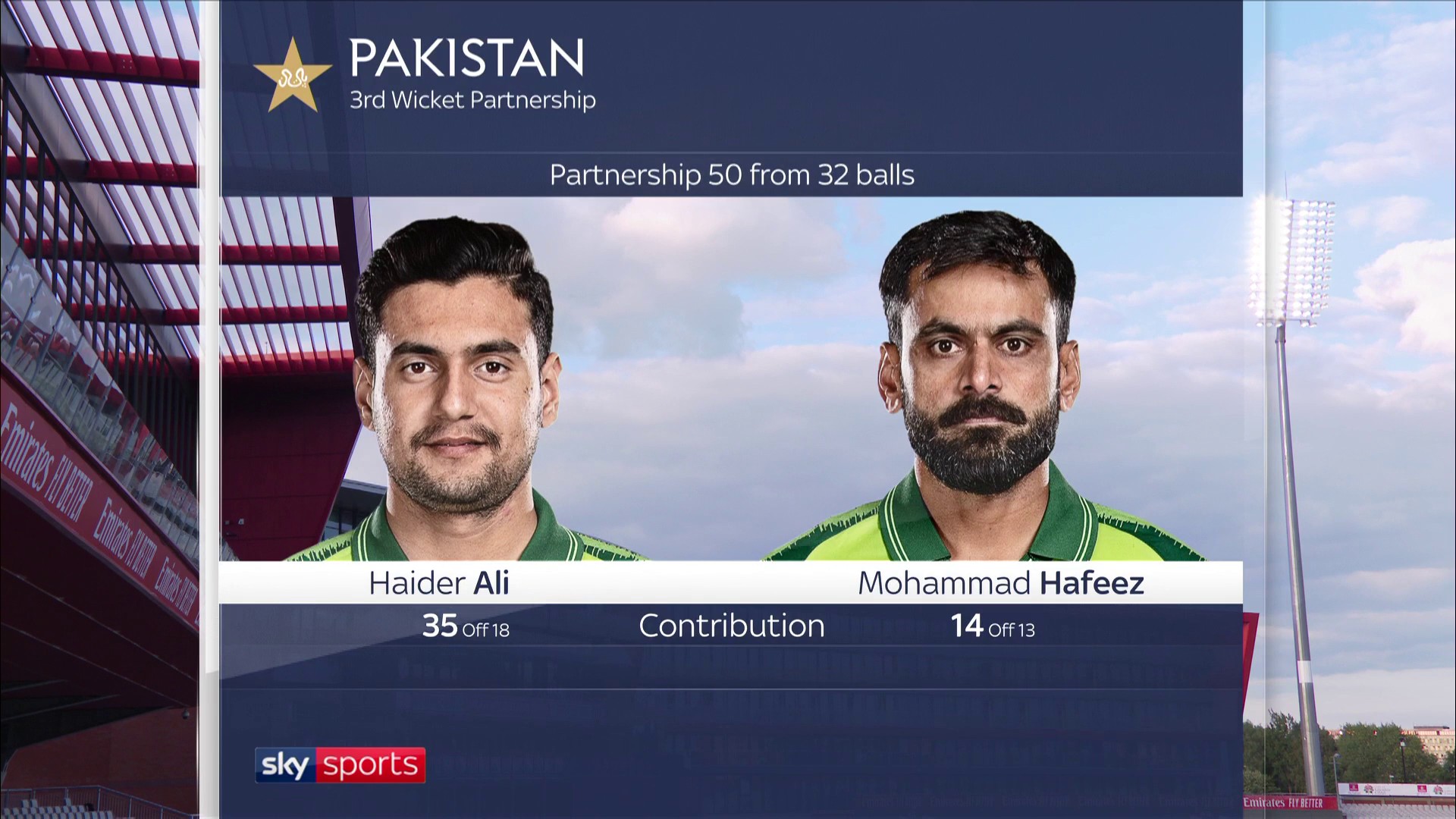 11.18pm
That was close!
Sam Billings badly misjudges it at deep midwicket. Haider looks to target that area again, doesn't quite get hold of it and so Billings edges in to claim the catch – only for the ball to end up sailing over him for four.
11.12pm
Another biggie from the young Haider Ali
Haider appears keen to give the Somerset seamer Lewis Gregory a rather unceremonious send-off, swatting his first ball for six over deep midwicket. PAK-66/2 after 8 overs
11.06pm
Jordan gets on with his second over, and Ali (22*) adds to the first boundary of his career. Although the first one was a lucky inside edge, the second one was brilliantly placed to backward square leg. Consecutive. PAK are 47/2 after 6 overs.
10.57pm
Debutant Haider Ali puts up a good show!
Back-to-back boundaries for Haider off Jordan, although the first of them is a little fortuitous as he inside-edges one just past his stumps and away for four down to fine leg.
10.49pm
Babar Azam's heroics are short-lived!
Curran goes straight through Pakistan's captain and talisman is left stunned! FOW-32/2
10.45pm
Babar Azam unleashes onslaught!
4,4,4
Pakistan skipper hits Mahmood for 3 consecutive boundaries- first slapped through mid-off, midwicket and then a dab down to the third man boundary.
10.42pm
Debutant Haider Ali announces himself to the world stage!
Pakistan's 19-year-old batting prodigy Haider Ali – on his international debut – well and truly announces himself to the world by launching his second ball into the stands over deep midwicket, slog-sweeping wicket-taker Moeen.
10.36pm
Watch the cracking delivery here!
What a start for Moeen Ali and England ? #ENGvPAKpic.twitter.com/vt8JeJl74w

— ICC (@ICC) September 1, 2020
10.35pm
Moeen Ali draws first blood!
Brilliant from Moeen! And he strikes first ball here, bowling Fakhar with a straight-oner. FOW- 2/1
10.32pm
Aaaand we are underway!
The players are onto the pitch, Saqib Mahmood to open the bowling. One slip in place.
10.09pm
2nd T20 Highlights
Banton, Morgan produce fireworks as England sealed a thriller. Check out all the key moments from the game here.
We don't know when we are beat ?

Another emphatic run chase ?#ENGvPAK

— England Cricket (@englandcricket) August 30, 2020
10.06pm
Pakistan Playing XI
Playing XI for the third #ENGvPAK T20I. https://t.co/ezNQF4lCeV pic.twitter.com/nAR0Z6QFMc

— Pakistan Cricket (@TheRealPCB) September 1, 2020
10.04pm
England Playing XI
We win the toss and bowl! ⚪

???#ENGvPAK

— England Cricket (@englandcricket) September 1, 2020
10.03pm
Toss results
England wins toss and opts to bowl first.
England win the toss and elect to bowl. #ENGvPAK pic.twitter.com/1xVpuHnUz4

— Pakistan Cricket (@TheRealPCB) September 1, 2020
9.47pm
Toss to take place shortly
Will we see unchanged squads once again or will the teams try out some other combinations for the upcoming high-octane series-deciding clash?
What changes do you think Pakistan will make to their XI for the third T20I? ?#ENGvPAK pic.twitter.com/iccGALKynl

— ICC (@ICC) September 1, 2020
9.25pm
Hello guys welcome back to the England vs Pakistan 3rd T20 live coverage. Can Pakistan salvage a series draw or will England win the series?
England vs Pakistan 3rd T20I
After Eoin Morgan's heroics sealed a thriller to put England 1-0 up in the series, the Three Lions would be hoping for yet another inspired display to wrap up the series. Pakistan, on the other hand looked in good shape but were unfortunate as they fell victim to the fireworks from Banton and Morgan.
With a 1-0 defeat in the Test series, the Men in Green would be seeking to avenge their loss with one last stroke of vengeance in the T20 series decider.
England vs Pakistan Squads (ENG vs PAK T20I series)
England 
Eoin Morgan (captain), Moeen Ali, Jonny Bairstow (wicketkeeper), Tom Banton, Sam Billings, Tom Curran, Joe Denly, Lewis Gregory, Chris Jordan, Saqib Mahmood, Dawid Malan, Adil Rashid, Jason Roy, David Willey
Reserves: Pat Brown, Liam Livingstone, Reece Topley
Pakistan
Babar Azam (captain), Fakhar Zaman, Haider Ali, Haris Rauf, Iftikhar Ahmed, Imad Wasim, Khushdil Shah, Mohammad Hafeez, Mohammad Hasnain, Mohammad Rizwan, Mohammad Amir, Naseem Shah, Sarfaraz Ahmed, Shadab Khan, Shaheen Shah Afridi, Shoaib Malik and Wahab Riaz.