Australia beat England by three wickets in the third ODI and win the series 2-1 and end England's unbeaten run to the summer.
3rd ODI Complete Match Report: https://www.insidesport.in/carey-maxwell-ton-guides-australia-to-series-win-ends-englands-unbeaten-run-in-the-summer/
Click here for AUS vs ENG LIVE Score – https://www.insidesport.in/sport-matches/?field=entity_cricket&id=45466&widget=match_center
Here is the England vs Australia 3rd ODI Live Commentary
1.50am

That's it from here guys. Thank you for joining us.
1.47am
Match Summary
1.42am
Australia wins by 3 wickets
Starc sweeps for four and Australia win by three wickets with two balls to spare! The Aussies the series 2-1 and end England's long unbeaten run at home.
1.36am
AUS need 10 in 6 balls
Huge moment! Last ball of the 49th over and Carey tries to get the ball down to third man but Mark Wood comes in and takes a brilliant catch! Game on. Australia need 10 from six balls. FOW-292/7
1.30am
Maxwell gone for 108
Maxwell tries to launch the ball over the legside, gets a leading edge and Tom Curran takes the catch at the second attempt at short third man. The end of a brilliant knock. Australia need 18 from 15 balls. FOW-285/6
WICKET! Rashid removes Maxwell for 108 off 90 balls; Australia need 18 off 15 balls! Aus 285-6.

That stand was worth 212. #EngvAus

? Watch live ? https://t.co/TnNZrUhsMB
? Blog and clips ? https://t.co/7plxh62ngl

— Sky Sports Cricket (@SkyCricket) September 16, 2020
1.25am
Century for Alex Carey!
His first in ODI cricket and Australia are cruising now. The partnership has now passed 200 and the required rate is little more than a run a ball. Australia need 21 from 18 balls; AUS-282/5 after 47 overs
1.17am
Australia need 43 from 30 balls to win.
1.06am
Maxwell-Carey keeps shattering records
This is now the highest 6th wicket partnership for Australia in ODIs – of all-time!
Surpasses Mike Hussey and Brad Haddin's 165 against WI in 2006.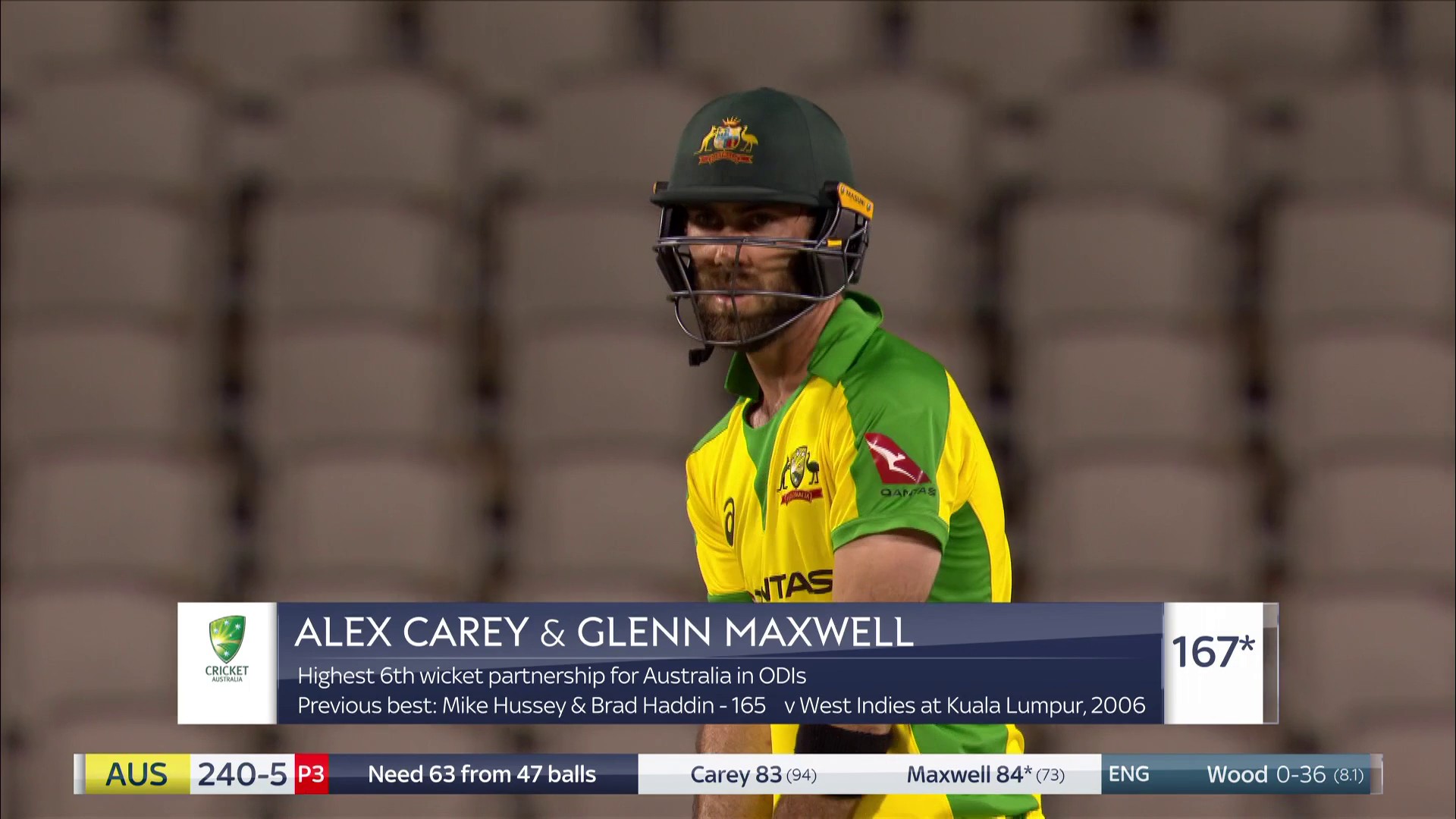 1.01am
End of 42 overs; AUS 236/5
12.49am
Who will win the series decider?
After 39 overs, England were 216/5.
After 39 overs, Australia are 216/5.
12.42am
Highest 6th wicket partnership for Australia vs England
The duo have already put on 113 runs together. Can they take the Aussies home? AUS – 186/5 after 35 overs
12.35am
Stats Trivia
Glenn Maxwell averages 49.83 at Old Trafford. No ground at which he's played 10+ matches (all formats) does he average more. #EngvAus

— The CricViz Analyst (@cricvizanalyst) September 16, 2020
12.27am
England in dire need of wickets!
Morgan keeps Woakes going into his eighth over. It is another really good one from the England seamer, a couple of slower balls to end it, Carey can't get them away and so it is just three from it. AUS-186/5 after 35 overs
12.23am
Six! Maxwell gets hold of Rashid's delivery, hitting high over deep midwicket to get to Fifty from 48 balls.
12.15am
Maxwell rides his luck
Two big moments in the game, Maxwell survives on both occasions.
12.10am
Fifty for Carey! He was given a second chance after that Archer no-ball and he is making it count. AUS-168/5 after 32 overs
12.01am
End of 30 overs; AUS need 145 more to win
11.52pm
Adil Rashid is slog-swept, and deposited over deep square leg for a half a dozen! Fun-fact: Adil Rashid averages 22.81 with the ball in the third match of a series which is his best average including one-off ODI matches. AUS 146/5 after 28 overs ; need 157 more from 22 overs
11.42pm
Root continues and sees his third ball launched downtown by Maxwell for a healthy six. That swells the return to eight from the over and we're at halfway already! At the same stage ENG-130/4 after 25 overs
11.30pm
Stats Trivia
In their last 37.5 overs of cricket, Australia have lost 13 wickets for 158 runs. #EngvAus

— The CricViz Analyst (@cricvizanalyst) September 16, 2020
11.19pm
Australia have a reprieve
Carey dismissed, but Archer bowls a no ball
Archer holes out this time! Soft, soft dismissal but there's drama. That's a big, big no-ball from Archer. Carey survives! He had chipped that straight to third man where Adil Rashid took an easy catch. AUS-95/5 after 20 overs; need 208 more runs to win from 30 overs
11.08pm
Australia in deep trouble as Billings swoops to shy at Buttler's end – the 'keeper takes the ball in front of the stumps before breaking the wicket with Labuschagne well out. FOW-73/5
10.59pm
Root continues with figures of 2-8, pushing 60mph with most deliveries. AUS-62/4 after 15 overs; need more 240 runs for win
10.48pm
What is happening in Manchester
Root strikes again!
Root has another as Marsh looks to work to leg but only succeeds in inside-edging onto his pad, the ball ballooning into Buttler's gloves. Morgan chortles. FOW-55/4
10.46pm
Stats Trivia!
Joe Root to David Warner in ODIs

Innings – 2
Runs – 3
Balls – 6
Dismissals – 2#EngvAus

— The CricViz Analyst (@cricvizanalyst) September 16, 2020
10.37pm
Warner is gone!
Root comes into bowl and the gamble has paid of for England as Warner departs for 24. FOW-51/3
10.35pm
End of Powerplay
Just 12 runs have come in the last two overs with Marnus Labuschagne and David Warner in the middle. A relatively quiet spell for the visitors. AUS- 47/2 after 10 overs; need 260 runs more to win
10.27pm
Warner and Labuschagne nudge and nurdle singles away in Woakes' fifth over, the bowler regularly taking pace off the ball to try and fox this batting pair the way he befuddled Stoinis. AUS-40/2 after 9 overs
10.11pm
Woakes strikes again!
Stoinis the victim this time. A rank delivery from Woakes generates a wicket as Stoinis chips to Morgan at midwicket. FOW-31/2
10.03pm
Watch the dismissal here!
Chris Woakes is an incredible cricketer ?‍♂️

Scorecard/Clips: https://t.co/m1COueGfgA#ENGvAUS pic.twitter.com/fhRsJVFbuk

— England Cricket (@englandcricket) September 16, 2020
10.01pm
Woakes now strikes with the ball
One lbw appeal from Woakes quickly dies by dint of the ball clearly sliding down leg but there is no doubt about the second – Finch plumb to a ball that moves in and pings him below the knee roll. FOW-21/1
9.53pm
Warner starts with a boundary!
Clipped off the hips withexceptional timing, towards the short leg-side boundary. AUS-4/0 after 1 over
9.47pm
Aaand we are back with the Australia chase!
Out come the batsmen. And it will be Chris Woakes with the first over.
9.25pm
Batting card!
9.17pm
50 for Woakes, 300 up for England
End of England innings
Fifty for Chris Woakes, his fifth in ODIs – and it takes England past 300! Two boundaries in the over, the first a reverse ramp that just beats the short third man fielder and the next slashes over backward point. Australia need 303 to beat England in the third ODI and win the three-match series. ENG-302/7 after 50 overs
9.07pm
Woakes hits the last ball back down the ground, Hazlewood gets a fingertip to it and maybe takes a bit of the pace off it, allowing Maxwell to get round from long off to keep it to a single. ENG-277/7 after 48 overs
8.59pm
Curran falls; ENG 7 down
Sends down one of those unplayable yorkers he's the best in the world at. Got revrse swing to moves it away from the bat and clatter into the base of off stump. FOW-266/7
8.56pm
Cummins, Zampa bowl out
Adam Zampa's bowled out with 3/51 off his 10 overs while Cummins is done with 53/1 in his full quota. On comes Starc again and concedes just three runs of his over. ENG- 249/6 after 45 overs
8.51pm
End of 45 overs; ENG-249/6
Starc completes his 8th over.
8.42pm
Stats Trivia!
Cummins' ball to dismiss Bairstow deviated 3.1° off the pitch, more than any other ball he's bowled in the series so far. #EngvAus

— The CricViz Analyst (@cricvizanalyst) September 16, 2020
8.30pm
Billings departs for 112
Brilliant from Pat Cummins to end Bairstow's wonderful innings. It's an off-cutter from the seamer and it really jags back, through the gate and into middle and off. FOW-220/6
A superb piece of bowling from Cummins claims the key wicket for Australia ?

Bairstow departs for 1️⃣1️⃣2️⃣ ? #ENGvAUS SCORECARD ▶️ https://t.co/qFgkr7ug0J pic.twitter.com/q26rd3ds21

— ICC (@ICC) September 16, 2020
8.18pm
Zampa claims his 3rd wicket!
Billings reverse sweeps, doesn't get hold of it and the ball loops up off the top edge to Mitch Marsh at short third man. FOW-210/5
8.17pm
100 for Bairstow!
What a shot to get there as well, 90mph from Cummins and Bairstow just flips it off his hip and high over square for six! Four more! Nailed back down the ground, Bairstow is on the charge now as well! ENG-208/4 after 37 overs
Well that's certainly one way to bring up your ? ? #ENGvAUSpic.twitter.com/WMeMsPhtoa

— ICC (@ICC) September 16, 2020
8.12pm
100 partnership for Billings-Bairstow!
From 95/4 to 196/4
Driven down to mid-on by Billings, and that brings up the 100-partnership. It's come in 112 balls, and from 95 for 4, it was desperately required. ENG-196/4 after 36 overs
8.09pm
That's a 50 for Billings!
FIFTY for Billings! Hard sweep next ball from Billings, that is middled and is into the gap for four more. Superb batting.
Sam Billings has reached 5️⃣0️⃣ for the second time in the series ?

Can he go on to register a second century as well?#ENGvAUS SCORECARD ▶️ https://t.co/qFgkr7ug0J pic.twitter.com/6Q7iPQueya

— ICC (@ICC) September 16, 2020
8.07pm
End of 35 overs; ENG-184/4
Brilliant from Billings! After an inside edge into the legside brings him two, he moves across his stumps and ramps Starc over fine leg for six!
7.57pm
A massive six from Billings!
Poor delivery from Starc. Billings rocked back and gave it a thump, and this time gets it perfectly right. Sails away past cow corner and into the car park.
7.50pm
Stats Trivia!
Mitch Marsh is doing a good job to contain England in a role that Australia have struggled with in recent years. Since the 2015 World Cup, no ODI team has a worse economy rate with bowlers 5th and below in their bowling order. #EngvAus pic.twitter.com/aNjBClGY5l

— The CricViz Analyst (@cricvizanalyst) September 16, 2020
7.40pm
150 up for England
The third fifty of England's innings comes up at a run-a-ball and much quicker than the second (46-74-50 balls) as Hazlewood returns and sneaks one through Billings' attempted pull. ENG- 151/4 after 29 overs
7.33pm
50 partnership comes up for Billings-Bairstow
Bairstow is in his element, sweeping fine for another couple which brings up the 50-run stand off 60 balls. ENG-148/4 after 28 overs
7.21pm
Bairstow fireworks!
Bairstow has revived English hopes with his explosive batting display once again. He is currently batting at 81.  ENG-136/4 after 26 overs
Bairstow at his best ? #ENGvAUSpic.twitter.com/J2bIz7u49t

— ICC (@ICC) September 16, 2020
7.12pm
Stats Trivia!
Much of England's success since the 2015 World Cup has been built around their ability to keep going with the bat even during the middle overs. No team in that time has a better run rate or boundary percentage during this phase of the innings. #EngvAus pic.twitter.com/2QRhoDc6Wd

— The CricViz Analyst (@cricvizanalyst) September 16, 2020
7.04pm
End of 20 overs!
100 comes up for England finally, but at the cost of 4 wickets. Billings with a boundary to get England to three figures. ENG-103/4 after 20 overs
6.54pm
Zampa strikes again!
Butler drives without conviction to Finch's right at extra cover and the Aussie skipper dives to pouch two-handed. FOW-96/4
6.45pm
50 for Bairstow
Bairstow completes his 14th ODI fifty, from 48 balls, and second of the series after his 84 in the opening game.
A superb counter-attacking 5️⃣0️⃣ from Jonny Bairstow ? #ENGvAUS SCORECARD ▶️ https://t.co/qFgkr7ug0J pic.twitter.com/Cd4JarUs9U

— ICC (@ICC) September 16, 2020
6.35pm
The runs have dried up for England, due to better bowling from Australia and the hosts easing up on the aggression front after the exit of Morgan. ENG-75/3 after 14 overs
6.23pm
Morgan throws away his wicket!
Zampa gets the breakthrough!
Morgan looks pretty unimpressed with himself, struck it well, but attempting that short with Starc stationed at mid-off was much too risky. FOW-67/3
6.13pm
Stats Trivia!
Despite Eoin Morgan's struggles with the short ball, he has countered it well with the pull shot, scoring more runs than all but four players in world cricket since the start of last year. His current partner, Jonny Bairstow, is one of those four ahead of him. #EngvAus pic.twitter.com/jh2CTu74DK

— The CricViz Analyst (@cricvizanalyst) September 16, 2020
6.07pm
Back to back 4's
Bairstow is in full swing! First, a boundary from the top-edge as he tries to to drag on the on-side and the next one from Starc is on the pads and the right-hander flicks it uppishly over mid-wicket. ENG- 25/2 after 5 overs
6.01pm
It has been slow going for England so far in the first 5 overs. ENG-25/2 after 5 overs
5.45pm
Starc returns!
Another tight over from the Aussie speedster. Just 1 run off it, that too from a wide. ENG-9/2 after 3 overs
5.37pm
Watch the Joe Root dismissal here!
5.35pm
It's crazy in Manchester!
Root also goes for a golden duck, pinned lbw by an in-swinging ball from the Australia left-armer. FOW-0/2
5.33pm
What a cracker of a delivery!
Mitchell Starc strikes first ball! Roy shakes his head and admonishes himself as he trudges back to pavilion after slashing Starc into the safe hands of Maxwell at backward point. FOW-0/1
5.32pm
Here we go! Mitchell Starc with the ball, Jason Roy to take strike!
5.20pm
Australia Playing XI
David Warner, Aaron Finch(c), Marcus Stoinis, Marnus Labuschagne, Mitchell Marsh, Alex Carey(w), Glenn Maxwell, Pat Cummins, Mitchell Starc, Josh Hazlewood, Adam Zampa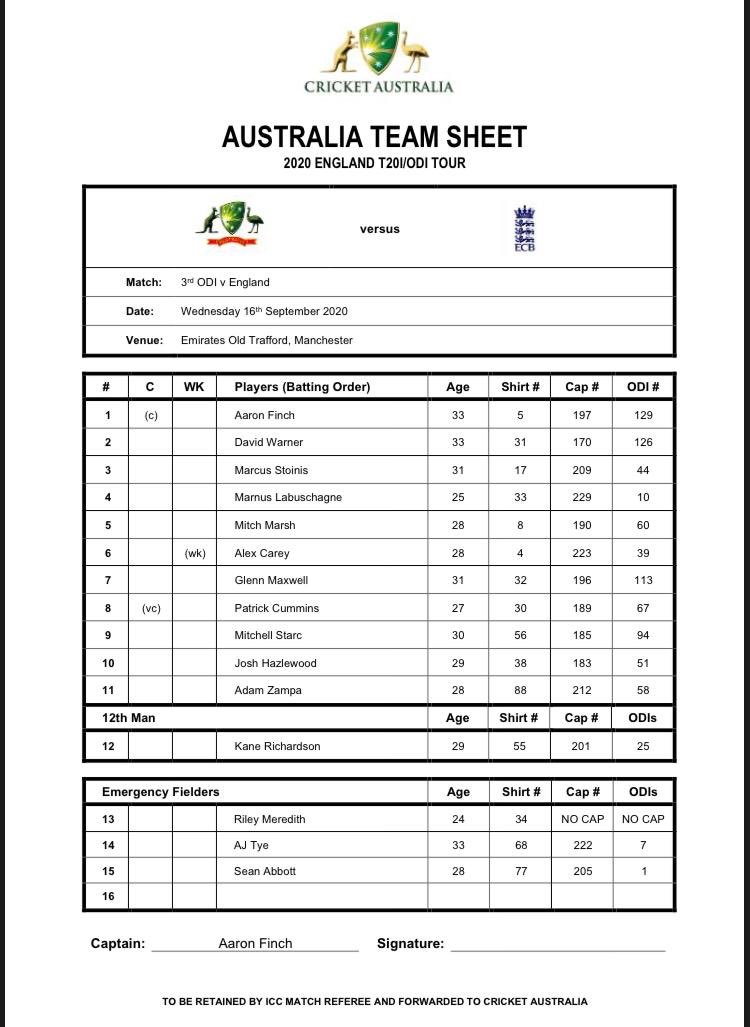 5.18pm
England Playing XI
One change for the hosts – Mark Wood in for Sam Curran, with Morgan wanting some extra pace on a fresh pitch.
We will bat first in the final ODI of the summer! ????????#ENGvAUS

— England Cricket (@englandcricket) September 16, 2020
5.15pm
Toss results
England wins toss and elects to bat first
Eoin Morgan wins his third toss of the ODI series and has chosen to bat first ??????? #ENGvAUS pic.twitter.com/hgPPUlK0KC

— ICC (@ICC) September 16, 2020