Clippers vs Suns Game 6 in NBA Conference Finals Scores: Suns win 130-103 to enter NBA Finals 2021. They will face the Hawks/Bucks.
Clippers vs Suns Live Game 6 Quarter 4
Beverley just ran up and shoved Chris paul in the back as he was walking towards the bench on the timeout. Paul probably said something but there's no reason for Beverley to react like that. he'll probably be tossed
Chris Paul is unconscious! he drains the three and it's 118-92 suns with 5:49 left. just an incredible second half from paul
and cp3 responds with an and-one three-pointer! continuing a big-time game
Point God having himself a NIGHT. pic.twitter.com/LOXdKUMGSZ

— Phoenix Suns (@Suns) July 1, 2021
chris paul is absolutely feeling it. suns are up by 20 and it's starting to feel like this one is over
Clippers vs Suns Live Game 6 Quarter 3
DEVIN BOOKER flies in for a huge slam and all of a sudden the suns have pushed their lead up to 13. biggest of the game for them and the clippers have to call a timeout
clippers are already in the bonus in the third quarter and there's still 8:16 left. could be a long quarter here for the suns
Marcus Morris with the smooth up and under. that one would have made Kevin McHale proud
The challenge is unsuccessful. foul on bridges and George will get two free throws. kind of weird that the suns would burn their challenge on that
suns are going to use their challenge early in the third quarter hereafter Bridges was called for a foul on Paul George
Clippers vs Suns Live Game 6 Quarter 2
common foul on Beverley. he probably got saved by the fact that he got the ball first and then hit Ayton with the follow-through
Beverley just came flying in from behind and whacked Ayton on the top of the head. refs are going to review to check this one
looked like a bad call there on the out of bounds. suns get an extra possession and jae crowder bangs a three. big swing there for the suns
🗣AND ONE pic.twitter.com/juSIMP0ptK

— LA Clippers (@LAClippers) July 1, 2021
Tuff @DevinBook https://t.co/Wcp8Yw7weq pic.twitter.com/nwH5pDn4Ao

— Phoenix Suns (@Suns) July 1, 2021
Reggie Jackson into the paint for a TOUGH and one over Devin booker and the clippers have battled all the way back to tie the game at 50-50 in the middle of the second quarter
Criss, cross, to the cup! pic.twitter.com/kdqyleRXgu

— LA Clippers (@LAClippers) July 1, 2021
refs reviewing a foul here where crowder reached his arm out and tripped batum. no flagrant but it is a foul on crowder. a little surprising actually considering that wasn't a basketball play at all and fits the bill of unnecessary
*chef's kiss* pic.twitter.com/JgiBNZYoBG

— Phoenix Suns (@Suns) July 1, 2021
back to back threes from saric to give the suns an eight point lead. the suns are getting whatever they want in the high pick and roll when boogie is on the floor
Clippers vs Suns Live Game 6 Quarter 1
Boogie banks in a three at the buzzer but it's 33-29 suns at the end of the first quarter. Deandre Ayton and Devin booker have combined for 19 points to lead the suns. Reggie Jackson keeping up his strong play with 8/2/3 already
suns up 23-20 here late in the first quarter but honestly are probably lucky to still be in front. The clippers are just 2 of 8 from three-point land and have missed a bunch of good looks
Hot start from @mikal_bridges! pic.twitter.com/v0fRry7IWu

— Phoenix Suns (@Suns) July 1, 2021
suns have been looking for deandre ayton a lot early on tonight. he has six early points
Layin' it all on the line. pic.twitter.com/kmYhRPfTWy

— LA Clippers (@LAClippers) July 1, 2021
Battling on defense for buckets on offense. pic.twitter.com/eMGYOKl6ZY

— LA Clippers (@LAClippers) July 1, 2021
Fancy footwork and floats it in. pic.twitter.com/gTjzwU3Qul

— LA Clippers (@LAClippers) July 1, 2021
back to back threes from Chris paul and the suns have built a 15-9 lead midway through the first quarter. great sign for the suns to see him hitting some shots early. he has looked out of sorts since returning from the health and safety protocols
Patrick Beverley is known for being a defensive player, but he has seven of the clippers' first nine points tonight. giving them a nice boost to start the game
Clippers vs Suns Live Game 6 Starting 5 and Pre-Game Updates
THE 5. pic.twitter.com/mrX474DBkV

— Phoenix Suns (@Suns) July 1, 2021
.@Verizon Starting 5️⃣ vs. Phoenix

1️⃣ » @Reggie_Jackson
2️⃣ » @patbev21
3️⃣ » @Yg_Trece
4️⃣ » @terance_mann
5️⃣ » @MookMorris2 pic.twitter.com/AW28jTW0s9

— LA Clippers (@LAClippers) July 1, 2021
The Clippers overcame the Suns without Kawhi Leonard and Ivica Zubac to force a Game 6. The Suns still lead the series 3-2 and this is also another do-or-die game for the Clippers.
Paul Geroge recorded a career-high 41 points as he rallied the Clippers against the Suns.
NBA Playoffs to be live-streamed in more than 200 countries. Watch NBA Playoffs Live here.
Match Details: LA Clippers vs Phoenix Suns
Time: 06:30 AM IST
Date: 01-07-2021
Venue: Staples Center, Los Angeles
NBA Playoffs Live Stream: LA Clippers vs Phoenix Suns- Match Preview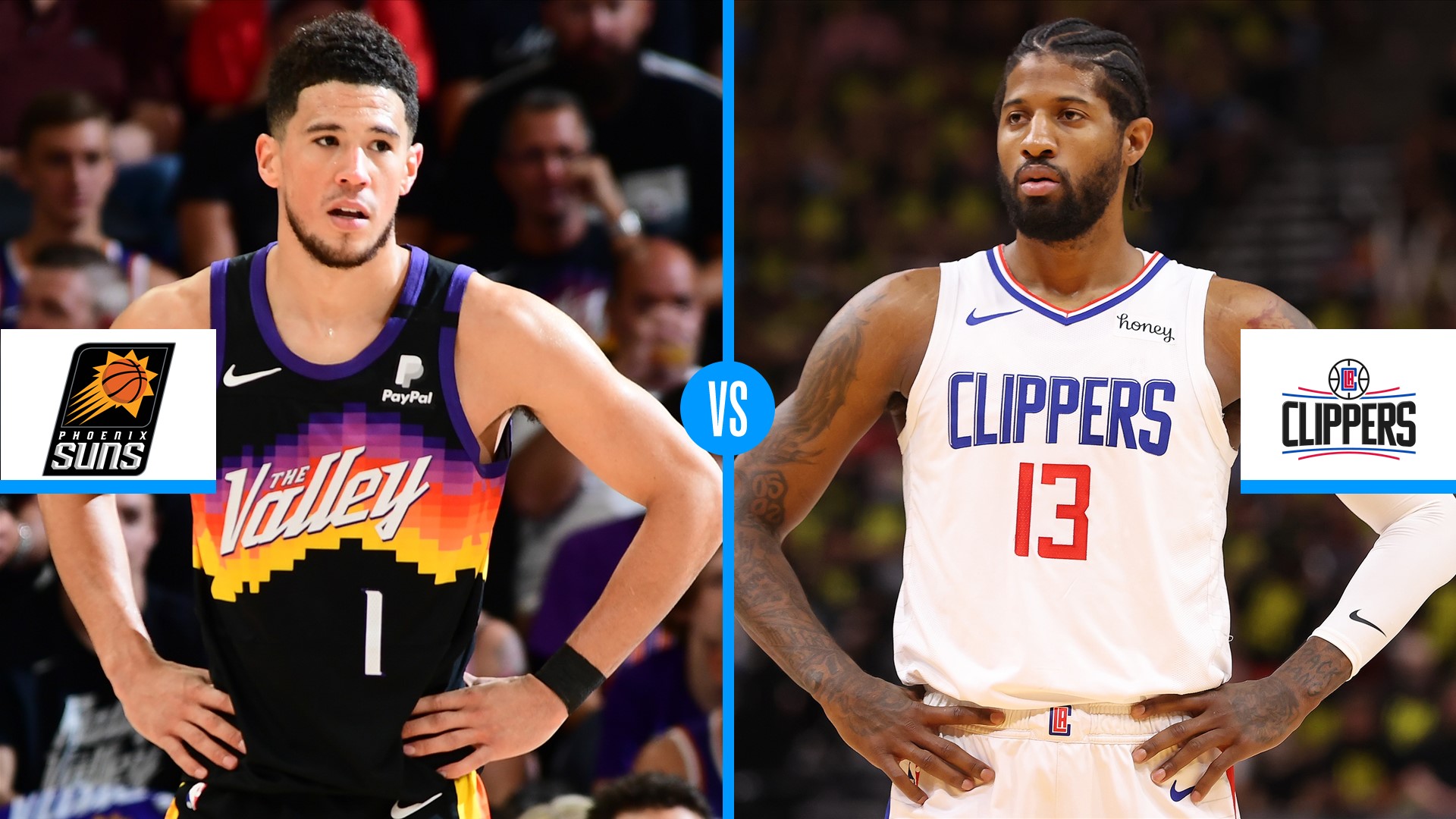 NBA TV coverage: Clippers vs Suns Live in NBA Playoffs 2021
NBA games will be broadcasted nationally across ESPN and TNT.
NBA Playoffs 2021 Live stream: Clippers vs Suns Live stream
Every game will be available live via NBA TV, while the nationally broadcast game will also be available via ESPN digital platforms.
NBA Playoffs Schedule: Find the latest NBA Playoffs Schedule