Bucks vs Suns Game 4 in NBA Finals Score: Bucks win 109-103 to tie the series 2-2, Devin Booker makes history in a controversial game
The Milwaukee Bucks win both the games at home to tie the NBA Finals 2021 series 2-2. They did not gain the lead up until the last quarter but never let the Suns lead by double-digits either.
Another huge game for Giannis and Khris Middleton who scored 65 points combined. Chris Paul's turnovers cost the Suns the win. However, the teams will go back to Talking Stick Resort, Phoenix for Game 5 where the Suns will look to take the lead in front of their fans.
In a game full of controversial calls, Devin Booker scored 42 points but it just was not enough. In the final few seconds, Giannis' left foot was inside the court during an inbound pass but it was not called.
Chris Paul will be looking to perform better in Game 5 as he ended with just 8 points, 7 assists, and 4 rebounds in this game.
Middleton scored 40 points, including 10 straight for the Milwaukee Bucks down the stretch to send them past the Phoenix Suns, 109-103 on Wednesday night to tie the series 2-2.
Middleton's hot hand and a big block from Giannis Antetokounmpo gave the Bucks their second straight victory in the first close game of the series.
"We wanted this bad and the team showed it tonight," Antetokounmpo said.
Antetokounmpo had 26 points, 14 rebounds and eight assists. His streak of 40-point games ended at two but the only number that matters for the Bucks is on the series scoreboard.
Devin Booker scored 42 points for the Suns, but his foul trouble cost them a chance to build a big lead in the second half. Chris Paul struggled through a 5-for-13 night, finishing with 10 points and five turnovers.
Game 5 is Saturday night in Phoenix.
"This is a tough one but we've got to bounce back," Paul said. "That's why we fought all season to get home court."
H1STORY

Congrats, @DevinBook! pic.twitter.com/Bf5QFKWlU8

— Phoenix Suns (@Suns) July 15, 2021
Bucks vs Suns Live Game 4 Quarter 4
The Bucks lead by four with only 27.4 seconds to go. They're in good shape here, but this game is far from over.
A big time block by Antetokounmpo!!!
He's a FREAK!! pic.twitter.com/psoObkEdef

— Milwaukee Bucks (@Bucks) July 15, 2021
Giannis gets fouled in transition, but it's not free throws. They'll take it out of bounds.
That should have knocked Booker out of the game with 3:30 left. Giannis saves it to cut the deficit to one point, but if the Suns go on to win this game, Booker's presence will almost certainly be why.
Giannis cleans it up!! pic.twitter.com/vOpVkxIlSo

— Milwaukee Bucks (@Bucks) July 15, 2021
That would have been Booker's 6th foul. How have the refs not called it is unknown. However, Giannis stayed with the play and finished it in the paint after the miss by Holiday.
Bobby BLOCK!! pic.twitter.com/VQnqwB69Rk

— Milwaukee Bucks (@Bucks) July 15, 2021
Portis gives the crowd another reason to cheer for him after a rejection on Bridges.
Middleton finishes off the glass. It's 93-90 Suns.
The Bucks aren't challenging. Tucker definitely made contact, so they likely decided it was a lost cause. Now Tucker goes to the bench with five fouls.
Crowder gets fouled on the 3, but Tucker wants Budenholzer to challenge.
Easy dunk for Giannis and the lead is down to two following that miscommunication.
That's too easy. pic.twitter.com/ebq0X4vfJB

— Milwaukee Bucks (@Bucks) July 15, 2021
Side-to-side swipe, but that is the fourth team foul from the Bucks. The Suns will get free throws on fouls from this point on.
Greek Freak steal and slam!! pic.twitter.com/rYgqteqYcS

— Milwaukee Bucks (@Bucks) July 15, 2021
Paul almost loses it again but Connaughton bails the Suns out with a dumb foul. It's not a shooting foul, but man, Phoenix had nothing going there. He has not done a good job in protecting the ball.
Tucker misses from the corner. Holiday misses the putback. This is a GOLDEN opportunity for the Bucks and they just can't finish offensively.
Pat right back at it with another triple. pic.twitter.com/e9n8MeGJcJ

— Milwaukee Bucks (@Bucks) July 15, 2021
Pat Connaughton has made some very heavily contested 3's in this game, so naturally, when he's wide open, he hits the top of the backboard.
Loose ball foul on Booker! That's his fifth! Major trouble for the Suns here.
Johnson for 3. Suns lead by nine. This thing is slipping away from Milwaukee.
Bucks vs Suns Live Game 4 Quarter 3
Middleton misses the second, but Lopez tips it in. Tie game at 73 apiece.
I want whatever Book had for breakfast 😳🥶 pic.twitter.com/wROog4SbEP

— Phoenix Suns (@Suns) July 15, 2021
Middleton draws the foul on the drive. That's on Payne, so, fortunately, the Suns aren't risking another player to foul trouble.
PC connects for 3!! pic.twitter.com/9LyQjHMDdW

— Milwaukee Bucks (@Bucks) July 15, 2021
Giannis gets fouled on that entry pass. The Bucks are in the bonus so he gets free throws. That's just a very smart usage of the Middleton-Giannis pick-and-roll.
That's four straight points for Paul as soon as Booker goes to the bench.
Both Booker and Tucker have 4 fouls.
Giannis on the loose. pic.twitter.com/GxKQW7kQM7

— Milwaukee Bucks (@Bucks) July 15, 2021
Wide-open dunk for Giannis in transition and it's a three-point game yet again.
Booker again! He just cannot miss it! Even with Holiday on him.
Giannis with the fadeaway. pic.twitter.com/AByHgOIALd

— Milwaukee Bucks (@Bucks) July 15, 2021
Another missed 3 for the Bucks. They just can't hit a jumper.
Middleton is getting some really unfortunate bounces on the rim in the second half. He's getting the same looks Booker is, but he's just not making them as easily.
An obvious clear path foul by Booker. Huge momentum swing after the Suns scored the first five of the half.
Booker from mid-range again. The Bucks are getting him to take the shots they want him to take. He's just making them.
Crowder for 3. He's the only player having any success behind the arc tonight. He's 12-for-17 from 3 in the last three games.
Lopez misses the 3 to open the second half.
Bucks vs Suns Live Game 4 Quarter 2
Bridges makes the 3. That's just the sixth 3 of the night for either team.
The Bucks are now 2-of-14 from 3's after that Connaughton miss.
Booker goes to the line off of the Tucker foul. He just cannot be stopped here tonight. He has 16.
Goaltending on Ayton. They're saying that ball was on the cylinder when he deflected it. Tough break, that wouldn't have gone in.
That's Ayton's second. Maybe the Bucks can get him in foul trouble after all. Now Giannis goes to the line with a chance to take the lead back.
The Suns are still committed to this "stop Giannis at all costs" approach. Middleton was wide open from 3 there, but he missed. That's what the Suns are banking on.
Jrue Holiday may be having an inconsistent offensive series, but my god, has he been incredible on defense. Passes are not safe near him. He's fighting through so many screens and is involved in a million pick-and-rolls.
Too small. pic.twitter.com/BI5l6JpD5A

— Milwaukee Bucks (@Bucks) July 15, 2021
Ayton fouls Giannis, but that's only his first of the night. We're midway through the second quarter. If the Bucks wanted to get him into foul trouble, they've done a bad job of it thus far.
Now the Bucks seem to have gotten the memo. They're going at the basket and Holiday draws the foul as he makes the layup.
Nice pick-and-roll between Paul and Craig. Craig isn't usually involved in those actions, but he's functioning as the center for Phoenix right now with Ayton out.
Crowder answers with a 3 of his own and the Suns are thus far surviving these precarious Ayton bench minutes.
The Bucks have taken two shots against these small Suns and they've both been jumpers. That's unacceptable. This is the time for them to attack.
The Suns are going small with Ayton getting his typical breather. The Kaminsky minutes were a disaster in Game 3 so the Suns don't have much of a choice.
Bucks vs Suns Live Game 4 Quarter 1
Milwaukee is shooting 29% from the field and 20% on 3's. That just isn't going to get it done. The Suns are giving them 3's that they just aren't making.
Bobby's got the arena hyped!! pic.twitter.com/qztDiAAm1b

— Milwaukee Bucks (@Bucks) July 15, 2021
Giannis misses them both. He missed only four throws out of 17 in Game 3.
These will be Giannis' first free throws of the night. He took 17 of them in Game 3.
Bobby Buckets. pic.twitter.com/eQIQetFa4W

— Milwaukee Bucks (@Bucks) July 15, 2021
Portis for 3 and the lead, which was once as high as nine, has been cut to 18-14. Timeout Suns.
That's two straight bad misses at the rim for the Bucks. Holiday is now 0-for-5 from the field. It's starting to feel like the Phoenix games all over again.
Middleton has seven of Milwaukee's 11 thus far, and it doesn't even feel as though he's playing all that well. The Bucks really haven't found the flow they had on offense in Game 3, and the extra help the Suns are giving at the rim against Giannis is a big reason why.
Wild sequence there with back-to-back steals, but Booker settles down and runs the half-court offense to get Bridges an open jumper. It's 16-7 Suns.
That's cash. pic.twitter.com/RziRLjNgTf

— Milwaukee Bucks (@Bucks) July 15, 2021
Booker makes both free throws and the Suns have pushed their lead up to 14-7. That's two fouls on Lopez already. We saw Ayton get into foul trouble in Game 3.
Middleton's 3 stops the 10-0 run for Phoenix, but Booker has six already. Giannis is at the scorer's table and will check-in at the next stoppage.
The Bucks dominated the offensive glass in the first three games of this series, but Phoenix is doing a much better job of controlling the boards so far here.
It looked before the break as if Pat Connaughton would be coming in for Giannis. That's some smart gamesmanship for the Bucks. Not only does it get him an early rest, but they're trying to align his minutes so that he is on the floor when DeAndre Ayton is off of it. The Bucks dominated the Suns in those minutes in Game 4.
The Suns lead 10-4 after an 8-0 run thanks to that wide-open Ayton dunk inside. Milwaukee's aggressive help defense is creating way too many open looks near the rim for the Suns.
Smash Mountain in the paint. pic.twitter.com/N4O6nv0TEG

— Milwaukee Bucks (@Bucks) July 15, 2021
The Bucks are getting good looks on the perimeter, but their shooting is so inconsistent.
Brook got the open dunk, but notice how much help the Suns sent against Giannis in the paint there. They don't want him scoring 40 again in Game 4.
Holiday misses his first 3. He made five of them in Game 3, and that probably wasn't going to sustain. He redeems himself with the turnover that leads to a layup for Middleton.
Devin Booker nails his first shot. That's big for him after shooting 3-of-14 in Game 3.
Bucks vs Suns Live Game 4 Starting 5 and Pre-Game Updates
Final preparations. pic.twitter.com/TO7Jhgd2KQ

— Milwaukee Bucks (@Bucks) July 15, 2021
THE FIVE. pic.twitter.com/OeDwRy8Tnx

— Phoenix Suns (@Suns) July 15, 2021
Our five for Game 4. pic.twitter.com/G9zriujnOB

— Milwaukee Bucks (@Bucks) July 15, 2021
Milwaukee Bucks vs Phoenix Suns
The Milwaukee Bucks have initiated a comeback after winning Game 3 in Fiserv Forum. A huge game for Antetokounmpo who scored 41 points and had 13 rebounds.
It was unfortunate for the Suns as they lost their big man Deandre Ayton and played the entire 2nd half without him.
NBA Finals to be live-streamed in more than 200 countries. Watch NBA Finals Live here.
Match Details: Milwaukee Bucks vs Phoenix Suns
Time: 06:00 AM IST
Date: 15-07-2021
Venue: Fiserv Forum, Milwaukee
NBA Finals Live Stream: Milwaukee Bucks vs Phoenix Suns- Match Preview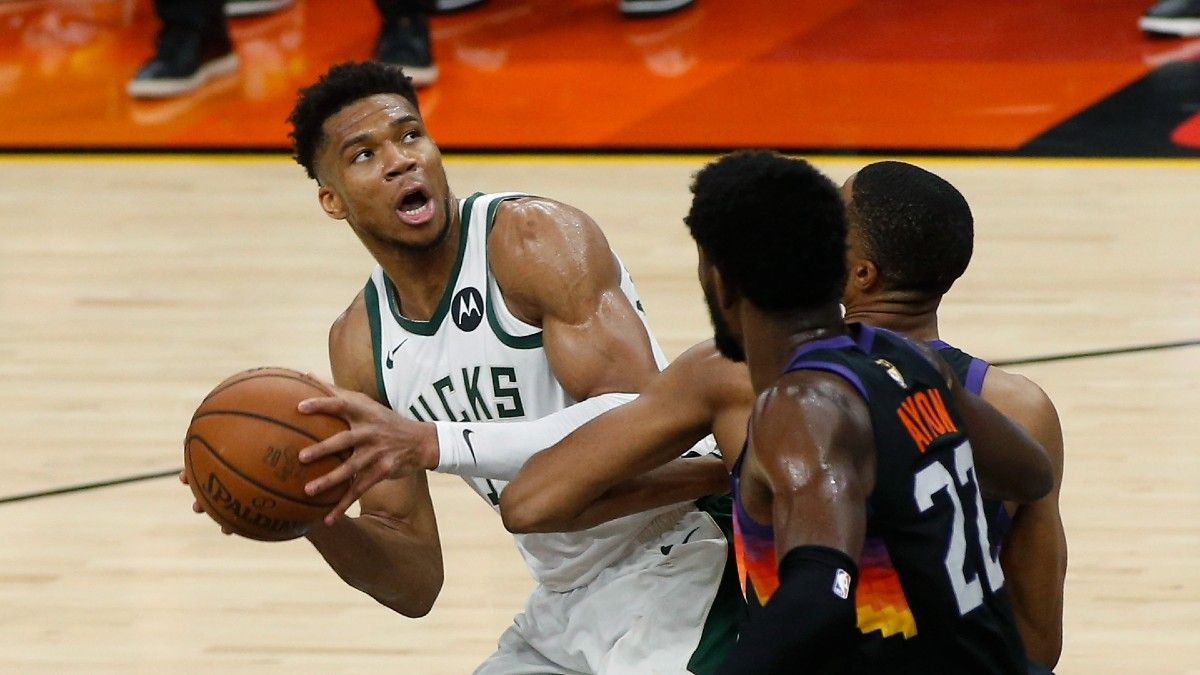 NBA TV coverage: Bucks vs Suns Live in NBA Finals 2021
NBA games will be broadcasted nationally across ESPN and TNT.
NBA Finals 2021 Live stream: Bucks vs Suns Live stream
Every game will be available live via NBA TV, while the nationally broadcast game will also be available via ESPN digital platforms.
NBA Playoffs Schedule: Find the latest NBA Playoffs Schedule