Brazil vs Colombia LIVE: Brazil coach Tite explains why in-form Vinicius Jr. is not included in the Brazil squad for FIFA World Cup Qualifiers
Brazil vs Colombia LIVE: Brazil coach Tite explains why in-form Vinicius Jr. is not included in the Brazil squad for FIFA World…
Brazil vs Colombia LIVE: Brazil coach Tite explains why in-form Vinicius Jr. is not included in the Brazil squad for FIFA World Cup Qualifiers- Brazil continues their FIFA World Cup campaign as they take on Colombia on the 12th of November and Argentina on the 17th of November. They sit at the top spot with a comfortable 6 points lead. The Brazilians are yet to lose a game in the CONMEBOL World Cup Qualifiers.
The headline match of Argentina vs Brazil was called-off due to the violation of Covid-19 health and safety protocols by Premier League Argentine player.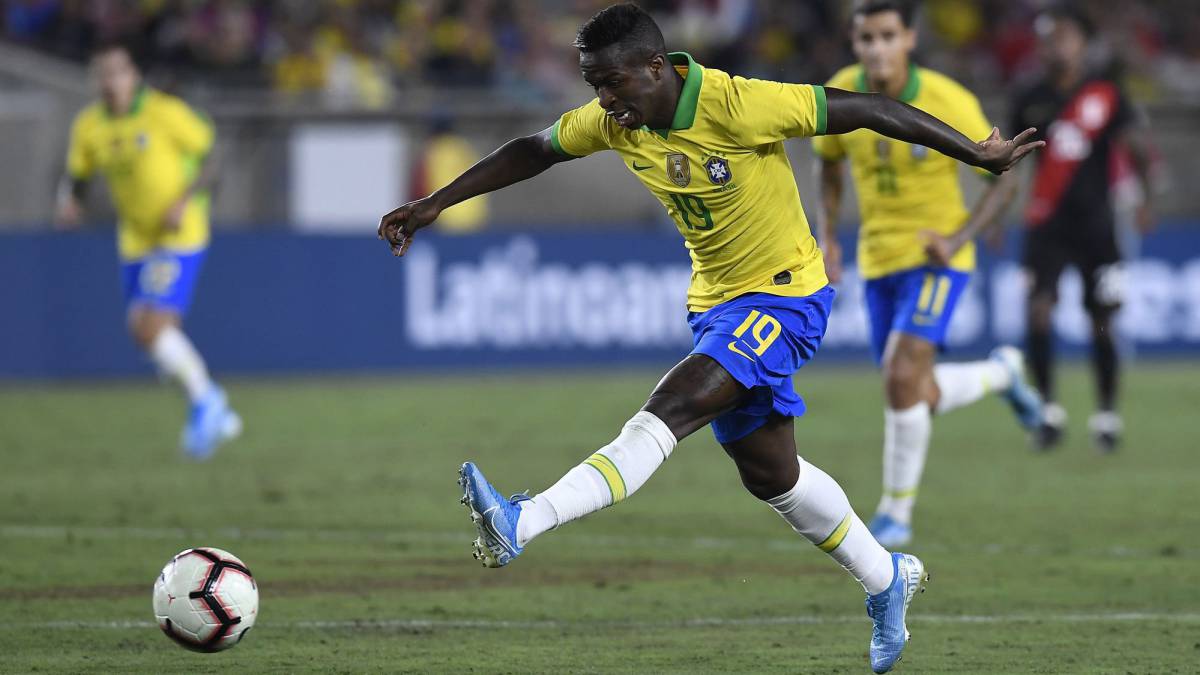 The 21-year-old Vinicius, with nine goals in 16 matches for Real Madrid, only traveled to Sao Paulo to join the national squad after Roberto Firmino picked up an injury. Coach Tite appears to believe the young striker is behind Raphinha and Antony, who have already delivered goals for the team.
Brazil vs Colombia LIVE: Tite explains Vinicius' exclusion
Tite told a news conference Wednesday he has spoken with Real Madrid's Carlo Ancelotti about tactics to bring out the best in Vinicius, who so far hasn't produced his best while wearing the famous yellow shirt. He has played only seven matches for Brazil, mostly off the bench.
"We have to be patient and understand the youngster, the time he might need to have his affirmation in the national team," Tite said. "He had a very long time to adapt at Real Madrid, and that gave him that maturity so he could develop and arrive at the stage he is. It is no different in the national team."
Brazil's coach indicated that the afternoon training session would hint at who would start against Colombia. As expected, no Vinicius. Raphinha, who delivered goals and assists in three good performances in the latest international window, appears to have beaten the competition again.
Tite said Real Madrid and Brazil have different systems, and Vinicius has so far thrived only with his club.
Brazil vs Colombia LIVE: Tite compares Brazil's tactics with Real Madrid
"Real has a tripod in the midfield, supporting its left wing. That leaves (Vinicius) in a position as the penultimate striker, sometimes he is the last man with Karim Benzema coming from the back," Tite explained. "We don't use that tripod here. So he will only be a forward, aggressive, with freedom. And he will also have to help defensively."
In an interview late last month, Vinicius admitted he was sad at being initially overlooked for Brazil's squad for the matches against Colombia and Argentina, but insisted his time will come.
"I have to work more, play better matches. And even when I am doing well I have to know that Brazil is hard, there's a lot of players," the striker told TNT Sports. "I know that the right moment will come. I hope to play well this month because there will be another list in January."
When will Brazil vs Colombia Start? – Date
Brazil vs Colombia will start on Nov 12
What Time does Brazil vs Colombia begin? Time
BRA vs COL match Will begin at 6.00 AM- IST
What is the venue for Brazil vs Colombia? – Venue
Corinthians Arena
World Cup Qualifiers live: How do I watch live streaming of Brazil vs Colombia?
There are no official broadcasters or live streaming options for CONMEBOL FIFA World Cup 2022 fixtures in India. But the fans can follow the social media pages of all the teams and players to catch up on live scores.
BRAZIL NATIONAL FOOTBALL TEAM 
Goalkeepers: Alisson, Ederson, Gabriel Chapeco.
Defenders: Danilo, Emerson Royal , Alex Sandro, Renan Lodi, Eder Militao, Gabriel Magalhaes, Marquinhos, Thiago Silva.
Midfielders: Casemiro, Fred, Fabinho, Gerson, Lucas Paqueta, Philippe Coutinho.
Forwards: Antony, Roberto Firmino, Gabriel Jesus, Matheus Cunha, Neymar, Raphinha.