Ballon d'or 2021: Furious Kylian Mbappe gives death stare to Ballon d'or organizers after embarrassing ninth place finish
Mbappé reaction to being 9th in the Ballon d'Or #BallonDor #Mbappe pic.twitter.com/7iYtGjGqyF

— RonaldoFan7 (@ManUtdRonaldo7) November 29, 2021
Kylian Mbappe looked enraged after finishing ninth in the 2021 Ballon d'Or rankings: Kylian Mbappe was one of the many players in attendance for the Ballon d'Or ceremony at the Chatelet Theatre in Paris. Mbappe looked to be in quite a jubilant mood when he signed a France national team jersey for Formula One driver Esteban Ocon, who presented the Ballon d'Or trophies alongside Fernando Alonso.
Also Read: Ballon d'Or 2021: Messi wins his seventh Ballon d'Or beating Lewandowski (insidesport.in)
But when he learned his position in this year's Ballon d'Or, Mbappe's face turned very sour when the cameras panned to him as he sat next to former Barcelona teammates Lionel Messi and Luis Suarez.
🚨⚽️ | NEW: Kylian Mbappé's reaction to coming 9th pic.twitter.com/b1E6EjjGCg

— Football For All (@FootballlForAll) November 29, 2021
Mbappe's club teammate Lionel Messi took home the award as broke his own record by winning the golden ball for the 7th time.
After having a great 2021 calendar year, in which Kylian Mbappe contributed to a total of 65 goals scoring 45 himself (2nd most) and assisting a further 20 more (2nd most), Kylian Mbappe still ranked 9th in the 2021 Ballon d'Or rankings.
Mbappé should be in contention for a top 3 spot in the Ballondor.

45 Goals (2nd Most in 2021)
20 Assists
3 Trophies
8 CL goals
6 KO goals
POTT in Coupe De France.
French POTY
Ligue 1 POTY
POTT Nations League
4 UCL MOTM

These are winner worthy stats let alone top 3. pic.twitter.com/HvHjq1vzXn

— KMbappeTeam. (@KMbappeTeam) November 29, 2021
The most valuable player in the world, according to German football entity transfermarkt. The PSG superstar Kylian Mbappe is valued at a market value of €160 million. Despite being only 22 years of age Kylian Mbappe is still one of the best players in the world.
Ballon d'or 2021: Furious Kylian Mbappe gives death stare to Ballon d'or organizers after embarrassing ninth place finish
The Frenchman who has his heart set on wearing the Royal White Jersey of Real Madrid, could well be on his way out of Paris as he looks to realize his childhood dream of playing for Real Madrid, Mbappe who would be the face of Real Madrid's new Galactico project would certainly be in the reckoning for many Ballon d'Or award for many years to come.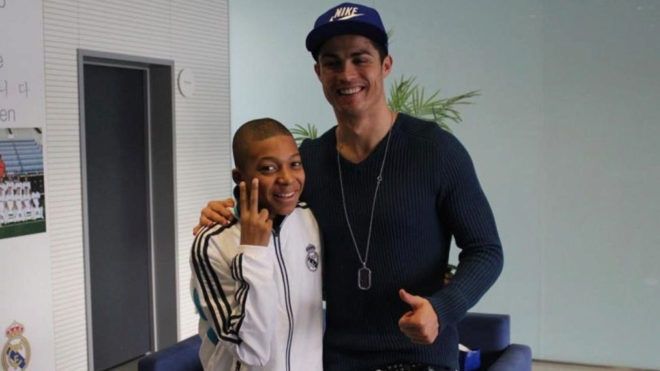 Ballon d'or 2021: Furious Kylian Mbappe gives death stare to Ballon d'or organizers after embarrassing ninth place finish