5 Stats to know from Russell Westbrook's record-breaking triple-double against the Pacers
5 Stats to know from Russell Westbrook's record-breaking triple-double against the Pacers. En route to breaking the franchise record for most triple-doubles,…
5 Stats to know from Russell Westbrook's record-breaking triple-double against the Pacers. En route to breaking the franchise record for most triple-doubles, the former MVP- Russell Westbrook turned in a game-winning triple-double performance for the ages.
With Bradley Beal and Davis Bertans not suiting up against the Indiana Pacers on Monday (ET), the Wizards needed an all-time performance from Russell Westbrook to even be competitive.
The former MVP delivered and then some.
In 39 minutes, Westbrook played one of the best games of his career to finish with 35 points, 21 assists, and 14 rebounds along with two steals on 14-of-26 shooting from the field and 3-of-6 from beyond the arc to lead the Wizards to a 132-124 win.
His All-Star backcourt mate Bradley Beal took to Twitter postgame to share his reaction:
@russwest44 aka BEASTBROOK!!! Man went ridiculous tonight!

— Bradley Beal (@RealDealBeal23) March 30, 2021
The story behind the draft of Giannis Antetokounmpo – Best NBA Draft pick of last decade 
Putting historical perspective and context on this performance, here are a few stats to know:
1: Number of 35-10-20 games in NBA history
This Westbrook game is the only 35-10-20 game in NBA history.
He joins triple-doubles legends in Magic Johnson and Oscar Robertson as the only players in NBA history to have recorded at least 30 points, 10 rebounds, and 20 assists in a single game.
16: Number of triple-doubles for the season
With this triple-double, Westbrook surpasses former NBA Champion Darrell Walker (15) for most triple-doubles in Wizards franchise history.
Walker tallied 15 triple-doubles in 283 games over four seasons for the Wizards while Westbrook surpassed that mark in just 38 games.
6: Number of 20-20 games in Westbrook's career
This game was the former OKC Thunder superstar's sixth 20-point, the 20-assist game of his career – all coming in the last five seasons.
20-point, 20-assist games in the last 5 seasons:

6 — Russell Westbrook
1 — Rest of NBA (Chris Paul) pic.twitter.com/eflgR3ptqp

— StatMuse (@statmuse) March 30, 2021
This performance ties him with Kevin Johnson for third all-time for most 20-point, 20-assist games in NBA history, trailing only Magic Johnson (13) and John Stockton (9).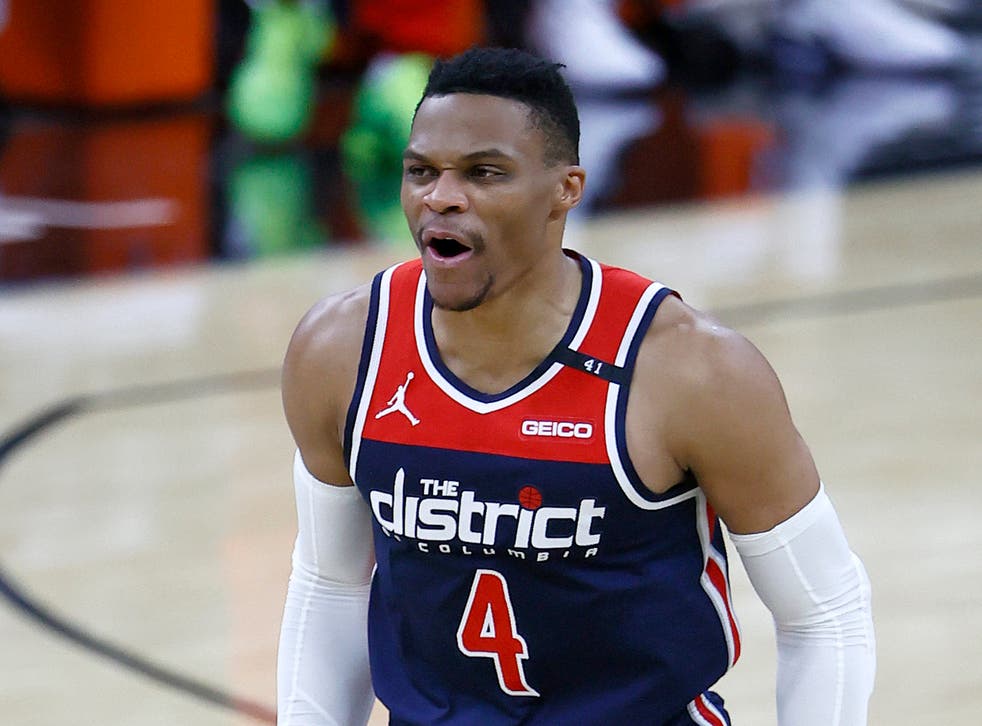 17: Fourth quarter points
Westbrook had 18 assists through three quarters and on the final play before the third period ended, he had already pulled down his 10th rebound for the triple-double.
This was the 47th time that he recorded a triple-double before the fourth quarter, the most in the NBA over the last 25 seasons, with Nikola Jokic and James Harden tied for a far second with 13.
He had already made history by surpassing Walker and could have easily gone for maybe 25 assists or even 30 but Westbrook is a winner and made the 'right plays'.
Russell Westbrook speaks on his mentality after dropping the first 35+ point, 20+ assist triple-double in NBA history in the @WashWizards win. pic.twitter.com/EA3ZBDIhBM

— NBA (@NBA) March 30, 2021
Shorthanded, the Wizards needed a scoring punch in the final quarter and he came up huge, scoring 17 points (7-10 FGs; 2-3 3Ps) of their 37 fourth-quarter points. Not to mention the four assists that led to points while turning the ball over just once.
Over the final 5:30 of the game, he scored or assisted on 12 points as part of the Wizards' 22-8 game-sealing run.
8-8: Wizards record through Westbrook triple-doubles
To begin this season, Westbrook was racking-up the triple-doubles. In fact, he started with four straight but all of them came in losses.
Over a month into the season, as of Feb. 2 to be precise, Washington was 0-5 whenever he recorded a triple-double. That record has since turned on its head.
In the last 11 games that Westbrook has recorded a triple-double this season, the team has gone an incredible 8-3 including this game. He's put up some stellar performance including a 35-15-13 triple-double over the league-leading Jazz earlier in March.
4: Years since Westbrook's 57-point triple-double
This game takes Westbrook's career tally for triple-doubles to 162, with 122 of them coming in the last five seasons.
More often than not, he's set and broken records with those performances. This virtuoso showcase comes exactly four years since he went for an incredible 57 points, 13 rebounds, and 11 assists in Orlando.
He needs 19 more to tie Oscar Robertson's all-time tally of 181.